Three Swedes Alexander Gustafson, Nico Musoke, and Akira Corassani are on the Fight Night Stockholm card at the Tele2 Arena in Stockholm. MMAViking.com is cageside to report live on Swede's bouts in the Octagon.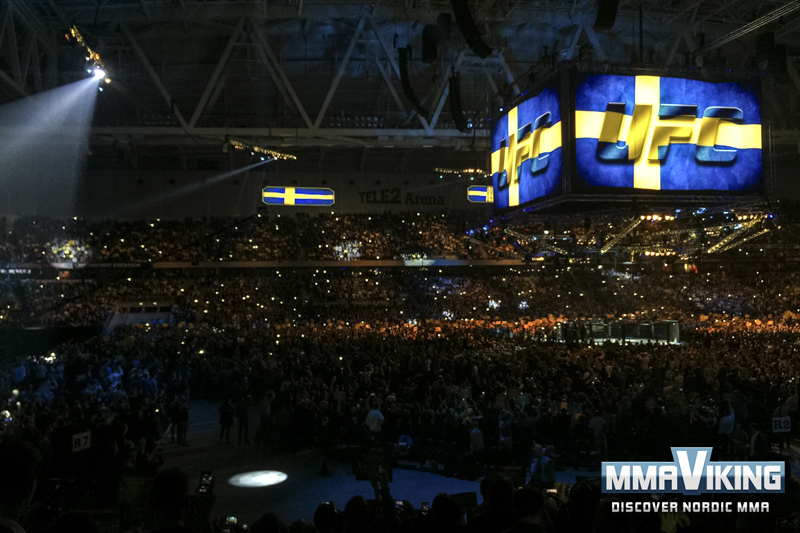 Niko Musoke vs Albert Tumenov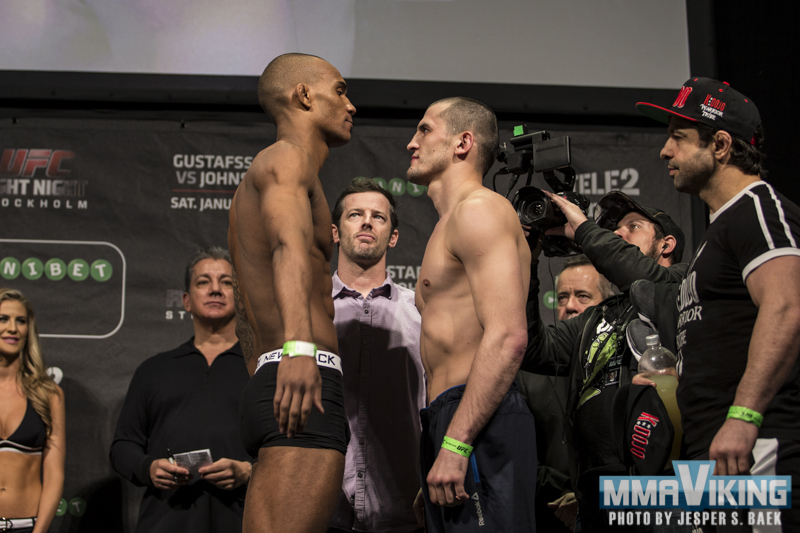 Round 1
Both fighters start out feeling each other out. Niko takes the center and looks to establish his range. Tumenov comes in with a flurry but Niko counters with a perfectly timed kick to the body of the K Dojo fighter. Niko is getting the better of the exchanges and lands a big left hook on the way out that gets the Tele2 Arena screaming. The packed Tele2 Arena starts chanting out, in Swedsih "Hit him in the face" in unison. You can tell that the big show is back on Viking territory. Niko keeps his cool and lands his left hook multiple times at the end of the exchanges. Tumenov tries to get something going but Niko is just so effective at countering and shutting down "Einsteins" game.
MMAViking scores the first round 10-9 for Musoke
Round 2
None of the fighters are committing to longer sequences, seems like they're both pacing themselves trying to land the cleaner more technical shots. Musoke tries for some takedowns now and then to keep Tumenov guessing but the russian fends them off with ease. A cut has opened up on the left eyebrow of Musoke. Tumenov has a better round now and it looks like Nico is slowing down a little.
MMAViking scores the round 10-9 Tumenov
Round 3
This one is for all the marbles. Nico takes the center ones more and goes for a single! He almost get it but Tumenov manages to stay on his feet. Musoke tries again to get the double but is not able to. Nico is reaching more and more for that takedown. Musoke looks tired and Tumenov lands a blow that sends Nicos mouthguard to the canvas. Tumenov is getting the better of the exchanges and Musokes face is beginning to look like a bloody mess. Nico tries for the takedown with a minute left but still won't get it. This will be a close call. Tumenov ducks under a hook and dumps the Botkyrka son on the ground, Nico springs back up though. But that might have been just enough for Einstein to steal the round.
MMAViking scores the last round 10-9 Tumenov, and 29-28 overall.
Bruce Buffer announces the unanimous decision win for 29-28 Albert "Einstein" Tumenov
Akira Corassani vs Sam Sicillia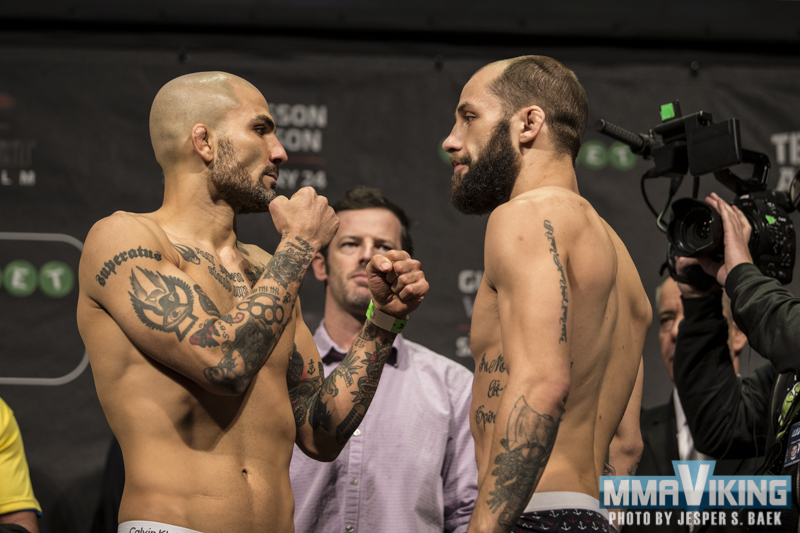 Round 1
Sicillia tries some kicks early, but not commiting. Corassani has black shorts with a Swedish flag… no sponsors. The American working Akira against the cage, but the Swede circles away. Nice right low kick from Corassani.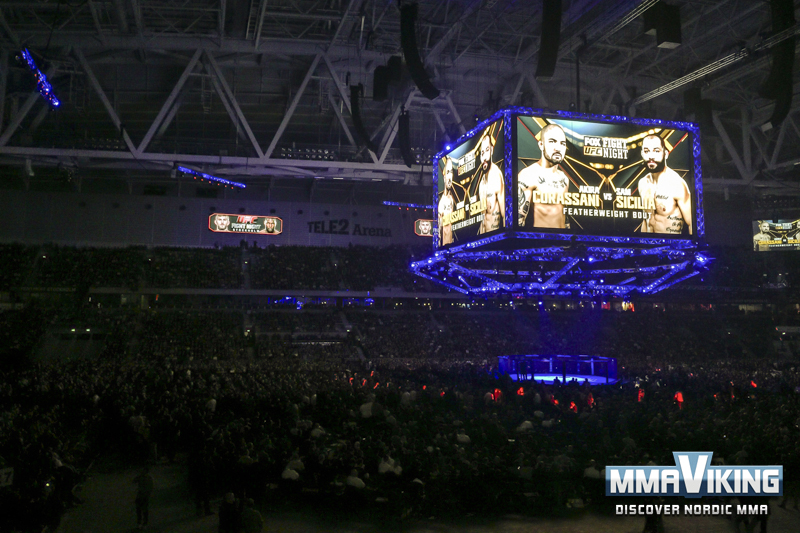 Both fighters have swung for damage, but not much landing after 2 minutes. Both fighters relaxed now and waiting for thier spot, Corassani with a round house kick that misses badly. Big right hand, and another huge right… and lights out for Corassani. Akira is knocked out, and the crowd goes silent.
Sicillia wins by KO in round 1.
Alexander Gustafsson vs Anthony Johnson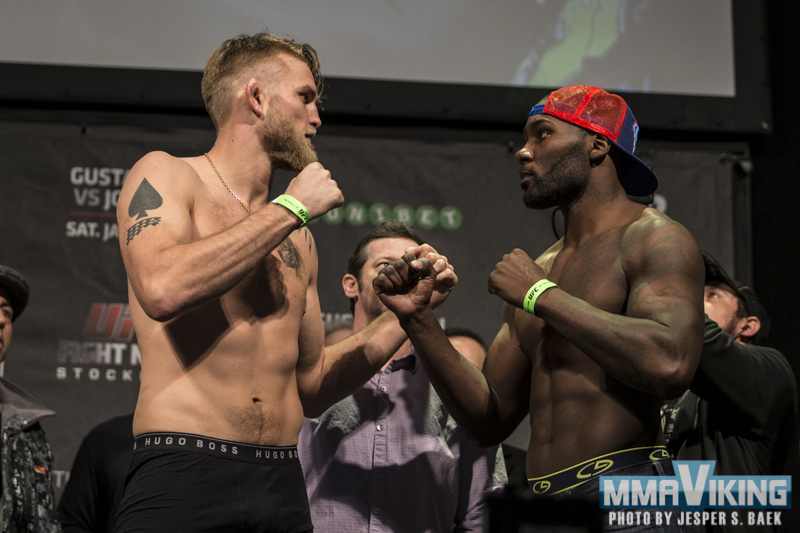 Round 1
The two touch gloves and a low kick from Gustafsson. Johnson presses forward, and Gustafsson is circling. The Swede ducks under one punch, and throws another. One minute in and the packed house is cheering for their man. Johnson is blinking after an apparent eye poke, and action is stopped. Gustafsson is rocked with a counter! Big right hand, and Johnson is going in for the kill. The Swede is hurt early. The American with punches as Gustafsson is now on all fours on the ground. Punches and more punches ad sneaking in to both sides of the face, and the Mauler is hurt badly. He is taking punches to the head and covering up, but no real movement.
The viking is getting rocked and the fight is stopped. It is all over, and Johnson wins by KO. The crowd is silent and Gustafsson looks dazed as he tries to get up.
Johnson by TKO in round 1 at 2:10.