MMA Viking is in full force at the UFC on Fuel 9 at the Ericsson Globen Arenas in Stockholm. Check back here for exclusive photos and interviews.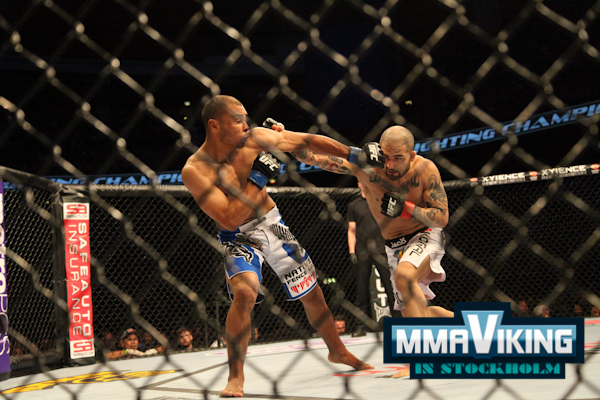 Play-by-Play
WE are live! Bessam is heading into the cage now to face Papy Abedi. Swede on Swede coming soon! MMA is live in Stockholm!!!!
We will do extensive play-by-play of the Swedes, and post results of the other bouts…. Viking style.
PAPY ABEDI (Sweden) VS. BESAM YOUSEF (Sweden)
Round 1 – It's on.  the crowd cheers "Papy… Papy… Papy", but not much action here.  The two start to exchange punches, and it's Papy that gets the best of it and now takes down Yousef.  With 3 minutes left, Papy is looking to pass guard.  Papy with  some ground and pound, to stay in control of this bout.  The local Abedi is the obvious crowd favorite, and continues to be dominant on top.  Knees from Abedi as the two transition to the feet.  Again, Abedi looks strong in the clinch landing knees, but Yousef looking for upper cuts and elbows.  More knees and punches from Yousef, and Abedi in trouble goes for a takedown to end up on top.  With a strong finish, let's go 10-9 for Yousef…. but a very, very close round.
Round 2 – The two size each other up early in the round, with Yousef throwing a big punch… but Abedi has his power back with a strong left kick to the body.  Bessam active in the clinch, with a big uppercut.  Takedown for Abedi, bringing the bout to the ground.  The Allstars gym fighter lands some heavy elbows.  Lack of action, and the fight is back on the feet.  Yousef with a cut over the eye.  Abedi goes for a take-down, but Yousef defends well.  One minute left, and a nasty elbow from Yousef lands on his fellow Swede.  Good knee from Yousef, and in response a good knee from Abedi.  Spirited fight as the round comes to an end.  More offense from Yousef as the round ends.  Yousef 10-9.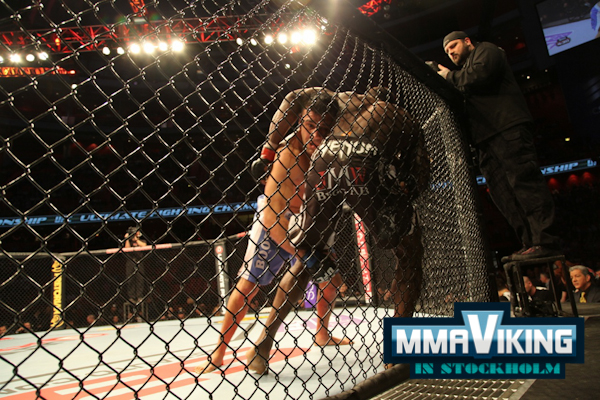 View more pictures from the bout.
Round 3 – The crowd cheers as the two Swedes are looking to take an advantage in the final frame.  The two touch gloves showing respect, which wasn't present at yesterday's weigh-in.  Abedi gets on top with a take-down and now looks to damage on top with more elbows.  3 minutes left and the two are still looking for damage in the clinch… now for the first time it's Yousef with the takedown.  Both fighters look worn.  The two are stood up here late, and it's Yousef with the a clean punch.  20 seconds left, and both still looking to work offense… and a flying knee from Yousef, which may have clinched the bout.  10-9 Yousef.
The 29-28 Yousef, 29-28 Abedi, Abedi 29-28.  Abedi with the split decision.
MICHAEL KUIPER VS. TOM LAWLOR
Tom Lawlor wins by submission at 1:05 of round two.
BEN ALLOWAY VS. RYAN LAFLARE
LaFlare wins by decision.
MARCUS BRIMAGE VS. CONOR MCGREGOR
McGregor wins by first round TKO.
ADLAN AMAGOV VS. CHRIS SPANG (Sweden)
Spang comes in second, rocking the Swedish flag. "This kiss" brings some Vegas flavor with the music, as the two Strikeforce fighters making their UFC debut. This welterweight battle should be a good one.
Round 1 – The two take aim, and the Amagov lands a straight kick to send down Sapng, but not much damage… and he's back up on his feet. Spang, who trains in Vegas brings a tan that no other Swede's have. A nice high-kick from Amagov that seems to unsettle the Swede. Spinning kicks from Amagov who looks relaxed here in round 1. The crowd is urging on their fighter, but he is taking some nasty leg kicks… and his knee is red and he's hoping on it. Less than a minute to go, and at the bell the two quickly clinch with the Swede launching a knee, but being put on his back for the effort. 10-9 Amagov.
Round 2 – Two spinning kicks that miss in a wild attempt to damage the Swede. Now the Swede moves forward, and lands a knee but it's Amagov with spinning kick and a take-down, but Spang looks to reverse it with a wrestling "switch", but doesn't work. Not much action from Amagov on top, with two minutes left in round 2. The ref calls the two to go to the feet, and now a minute left in the bout. An attempted reverse elbow, and high-kick from Amagov that looks to have control of this bout. A high kick from Amagov in close range and spinning backfist that doesn't land.
Round 3 – Spang is coming out offensive, and moves forward. A good right from Spang, but his opponent responds. The urgency is here, and the two fighters are forcing more action. The two exchange punches and straight kicks. A spinning kick, and a straight kick from the New Jersey fighter, and a reverse elbow. Two and ahalf minutes left. Amagov goes for a take-down and gets it at the 1:50 mark, and the visiting opponent digs in knees to the thighs… and a suplex from Amagov bringing Spang to the ground, and his brother Musa who trains in Finland rushes in to congratulate the winner. 10-9 Amagov.
30-27 decision for Adland Amagov
ADAM CELLA VS. TOR TROENG (Sweden)
Cella comes out swinging, but Troeng looks patient. "Troeng, Troeng, Troeng" yells the crowd, as the two ultimate fighters, stil representing their teams. Troeng with a nice takedown, and follows up a nice stroke from the top. The Swede passes guard and for a second is in full mount. Now the Swede takes back, and looks for an opening, and both hooks are in…. and the Swede is looking for a rear-naked…. and gets it. The place goes nuts!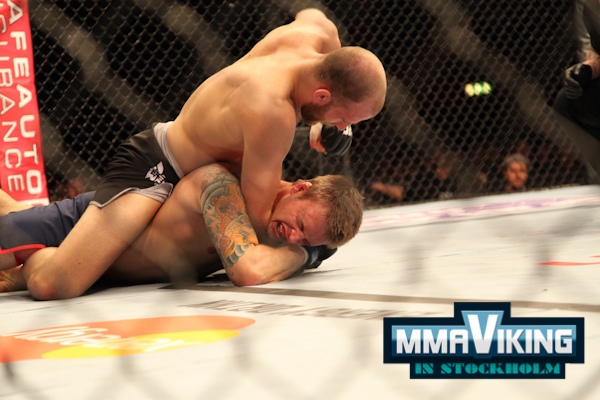 View more pictures from the bout.
Tor Troeng with a submission victory.
MICHAEL JOHNSON VS. REZA MADADI (Sweden)
Madadi enters and the place is going nuts. Madadi is staring down Johnson, and has his gameface on. Couldn't be more boos. The people's champion has arrived. Alexander Gustafsson is in the corner of his fellow Allstars fighter.
Round 1 – Madadi moving his head, and Johnson looking for a kick. The American with the southpaw stance, and Madadi cracks Johnson with a right hand. Madadi wings a right hand, but misses. Three punch combo for Johnson, that lands. Madadi with a single, but Johnson fights it off. Madadi finishes, and he's on top. Two minutes in, and Madadi is where he wants to be. Madadi with an elbow, and looking for a knee bar, but can't get it. Madadi is now on his back. Madadi threatening from his back, and the two roll around with Johnson remaining on top. Madadi on his back, and with 30 seconds, Madadi is on hi stands up, but takes a head shot kick that sends him down… Madadi fights through it and is on wobbly knees. Madadi hurt. 10-9 for Johnson with the damage at the end.
Round 2 – Madadi in with a double-leg and finishes it with a minute in… Madadi has position, and punching and elbows over Johsnson. Madadi goes for a triangle from the top, but doesn't get it. Madadi with elbows and punches, but the fight goes to the feet. Madadi on top with another take-down. Big elbow from Madadi. Another elbow.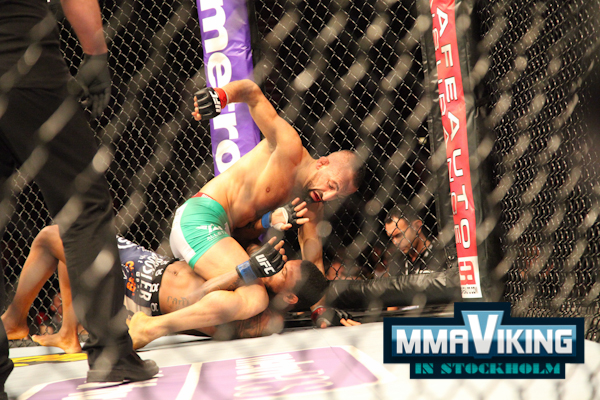 Reza, Reza, REza, and the crowd is going crazy. Madadi still on top, landing little punches, and moving forward till the end of the 2nd round. 10-9 for Madadi.
Round 3 – This one will decide it. Johnson with a kick, and Madadi brings it to the ground, and the two flip-flop, and Madadi on top. Madadi punching. and looking for a darce choke, and he does it. Madadi wins again in Stockholm. Submission for Madadi in round 3.
AKIRA CORASSANI (Sweden) VS. ROBERT PERALTA
Corassani enters the cage second to some Rage Against the Machine.
Round 1 – Madadi circles and moves his feet, as Peralta plants his feet looking for a huge blow. Akira with a good leg kick, and Corassani seems to be influenced by his training partner Frankee Edgar as he moves around the cage. A big punch from Peralta, and Akira tries to exchange. It's against the fence now, and the two break. The two are winging punches, and more over hand rights than jabs in this one.
Less than a minute left, and it's Corassani pressing his opponent against the cage. Peralta tries to throw his opponent down, but the Swede battles back. Close round. 10-10.
Round 2 – Corassani and Peralta are letting their hands go again, but it's Peralta that first tries to take the fight to the ground, but no success as the Swede defends. The two are letting their hands go, and Peralta almost connects with a KO blow. This time the American hurts Corassani, and he's in trouble swaying as he goes back to the cage. Peralta tries to bring it to the ground, but Corassani defends well. Corassani now trying to show his wrestling game, but can't finish his double-leg. Big right from Corassani, Another left hand from Corassani. And a big turnaround in this. Another close round. 10-10.
Round 3 – What a fight. This is a backyard brawl, and the two are still throwing kill-shots. Both fighters have shown their strong chin, and their ability to throw leather. 1 minute in, and Akira puts Peralta on his back. Peralta looking for a kimura, and tries to stand… but the Swede dumps him to his back. Corassani has control fo this round, but each fighter is a punch away from stopping it. Knees by Peralta, and the two clinch along the cage. Corassani goes for a take-down, and there is blood from someone. Corassani ends up on top with a take-down. Strong finish for the Swede, in what could be a huge upset here in Sweden. 10-9 for Corassani.
Aira Corassani wins by decision…. "footwork and intelligence" says Corassani. "2 kids and a job says" say Corassani about his opponent. "Swedish water is the best in the world".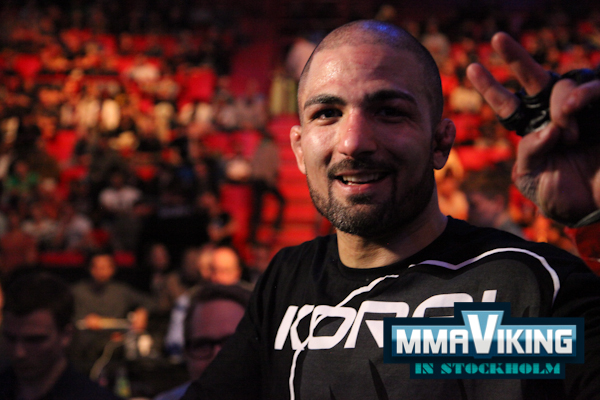 30-27, 30-27 and 29-28 for Akira Corassani
DIEGO BRANDAO VS. PABLO GARZA
3:27 of round one submission victory for Diego Brandao

MIKE EASTON VS. BRAD PICKETT
29-28 Easton, 30-27 Pickett and 30-27 for the winner by split decision, Brad Pickett.

PHILIP DE FRIES VS. MATT MITRIONE
Quick KO for Mitrione.
RYAN COUTURE VS. ROSS PEARSON
Pearson wins by TKO in round 2.
ILIR LATIFI (Sweden) VS. GEGARD MOUSASI
Round 1 – Ilir takes a strike early, and falls to the ground.  One minute in and Ilir is looking for a big left hand, but Latifi is moving back, and Mousasi is moving forward.  Latifi looks for a double, but can't get it as MOusasi defends.
An over hand right misses, and again Mousasi snaps his left hand out.  Latifi circling away, and the Swede has lasted two minutes against the former Strikeforce champion.
Latifi is switching stances, and langs a big right hand against the Mousasi.  Another attempt for the KO punch comes, but only hits air.  Looks like Latifi may have been poked in the eye, but the Swede circles left and avoids any major damage.  Mousasi using the left hand to land,while Latifi using overhand rights and lefts that haven't yet hit their mark.  Latifi urges Mousasi to bring it on, but the calm opponent stays put.  10-9 Mousasi.
Round 2 – Again Latifi looking for his big punch, while Mousasi is using the left hand.  Big right hand for Latifi, and Mousasi takes it on the chin.  Mousasi lands a good shot, and Latifi misses on the counter.  The Swede's eyes are red, and the left jab is making all the difference.  Mousasi's hand's are down, but Latifi shoots in for a take-down, which he can't secure.  Two minutes left in the round, and Latifi is still looking for his opening.  A kick from Mousasi, and Latifi is bleeding from the eyes… and the corner goes to work.  10-9 Mousasi.
Round 3 – It's round 3, and it looks like Latifi has been in a Rocky movie.  It will take a KO for the Swede to win this, and he rips a right kick to the leg of Mousasi.  Latifi still seems to be in good shape, but it's the left jab.  Latifi tries a reverse high-kick that misses.  Another right kick from Latifi, but it's Mousasi stalking.  Three minutes left, as the two resume their.  Latifi lands a nice right, but Mousasi responds with a left hand.  A big kick from Latifi, but he is getting beat up with punches.  One minute left, and Latifi still swinging for the fences.  Latifi is able to get the fight to the ground with 20 seconds to go… and the place is going nuts…. and Latifi pounding away looking for a big shot to the downed opponent, he lands one good shot as the bell rings.  10-9 Mousasi.
Unanimous Decision for Mousasasi