MMAViking.com is live in Tartu, Estonia to cover RAJU 14.  The event will feature seven fights Saturday night as the leading Estonian promotion pits Lauri Ülenurm, Henri Hiiemäe, and Alik Tseiko versus well matched foreign fighters at the A. Le Coq Sports Hall.  The four card undercard of four IMMAF rules bouts, also includes two Finnish fighters Ari-Pekka Savolainen and Tommi Leinonen from RNC Sports Club.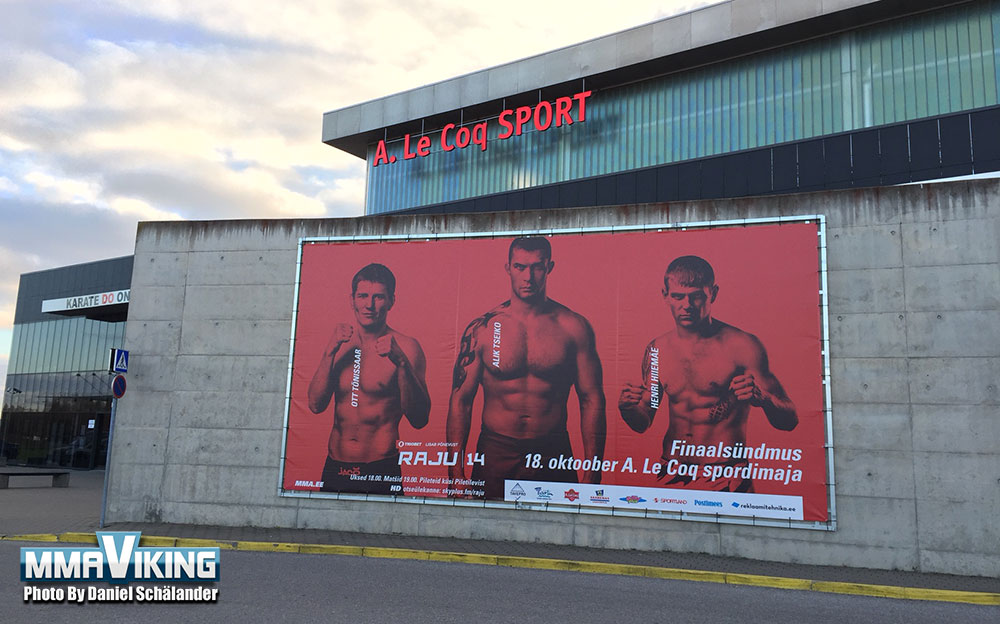 RAJU 14 – Play-by-play & Results
Martin SAAR (Estonia) vs Marko LAIKASK (Estonia) – IMMAF B -74.0
Round 1
The only Estonian versus Estonian bout on the card. Laikask looks more like a body builder with his short frame and muscular upper body, against the tall and lanky Saar. Laikask looking to take the bout to the ground, but can't turn the corner on his takedowns. Saar looking to counter with strikes, but he has to defend against the takedowns. Saar is up after a brief takedown, and swings with power. This is an amateur bout, so both fighters have shin pads and more padded gloves. Good counter right, and kicks from Saar… and the end of the round is a free for all.
Round 2
Priit Mihkelson is in the corner of Saar, and he decides to remain standing in between rounds, while his opponent sits and rests. After going for a takedown, Laikask drops for a guillotine, but cant't get it and now is on his back holding on tight. Good right hand, and Saar is taking control here as he goes to full mount and rains down punches. Big round for Saar.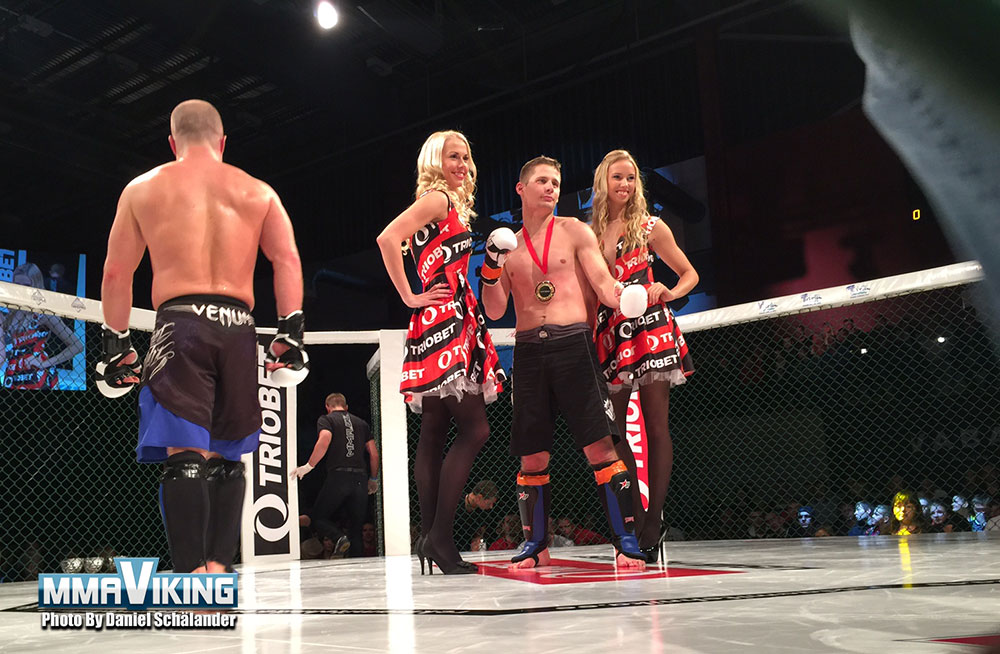 WINNER: Martin SAAR (3D Treening, Tallinn) judges decision (uninamous) II round (5:00)
Ranno LAUR (Estonia) vs Ari-Pekka SAVOLAINEN (Finland) – IMMAF B -82.0
Round 1
Takedown early for Laur, and Savolainen doesn't flop to his back and stays on all fours. Laur immediately takes back and puts in both legs. Both fighters have long limbs, and Laur tries to force a half nelson for a bit before moving to punches. The Estonian is a strong and powerful kid, and once the Finn is on his feet Laur picks him up with a double and slams him to the ground, and keeps position till the end of the round adding some good punches.
Round 2
RNC Sports coach Janne Tulirinta gives Ari a good pep talk and high-five, and the Finn looks ready for battle. Laur clinches, and moves to a body lock take-down. Savolainen looking for a kimura from the bottom, but gives up on it. A time out as the doctor comes in to look at a cut above the eye on the Finn.
Good front kick from the Estonian, but the Finn is looking to land with some power… but just misses with some big hooks.
Both fighters have power in their strikes, but only one is landing. Not Savolainen's night tonight, as he falls into clinches that he doesn't control or ends up on his back. This time he has his back taken after being in the clinch.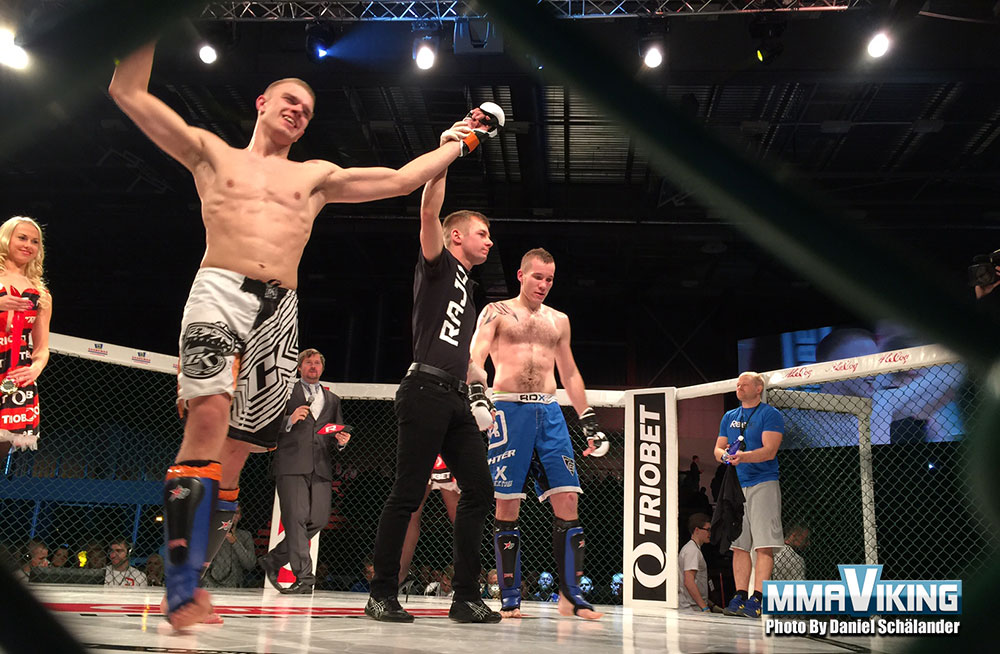 WINNER: Ranno LAUR (Vıimla, Tartu) judges decision (uninamous) II round (5:00)
Sten ANSLAN (Estonia) vs Tommi LEINONEN (Finland) – IMMAF B -83.9
Round 1
After a quick exchange, the two tie-up on the cage. Both fighters with a similar build, tall and lanky. The Estonian goes for a wheelhouse headkick, but it doesn't land. Again the Estonian looks to tie-up and move for take-downs. A full body lock from Anslan and Leinonen is on his back after a take-down near the cage. Now it is Leinonen going for a take-down of his own, trying to finish on a single leg, but can't. Anslan with another spinning kick, but the RNC Sports fighter sees a take-down opportunity and penetrats with a nice double leg. The Estonian is offensive off his back and now looks for a kimura, transitioning to an armbar…. but Leinonen fights out of it, and is now on top with 10 seconds to go.
Round 2
Both fighters look a little fatigued to start the round, with slower punches being exchanged. The Estonian looks to be moving forward more, and clinches when the two are close. It is Leinonen who wins this tie-up battle and lands on top briefly, until the fight is brought back to the feet. Anslan looking again to finish with a body lock. 30 seconds to go, and thir might not be a third in this one. Nice double leg with 10 seconds left from the Finn to show he is still in this one! That could have stolen the round.  Could there be a third?  Awaiting judges on this.
WINNER: Sten ANSLAN (Vıimla, Tartu) judges decision (majority) II round (5:00)
Finn coach Janne Tulirinta not happy about the decision, and was expecting a third round.  Awaiting to see if there will be a protest or more talks on this, as Tulirinta went to the judges table for a talk.
Alar HUTROV (Estonia) vs Vitali MELNIKOV (Latvia) – IMMAF B -65.8
Round 1
Spped and power in both of these fighters.  After strikes, a body lock by Hutrov for a take-down, but he gets rolled over and they end up standing.  Nice hip toss from the local and full mount.  The crowd loves it, and for the first time really get behind the fighter.  Full body lock, and looking for a rear-naked choke .  Less than a minute, and it is all the Estonian in this one who has back for most of the round.
Round 2
Again the fight hits the floor, but now it is the Latvian that is on top.  But after some back and forth, it is Hutrov with a big slam… and the local takes back again.  Looking for an armbar, Hutrov is going for a finish… but Melnikov gets on top and squeezes on a head and arm.
WINNER: Alar HUTROV (Vıimla, Tartu) judges decision (majority) II round (5:00)
Lauri ÜLENURM (Estonia) vs Roberts SENFELDS (Latvia) – Pro MMA -61.2
Round 1
Now we start with the first pro fights here,  Ulenurm looks relaxed and lands some leg kicks low early.  Senfelds looks like he could be Tom Niinimaki's little brother with the haircut and square jaw.  Ulenurm takes full advantage of a missed kick and locks on a body lock to take down the visiting fighter.  Full mount, and the local is taking his time and enjoying the control.  Elbow to the eye, but the Latvian rolls and springs up to his feet… only to be taken down.  The Estonian has some sort of chicken wing, and tries cranking Senfelds arm but nothing is really there to force the pressure.
One minute left and Ulenurm is on top and lands a few punches, before Senfelds stands up and is brought back down again.  Strong wrestling advantage forUlenurm.
Round 2
The corner urges the Latvian to move forward, and he does landing a nice knee to start out the round and some punches.  But again, it's the wrestling the controls where the fight goes, and the Estonian gets it back to the ground, but gets put on his back as they grapple.  But Ulenurm throws up a triangle and it is tight.  It is going to be a finish here in the second.  And it is!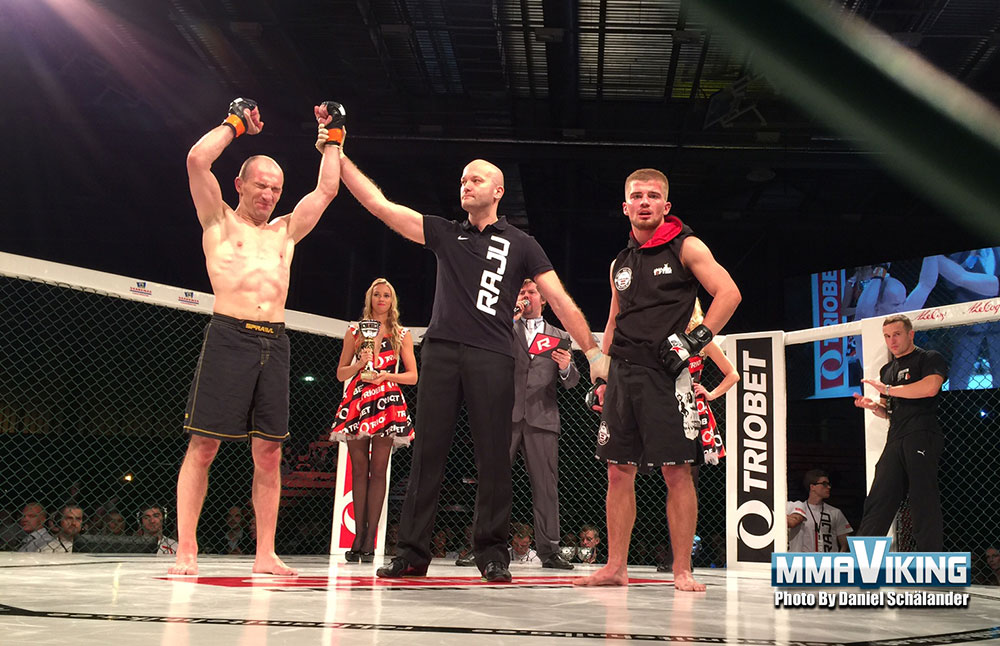 WINNER: Lauri ‹LENURM (Vıimla, Tartu) submission  (Triangle choke) II round (3:33)
Henri HIIEMÄE (Estonia) vs Sebastian ROMANOWSKI (Poland) – Pro MMA -65.0
Round 1
The speed and power of these two can be seen immediately as they look for damage early.  Romanowski gets the fight to the ground, but Hiiemae fights out of it, and the fight is standing again.  In the clinch two minutes in, and a crushing knee to the body from the Poland fighter.  The Estonian has good power in his right, and looks to land it, but can't .  Romanowski is a southpaw and looks to load up on the left hand.
Surprise head kick from Hiiemae that surprises his opponent, and he dives in to take it to the mat.  Romanowski on defense on his back, and against the cage it is some heavy elbows from Hiiemae.  There is blood, but it doesn't discourage Romanowski from standing up and then getting a take-down of his own.  "Henri, Henri, Henri" the locals cheer as the second round comes to a close.
Round 2
Both fighters are fresh, and looking to land with their hands.  Hiiemae lands some good low kicks.  Left hood from the Estonian, that also continues to work in leg kicks.  Spinning back fist from Hiiemae that lands, and things are heating up. You get the sense that Romanowski is waiting to strike as he times his opponent, and he does with a one two combo.  It's anyone's round with less than two minutes left.  Nice take-down from Romanowski to end the round.
Round 3
Romanowski looks to pick things up where he left off with another blast double leg, but he don't finish. The two are tangled on the cage, looking for position. Henri works to get underhooks and controls against the cage. Here is the double-leg again, and the bloodied fighters are on the ground with just over two minutes left, the Estonian is on his back.
Henri is up, and he lands a good hook. But as the two square-off, it is the wrestling from the visiting fighter that determines if the fight is standing or on the ground.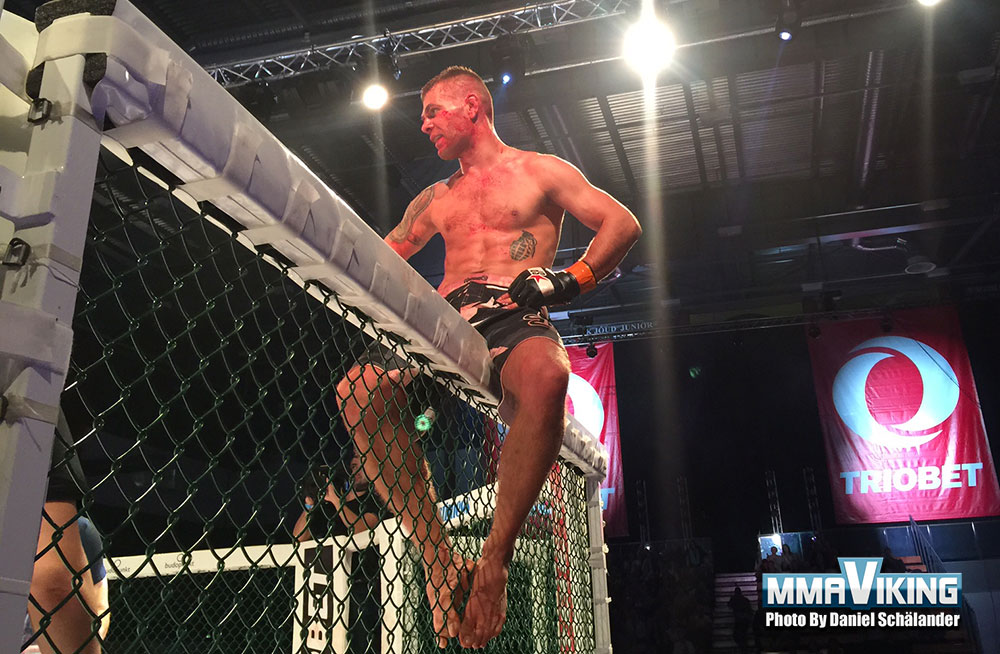 WINNER: Henri HIIEMƒE (3D Treening, Tallinn) judges decision (majority) III round (5:00)
Alik TSEIKO (Estonia) vs Bartosz FABIŃSKI (Poland) – Pro MMA -77.1 KG
Round 1
Double-leg takedown from Fabinski.  But Tseiko fights off his back up against the cage and makes it to his feet.  The Estonian wrestler locks up a body lock and takes the visitor for a ride with a lateral drop.  Working his way off the bottom, it is Tseiko that locks on a standing guillotine, and it is tight.  It might be the end, but Fabinski works his way out of it.
Tseiko has him hurt bad with that right hand, and another… the mouthpiece goes flying!  Looks like it could be over, but the referee stops it to put in the mouthpiece.  Short stop in action, but Tseiko lands a big right hand.
Fabinski looks to be recovered and shoots in for a double-leg, but it is countered and the two are back on the feet in the clinch.  These welterweights are huge, and perhaps the weight cuts are slowing them down.  42 seconds left in what seems like a 10 minute round. Both fighters have heavy hands, but they are slowing.
Round 2
Fabinski again looks for a take-down, but the Estonian champion wrestler won't let that happen.  Against the cage, the ATT trained fighter uses knees in the clinch.  Fabinski using knees of his own, and targeting the body.  Three minutes left, and this has turned into a greco roman match… and someone yells "boring" —yes, some English here in Estonia.  Good knees to the body from Fabinski.  Just over one minute left, and this is anyones round.  Fabinski gets a takedown and looks content being on top here.
Round 3
Quickly the fighters engage, and like most of the fight the two fighters nullify each others efforts in the clinch.  A hard knee from the Polish fighter.  This is a grinding fight, and the winner should emerge in the next 3 minutes.  Blood for the first time, and it is the left eye of the Estonian fighter, resulting from an elbow inside.  Alik looks hurt and discouraged, and Fabinski picks up the pace and shoots a double-leg, which he converts.  One and a half minutes left, and it is not looking good for the Estonian.  Tseiko is able to get to his feet, but gets a knee while up…. and it might be too late here.  The two battle till the end.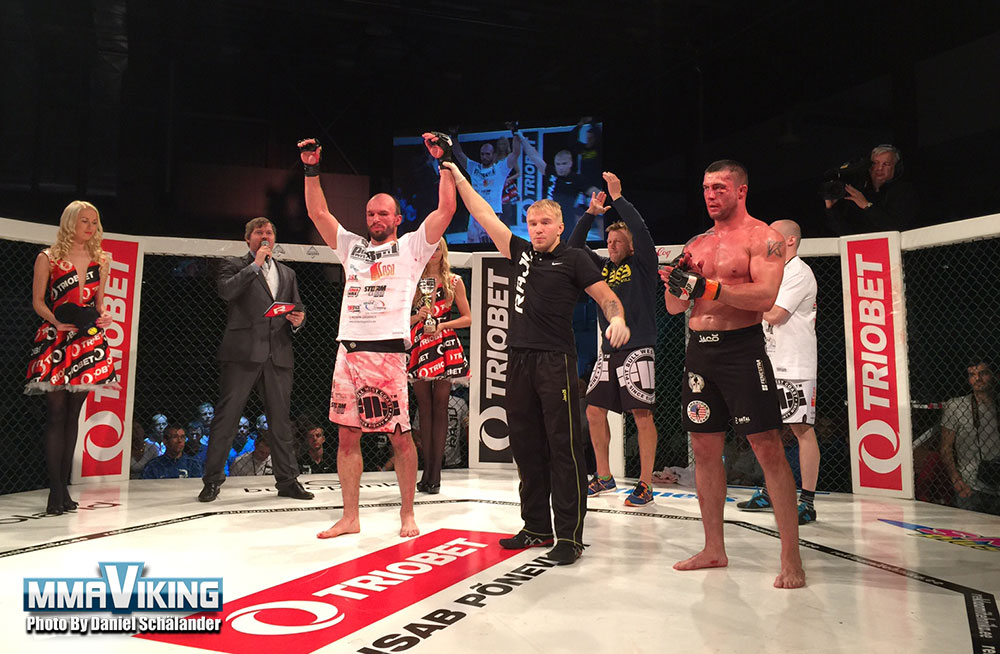 WINNER: Bartosz FABINSKI (S4 Fight Team, Poola) judges decision (split) III round (5:00)