Battle of Botnia 2016 goes down at the Umeå Energi Arena Saturday night.  The seven fight pro card is headlined by undefeated fighters Daniel Teymur out of Sweden and Manolo Scianna from Italy.  Get your live updates here.
Play-by-Play
52,2 kg – Minna Grusander (1-0), Finland vs. Anna Kuzmenko (1-0), Ukraine
Round 1
The finn Minna comes out swinging hard and lands a good amount of strikes, they clinch up against the cage, Kuzmenko scores a takedown but Minna fights her way on top and works for the full mount. Kuzmenko defends well and makes Grusander work hard as she ends up the full guard of the ukrainian. The referee stands both fighters up, they clinch up and Minna lets another hurricane of punches go on the face of Kuzmenko. Cliched up against the cage they both struggle but in the final 15 seconds of the round Minna lets another barrage of punches go landing a big number but the time saves Kuzmenko.
Round 2
A tough clinch up against the cage ensues right away, as they break up Minna lands another nice combo before they clinch up again. Grusander picks her shots and they land hard and clean. Minna is on top and works for a side choke but isn't able to secure it, still on top she puts good pressure but time again runs out and it will come down to a final round.
Round 3
As previous round it's Minna who dictates where they go and she picks her shots, Kuzmenko tries to counter with spinning back fists but no luck. Clinch work against the cage and a takedown attempt from the ukrainian, Minna lands her strikes at will on a tired opponent thats backed up against the cage until the referee steps in and ends it.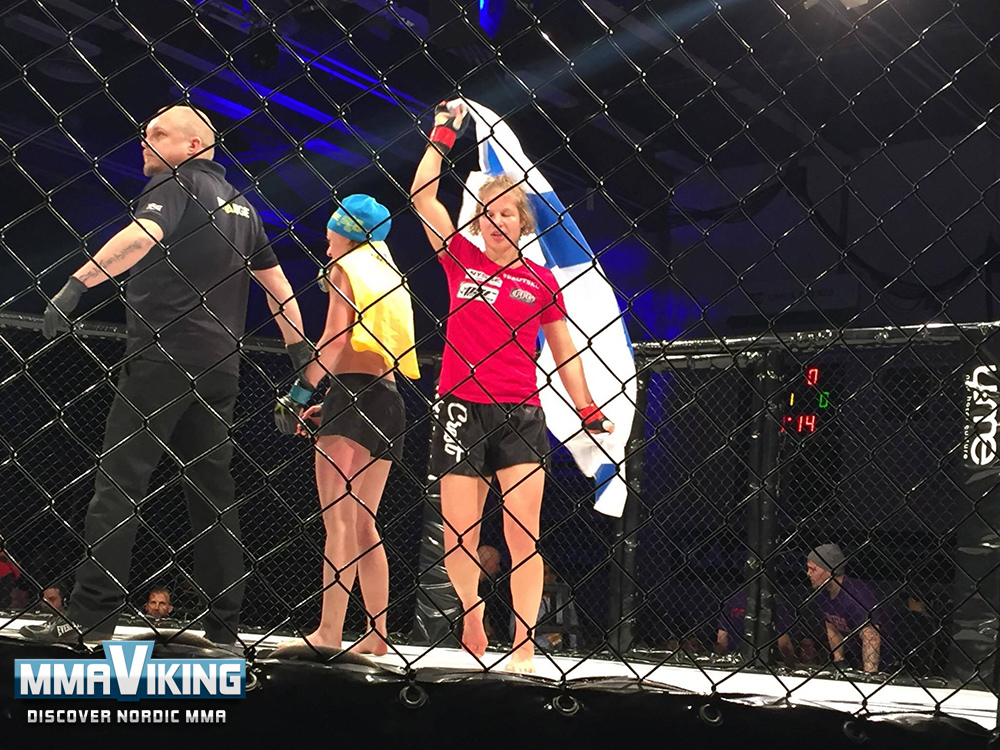 Winner by TKO at 1:44 in R3, Minna Grusander.
120,2 kg – Yosef Ali Mohammad (6-3), Sweden vs. Evgeniy Bova (6-6-1), Ukraine
Round 1
The giants are in the cage, and these guys pack some power, both guys tag each other hard early on against the cage but it's Yosef who is more offensive using his range. at 3:24 Yosef lands a hard right that sends Bova wobbling and then he follows it up with a head kick before the referee steps in and ends it.
Winner by TKO at 3:24, Yosef Ali Mohammad.
61,2 kg – Viktor Gustavsson (2-1), Sweden vs. Ivan Zidar (0-0), Croatia
Round 1
First out of the locals are Viktor and the crowd are insane. Both fighters are very calm and wait for the other one to slip up, some jabs are thrown and Zidar lands some legkicks. A spinninig back fist from Zidar is mistaken for an elbow and the referee briefly stops it but let them at it again. Some combos are thrown as they clinch up against the cage but time runs out.
Round 2
They go at it with 1-2 combos flying and low kicks landing on both fighters, a lot of movement on their feet but so far Viktor is the more aggressive one this round. Viktor lands some hard jabs making Ivan back up fast, a quick combo from Ivar pushes Viktor up against the cage and the Croatian tries for a takedown that Gustavsson has no problem defending. Zidar tags Viktor and he smells blood, he starts to hammer away and Viktor goes down with Zidar punching away hard. With only 6 seconds left the referee stops it.
Winner by TKO at 4:54 in R2, Ivan Zidar.
49.9kg – Iman Darabi (2-2), Sweden vs. Elena Belaya (2-2), Ukraine
Round 1
Iman is the first to land a hard jab, both fighters wait for the other to make a move and counter. Darabi lands some shots and they clinch up with the swede as the more dominant, the referee calls for activity and Elena lands a hard straight right before they clinch up again. A good scramble land Darabi in a top position in Balayas halfguard, some hard struggle but time runs out.
Round 2
After some waiting they go in and exchange with Iman landing good hard shots, a takedown from Belaya ends in a scramble that lands in Darabis favor when she lands in the full mount, some punches land but Elena makes it back up again and scores another takedown but Darabi lands on top. They lay in a north south position with the swede on top as the time runs out.
Round 3
Final round on the way here, as the Ukrainian throws a jab Darabi changes level and scores a beautiful textbook takedown, Iman secures a tight and good side control. In a quick scramble Darabi secures an armbar and it's tight making Beleya tap out!
Winner by submission (Armbar) at 2:23, Iman Darabi!
61,2 kg – Fernando Flores (3-1), Sweden vs. Edgars Skrivers (9-4), Latvia
https://www.instagram.com/p/BN2WDrcB6hX
Round 1
And here we go, both guys looking for the distance. The brief exchanges that ensue are tough and hard, a failed headkick from Skrivers lands a takedown fro Flores but they get back up again. Edgars demonstrates the power he has with bodykicks but Flores doesn't back down and fights on landing some nice counter punches. A stiff jab stuns Flores shortly, Fernando shows some real heart by answering all attacks with hard counters. Time runs out.
Round 2
A few inside low kicks from Fernando finds their place, cheered on by his hometown crowd Flores pushes on and takes more initiative forcing Skrivers to back up. A quick leg sweep from Edgars lands Flores on his back but he has the fullguard, with strikes Skrivers tries to enhance his top position but Flores works hard and well from his back. Edgars lands in full mount after a scramble and then takes the back but Flores remains calm and rides out the storm and makes it back to his feet. The crowd are going nuts! the round ends
Round 3
A headkick from Flores starts this round off, Skrivers lands another takedown but Flores fights to his feet again. A takedown attempt from Fernando but no luck, a high double leg takedown from the Latvian lands him in mount over Flores. Flores once again gives up his back but he rolls back in. A kimura attempt that's well fought off by 'Nando' that manages to get Skrivers in his half guard but time runs out. We go to the judges for this one.
Winner by decision (unanimous), Edgars Skrivers.
80,0 kg – Jonatan Westin (9-2), Sweden vs. John Palaiologos (9-5), Greece
Round 1
Westin looking confident with some combos going off before he scores a solid takedown after some work against the cage, Westin gets to mount and drops an elbow, locking up the arm off John Jonatan drops some hard elbows and strikes. Westin secures the back off the greek and drops bombs making the referee stepping in and ending it with 1:11 left.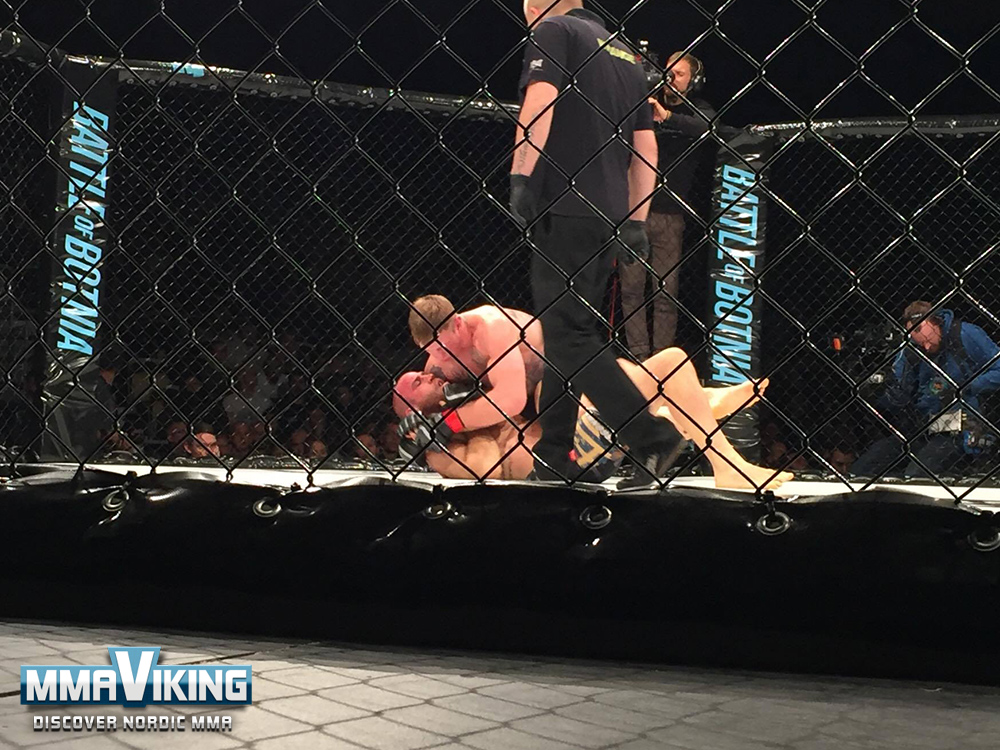 Winner by TKO at 4:49, Jonatan Westin.
68,0 kg – Daniel Teymur (5-0), Sweden vs. Manolo Scianna (5-0), Italy
Round 1
The main event is on the way and both guys come out aggressive, Teymur landing low kicks easily. At 3:54 the ref breaks it after Daniel lands a heavy right hand that renders the Italian unconscious as he falls down.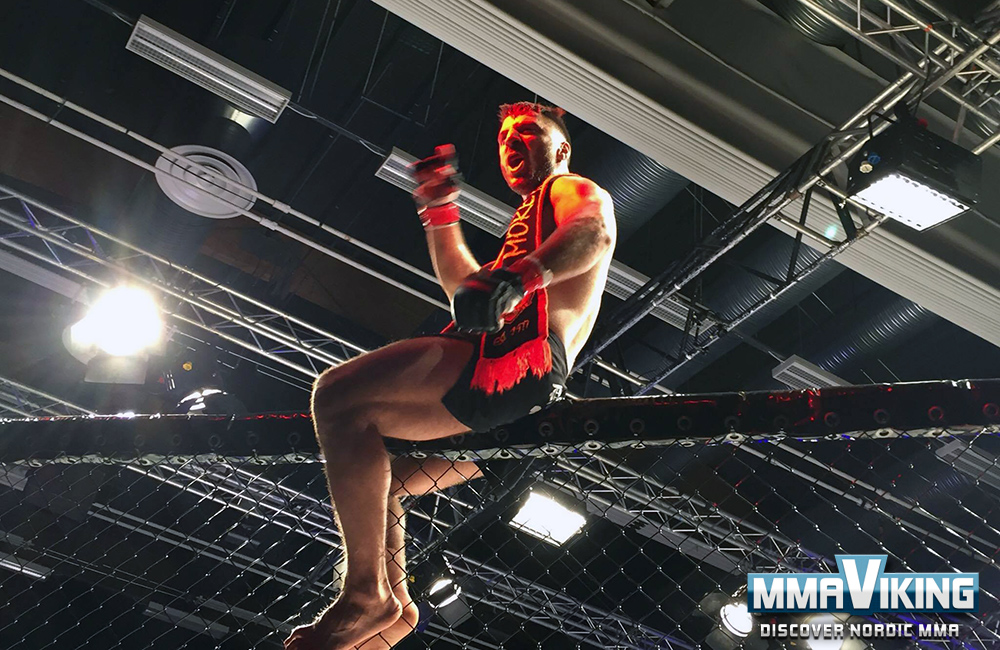 Winner by TKO in the first round, Daniel Teymur.