Fight Club Rush 8 goes down in Vesterås, Sweden with 7 pro MMA bouts. Get your live results here!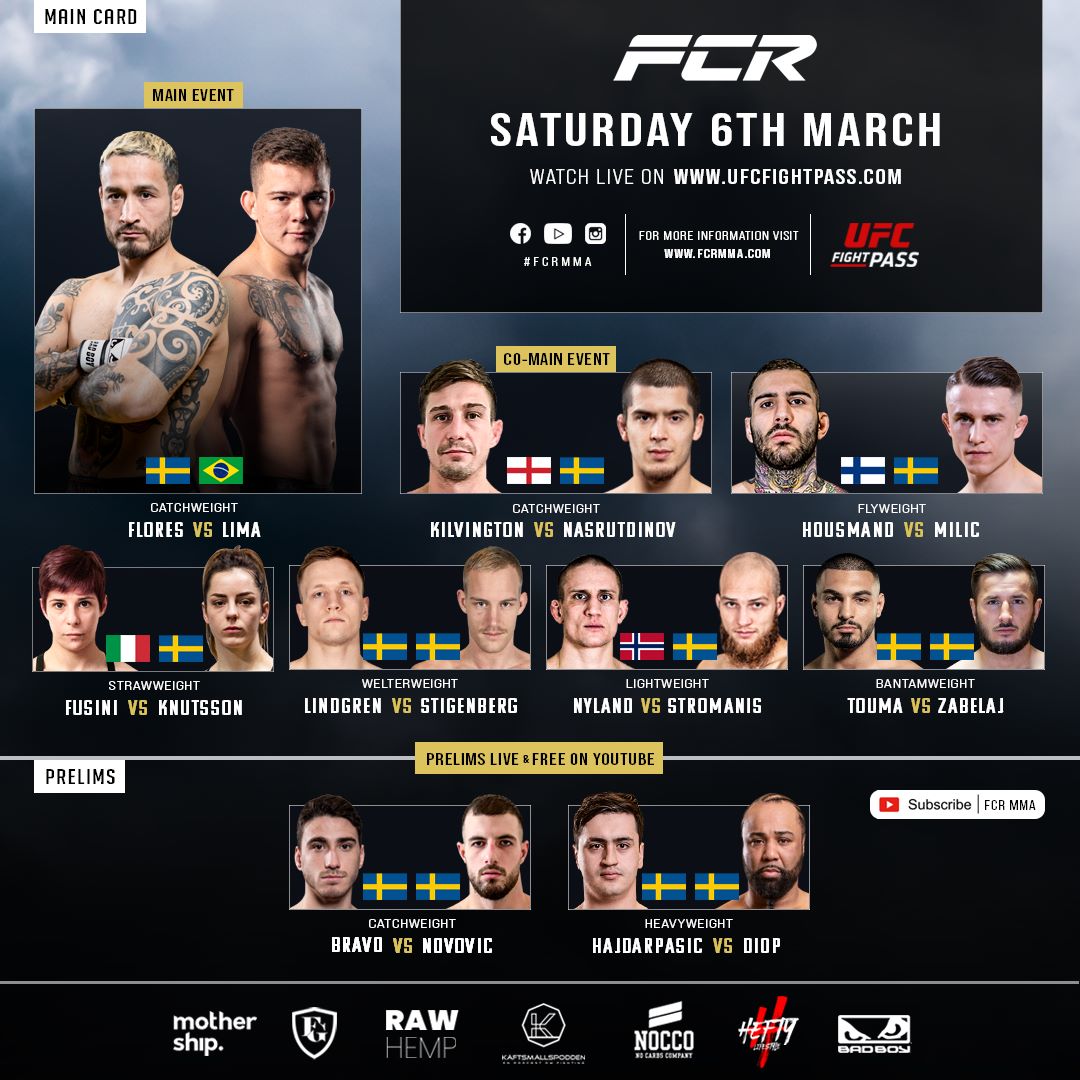 Ilaz Zabeli vs. Jonny Touma
A good first round for Zabeli, but Tuoma came on strong in the late rounds to win the unanimous decision 29-28.
Geir Kåre Nyland vs. Rahmads Stromanis
Nyland the only Norwegian representative. Nice kicks from Nyland, but some nice punches from Stromanis early forcing Geir to clinch. Good low kicks from the Norwegian. Rahmads moving forward. BIG right hand from Stromanis, and Nyland is hurt. Another punch puts Geir to his back and one last punch on the ground for a KO.
Alexander Lindgren vs. Christian Stigenberg
The pace speeds up as the two are just throwing bombs. Some good shots from Lindgren, but Stigenberg lands an left hook then an over hand right hand the sends the fellow swede to the ground, where he is hit again as the referee jumps in to stop the bout. Stigenberg wins at 1 minute and 13 seconds.
Josefine Lindgren Knutsson vs. Adriana Fusini
Knutsson landing some solid left high-kicks. Josefine staring to land in volume mid-way through the round. The Allstars gym fighter gets a take-down, then back to the feet just landing more and more. The lead leg of Fusini is just purple all over. Face is cut.
Knutsson is so strong and striking so clean. Dominating this fight. Fusini gets a body lock to slow the punishment. Oh, a clean combination lands and drops Adriana! Going for a rear-naked choke as the bell rings, but can't get it.
More pressure in the third, just a barrage of kicks and punches. A good right hand does land from Fusini, but she gets knees to the face in the clinch and more kicks to the face. Just a dominant performance for the Swede, 30-24, 30-25, and 30-24.
Zoran Milic vs. Hannan Housmand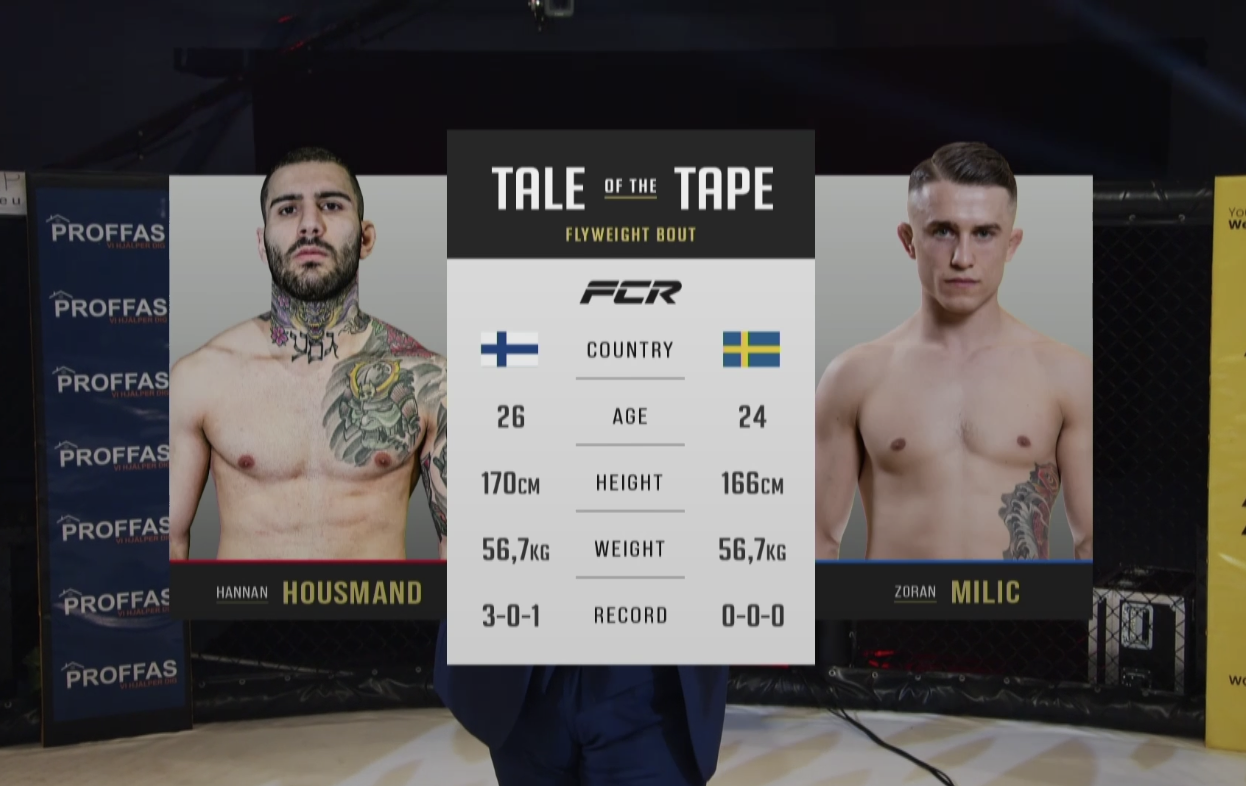 Oh, Reza Madadi in Housmand's corner.   A short notice fight for the Finnish based fighter.  Milic is ready to make is pro debut, and lots of local support in this one.
Two real clean calf kicks from Milic to start.  Both fighters attacking low.  45 seconds in and Hannan decides to take the fight to the ground as he finishes on a double-leg take-down.  As Zoran turns, Hannan snatches a guillotine!  Oh, it is tight, but Milic eventually rolls through to escape and is now on top half way through the round.  As Hannan is sitting with his back against the cage, he takes elbows to the head on both sides, and cuts the Finn.  Housmand does work to get back on top, but taking more elbows in the process.  Oh, in the transition Hannan snatches an armbar!  It is close!  But time runs out.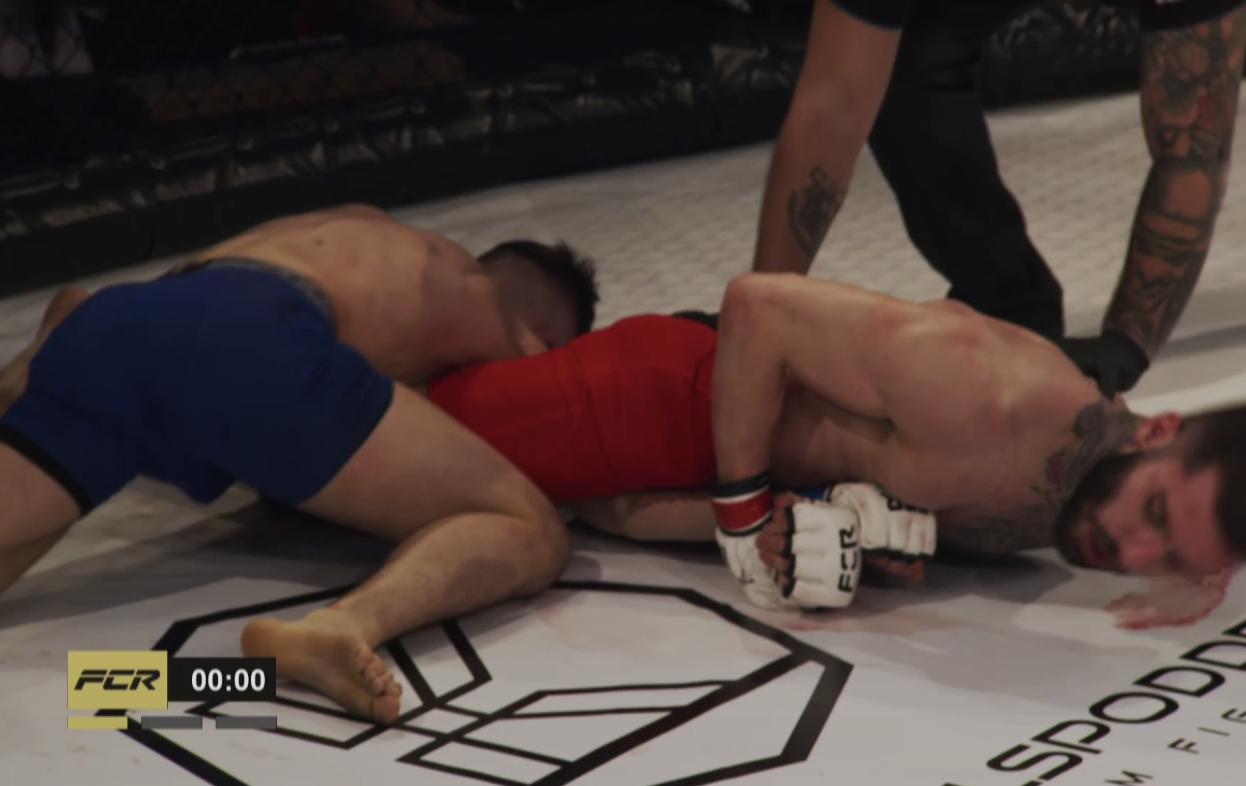 Another nasty low calf kick, and Hannan goes to the ground.  Zoran gets on top and now landing elbows.  Several left elbows to the face,  more and more… and the fight is stopped!  3rd round TKO for the Swede.  A top prospect is emerging here in Milic.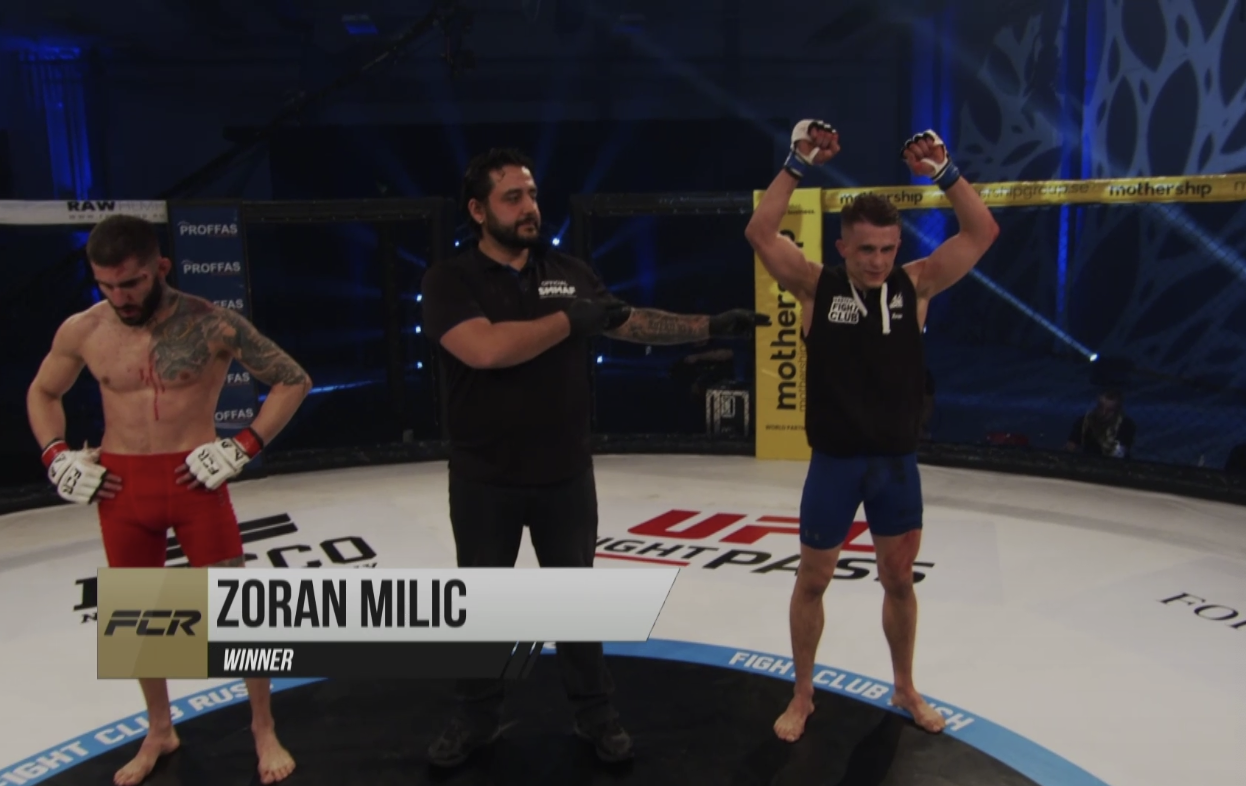 Abdurahman Nasrutdinov vs. Ashley Kilvington 
Kilvington looking to go 3-0 in his career.  Both fighters looking to land big in the first.  Nasrutdinov is faster and pressing the action, then Kilvington got a near take-down at the end of the round, but stopped by a quick fence grab.
Nasrutdinov is turning up his offence.  A ninja kick off the fence!  Two more hard kicks, and he is flowing here. Kilvington is cut.  Nasrutdinov catches a kick, gets a take-down, then lets up his opponent.  Wow, a big straight right hand from Abdurahman!  Sends Ashley to his back, and a couple more punches and the referee jumps in at 2:18 in round 2.  Allstars gym is on a roll with another win, this one a pro debut.
Fernando Flores vs. Felipe Lima 
This is the main event.  Lima starts with an overhand right.  Flores looks to be gaging the speed here.  Oh, a flying knee from Lima that lands!  El Torro stunned, but stays composed as Felipe rushes in.  We got a fight!  Flores looking to counter and lands a nice right hand.  Lima has all the energy, and flies in for another knee, then Fernando in on the take-down.  Good body kick from Flores, then a flying knee from Lima.  Flores is bleeding… the canvas turning red.  Good take-down defense from the Allstars fighter.  Lima with a good overhand right, and that round goes to Filipe.
Lima landing some good short shots here.  The left hook goes to the body and head, and the tide seems to be turning in favor of Lima.  But, a good right hand from Flores that lands.  Now it is Filipe that wants to take the fight to the ground and he does.  Leg in and searching for a rear-naked choke.  Some light punches with the left hand, but Flores is out.  Big right hand rocks Flores.  Lima taking his time, and in on a take-down with under two minutes left.  Lima goes all in on a rear-naked choke and briefly gets it, but the second round is over.  Big round for Filipe.
Flores comes out showing he is not discouraged from the first tow rounds.  In on a take-down, but Lima reverses and gets a double-leg that he lifts high in the air to finish.  Flores reverses and tries to get a take-down of his own.  A hard right hand body shot, then a flying knee that stuns Flores!  "Two minutes left" yells Madadi, as Filipe finishes a take-down.  Lima pouring it on trying to find a way to finish, but this one makes it to the judges as lima lands a knee to the head and a cartwheel kick at the bell!  The two embrace recognising the hard fought battle.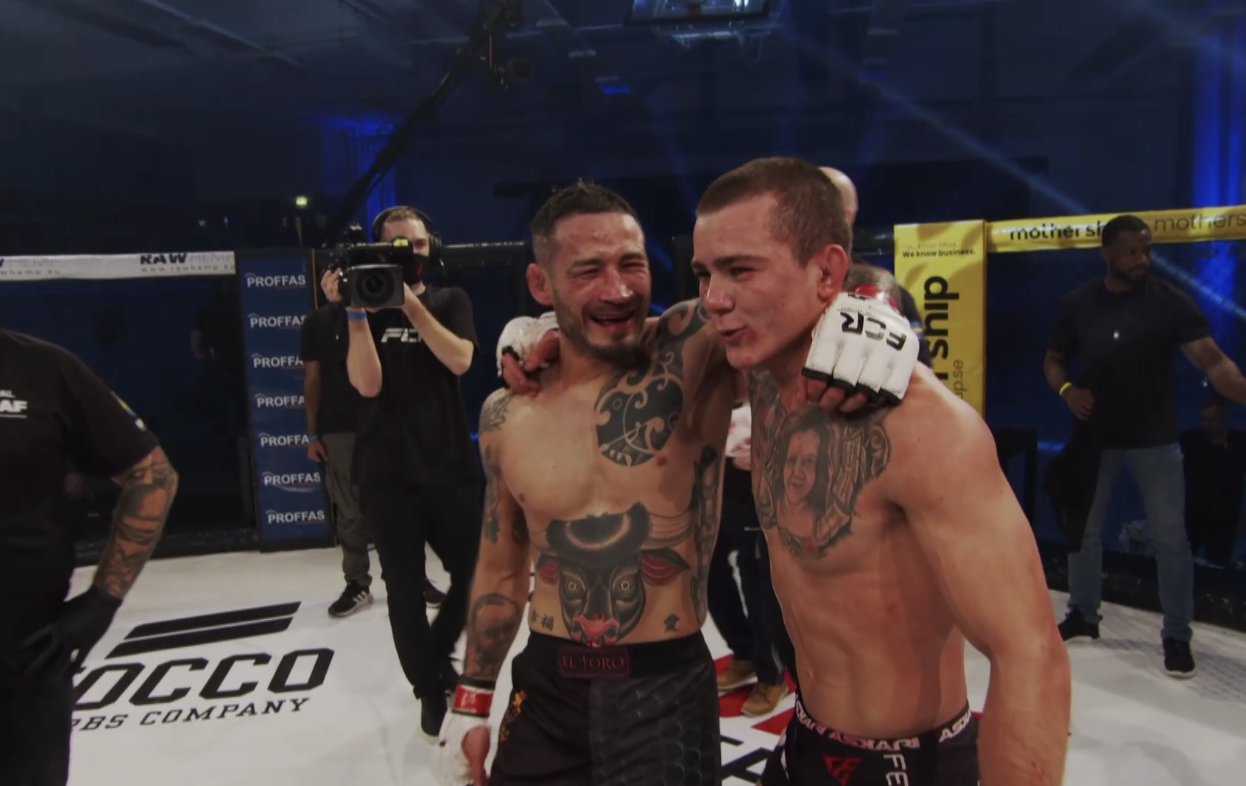 30-24, 30-26, 30-24 in favor of Lima.