Turku Fight 7 goes down today in Turku at Kupittaan Urheiluhalli. Well known Finnish fighters such as Olli Santalahti, Jerry Kvarnström, Patrik Pietilä, and Kai Karar are on the card. Get your live results here, with pictures and more coming after with the MMAViking.com crew Jarno Juutinen and Riku Hasari in the house.
TurkuFight 7 Fight Card Results
Amateur Boxing
Topias Vaittinen, Porin NMKY Vs. Mico Hakkarainen, Forssan Nyrkkeilijät
Winner: Hakkarainen by decision (3-0).
Amateur Muay Thai
Kaisa Leino, Turku Muay Thai Vs. Heidi Vuoma, Oulun KamppailuKlubi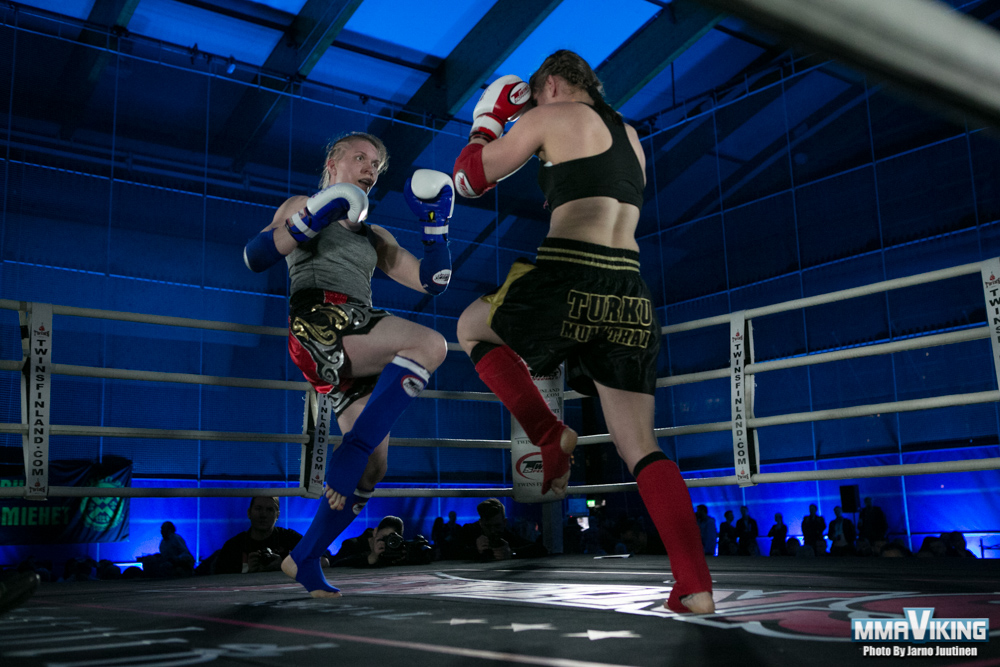 Winner: Kaisa Leino by decision.
IMMAF Rules
Elmo Peltonen, Eura Fight Brothers Vs. Mergim Syla, Sports Academy #1 Porvoo
Winner: Elmo Peltonen by split decision.
IMMAF Rules
Erkka Kortetmäki, Finnfighters´Gym, Turku Vs. Kirill Andreev, Sankukai, Turku
What a wild fight from these amateurs. Winner: Kirill Andreev by majority decision.
MAIN CARD
Pro MMA: Volodymyr Holubiev, Turku Muay Thai Vs. Toni Lampinen, MMA Rauma
This fight has been cancelled after Holubiev missed weight by 2 kg.
Pro MMA: Kai Karar, MMA Team 300 Vs. Nizamudin Ramazanov, RussFighters, Venäjä
Round 1 – First minutes of the fight is spent standing up and trading low kicks until Ramazanov scores a takedown. Ramazanov delivering punches from top as Karar as keeping his guard closed. Kara tries to setup triangle, but Ramazanov defends. Round ends as Ramazanov strikes some punches from top position.
Round 2 – Nasty lowkicks by Karar start the round. More lowkicks by Karar reach their target as minutes pass. Karar controlling the standup. Ramazanov scores another takedown and ends up in the half guard of Karar. Karar manages to upgrade half guard to full guard. Ramazanov scoring points by ground and pound. Karar tries to counter with strikes from bottom. More punches by Ramazanov. Close round, Karar controlling the first half and Ramazanov the later one.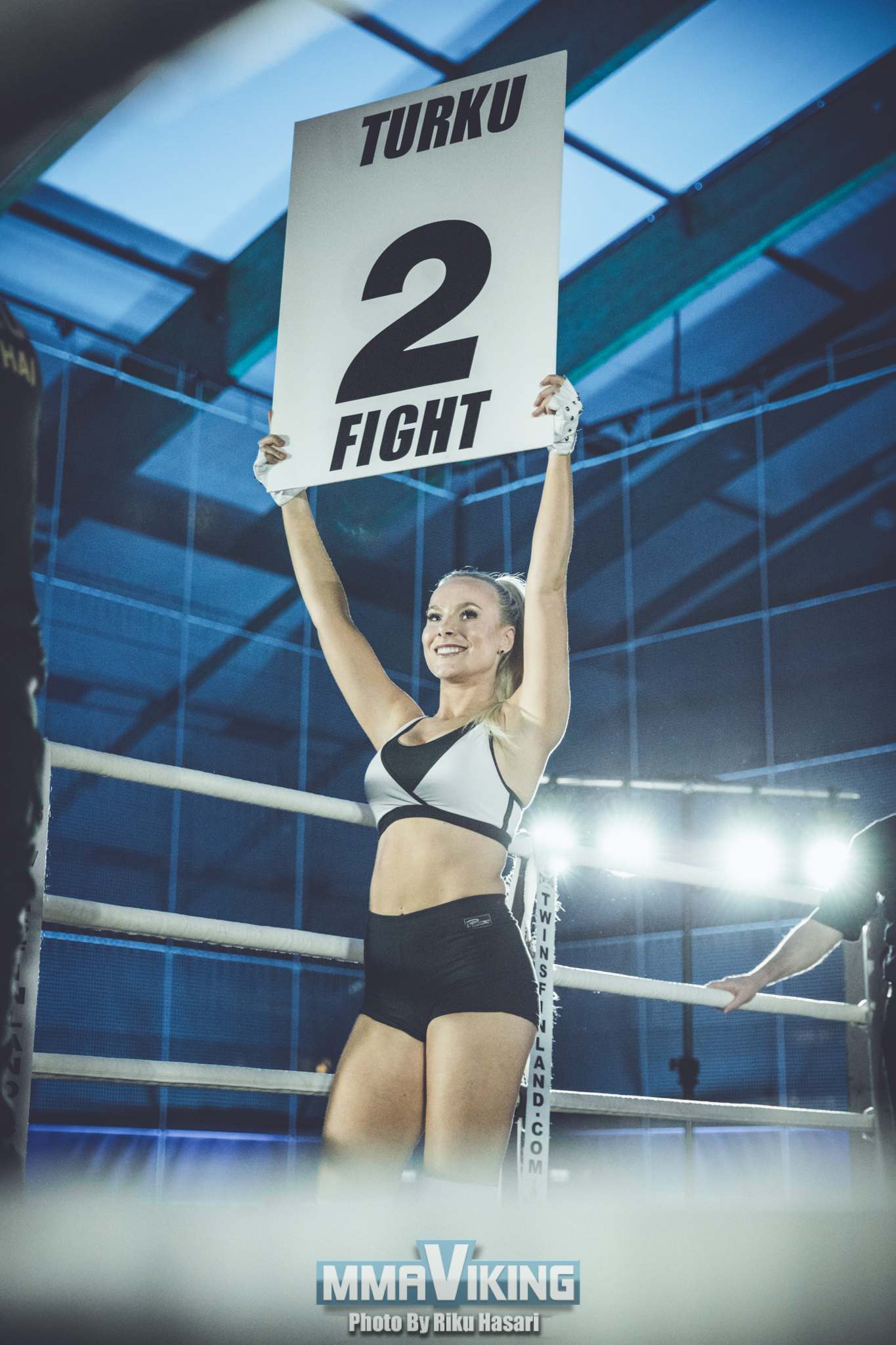 Round 3 – Start of the round is identical to those of 1st and 2nd rounds. Fighters working on standup and keeping the distance. Fight is paused due to eye poke. Doctor goes to check Karar and allows him to continue. Ramazanov goes for a single leg takedown but Karar counters and ends up on the top. Fighters are back standing up trading single punches. Ramazanov goes for another takedown but is too tired to finish it. Karar takes advantage of the poor takedown attempt and is now on Ramazanov's half guard. Ramazanov goes for a triangle but does not succeed. Fight is over as bell rings.
Winner: Kai Karar by split decision.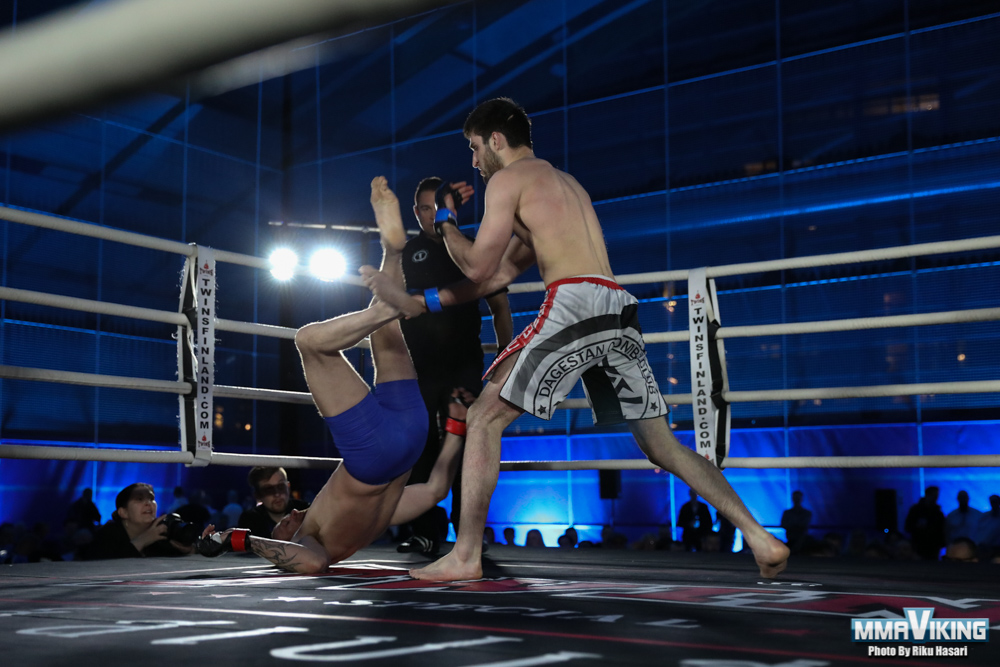 Pro MMA: Patrik Pietilä, Primus Fight Team / Lahden Gentai Vs.  Andrey Zubenko, Ukraine
Round 1 – Fight goes to the corner of ring and Pietilä manages to trip Zubenko. After a scramble the fight is back standing up. Zubenko is executing really agressive standup game and is controlling the ring. Zubenko lands a real power punch and Pietilä seems bit rocked. Ukrainian goes for strikes but Pietilä ducks under and scores a perfect text book double leg takedown. Pietilä takes the back and sinks the RNC in. Its tight! Zubenko is forced to tap.
Winner: Patrik Pietilä by RNC, round 1.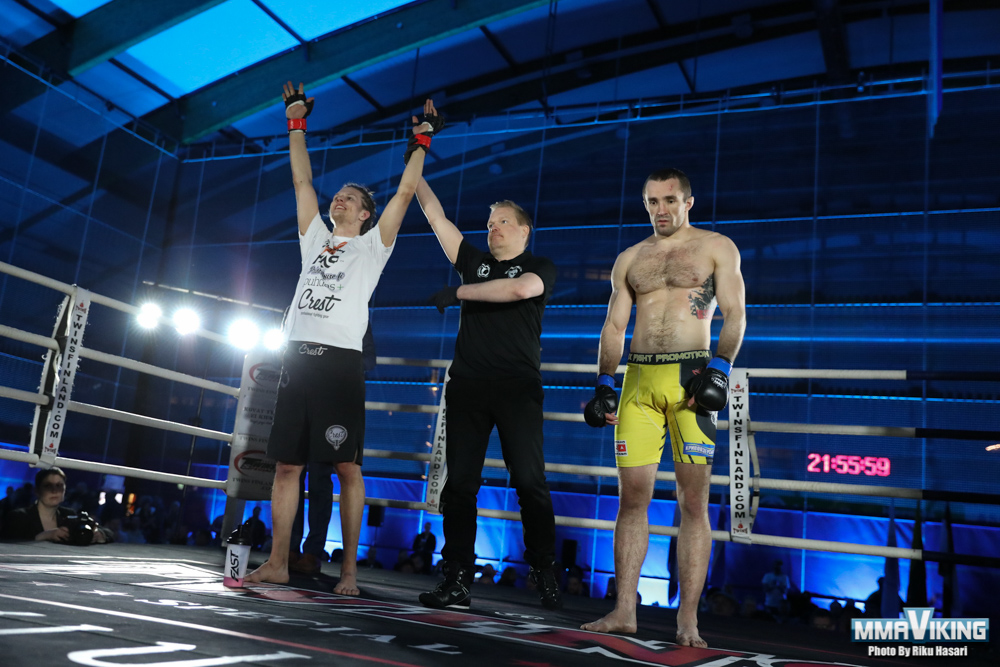 Pro Muay Thai: Jussi Santalahti, Turku Thai Boxing Club Vs. Ovidijus Jurginas, Otso Gym, Liettua
This fight was a total back and forth 5 round warfare between two muay thai warriors.
Winner: Jussi Santalahti by decision.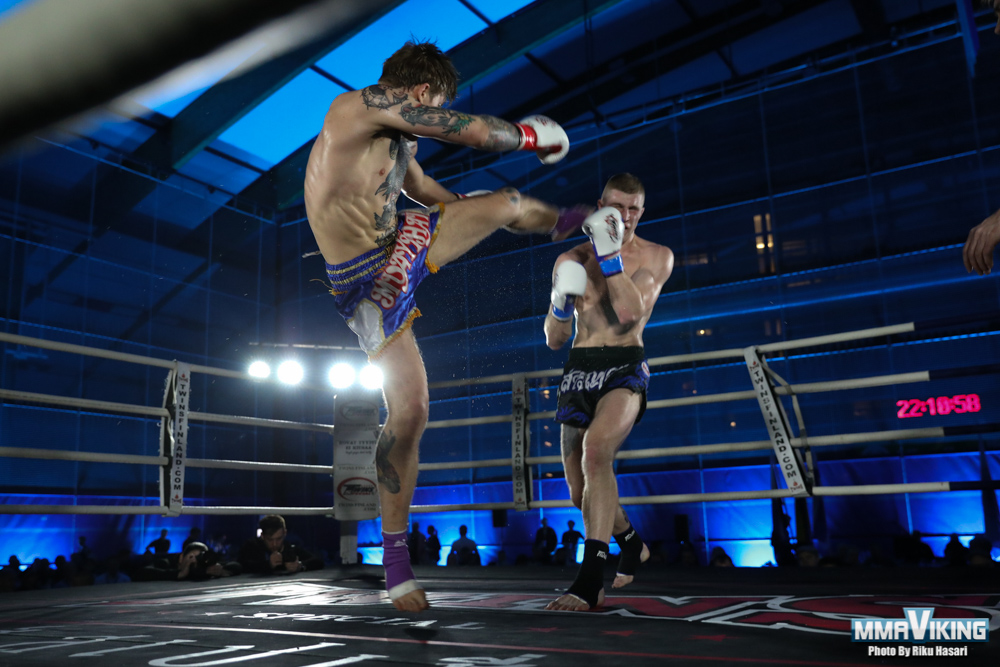 Pro MMA: Olli Santalahti, Finnfighters´Gym, Turku Vs. Maxim Sergeev, Ukraine
Round 1 – Round starts with both sides delivering powerful strikes. Santalahti goes for a takedown and manages to secure it. Santalahti now on top / half guard position delivering short punches to the head of the grounded opponent. Santalahti has a nasty cut on his eyebrow. Santalahti proceeds to side control as Sergeev tries to regain guard.Santalahti is preparing a side choke, but Sergeev gives hes back to defend the it. Santalahti has hooks in and is striking Sergeev to the head. Santalahti secures a body lock. Santalahti goes for a Nasty Suloev stretch and opponent is forced to tap before serious injury. This is the exact same submission as Santalahti used in Crest Professional Grappling tournament against Sebastian Brosche.
Winner: Olli Santalahti by Suloev stretch. Round 1.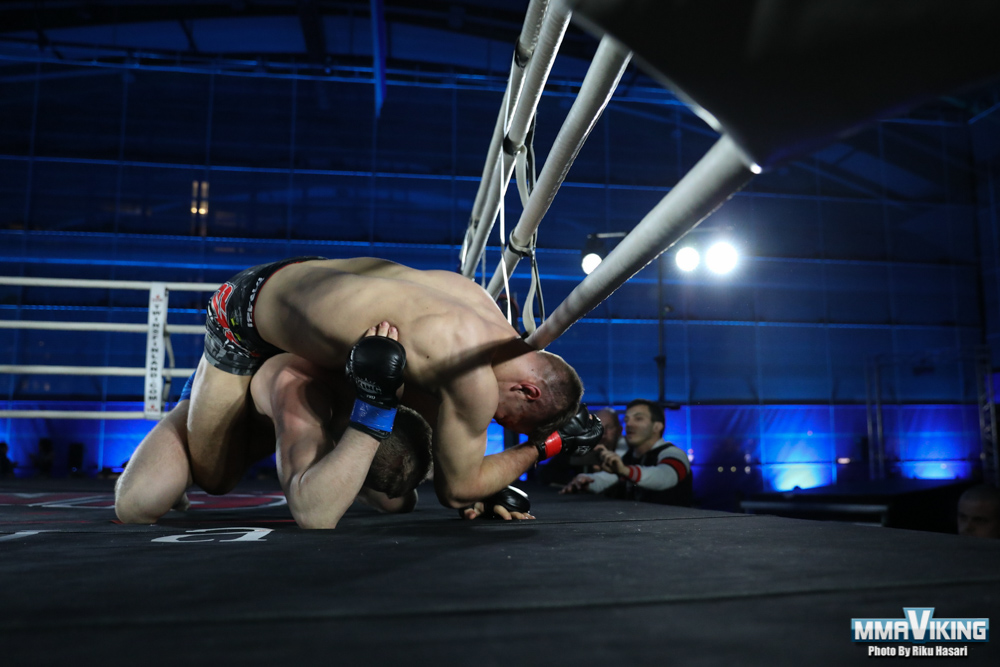 Pro MMA: Jerry Kvarnström, Team Northern Lights Vs. Silvester Saba, Tristar Gym Lebanon for the Belt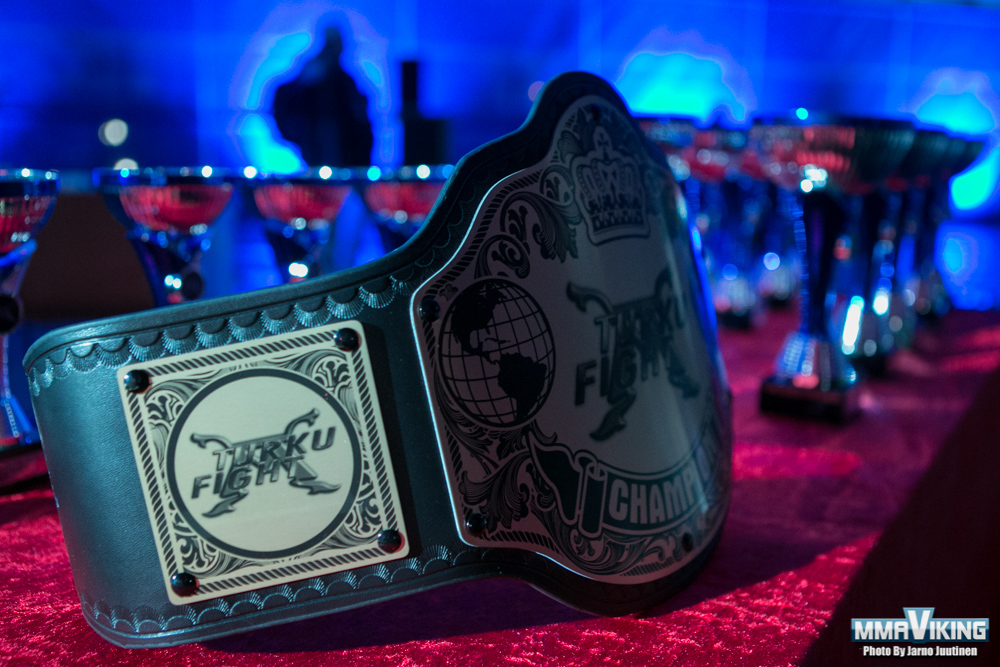 Round 1 – It's on! Jerry starts with powerful strikes and kicks but Saba is pressuring Kvarnström to the corner. Kvarnström throwing multiple low kicks with full power. Saba gets Kvarnström back to the corner of the ring and starts to pour punches. Kvarnström escapes and gains sprawl control over the Lebanese opponent. Kvarnström goes for the back but does not manage to secure both hooks and ends up surfing on the top/side position. Finnish fighter gives up on the final hook and starts kicking the turtling opponent to the body. Multiple body kicks reach their target. Fight is now back up as the round is over.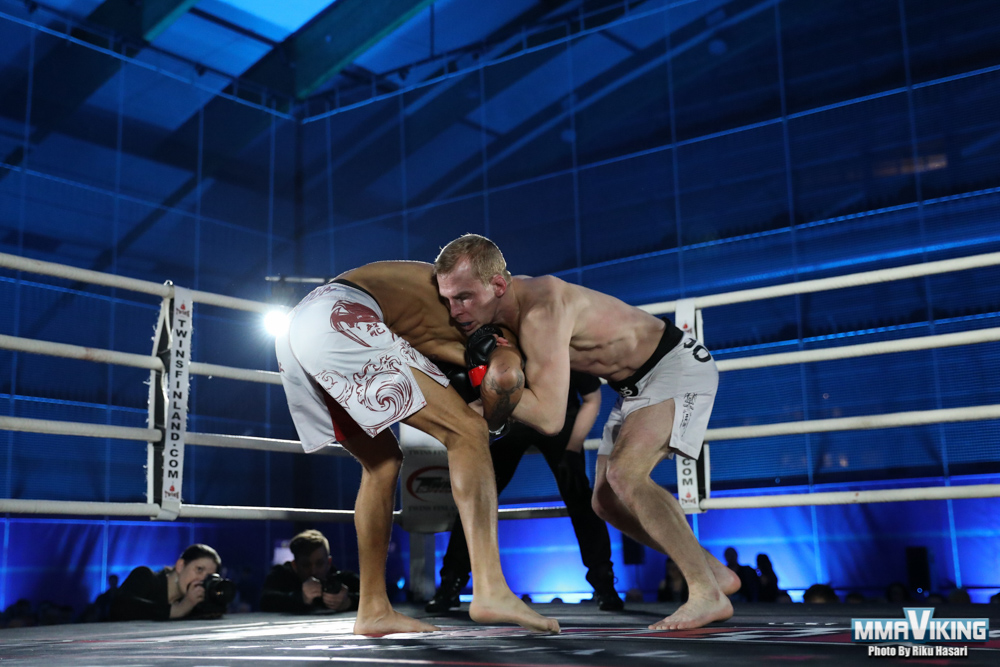 Round 2 – Saba is again pressuring Kvarnström to corner of the ring. Kvarntröm throwing big haymakers. Saba is successful with heavy punches and seems to have a window of opportunity to finish this fight. Kvarström is not giving up and executes ankle pick takedown. Finnish fighter is now on top delivering some GNP. Saba is doing what he can to disable Kvarnströms GNP game and no significant damage is done. Fight is back up and Kvarnström takes Saba down for another time just in time to avoid more damage while standing up. Round is over as Kvarnström is on top.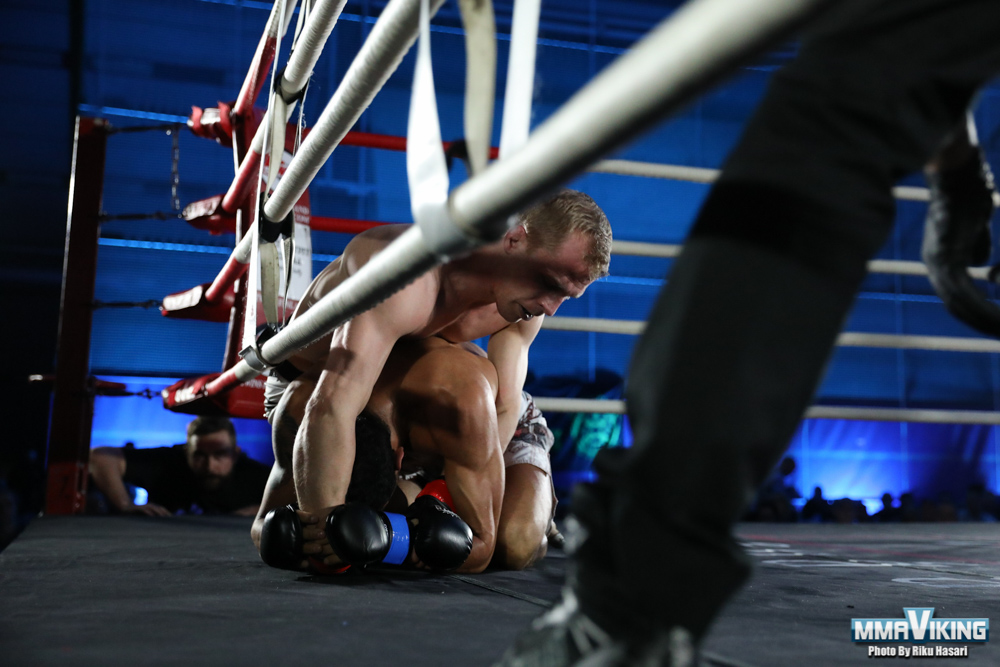 Round 3 – Fight is back in corner of the ring and both fighters are successful with their strikes. Saba is putting pressure on. Fight goes to the ground and Kvarnström secure the back and has both hooks in. Kvarnström sinks in RNC and it's tight! It's all over as Saba is forced to tap.
Winner: Jerry Kvarnström by RNC, round 3.