Get you live play-by-play and results of Cage 31 here.  MMAViking.com's Iikka Nikkinen is cageside at the Helsinkiäs Kulttuuritalolla, so live photos will be included with fight-by-fight galleries coming shortly after the event.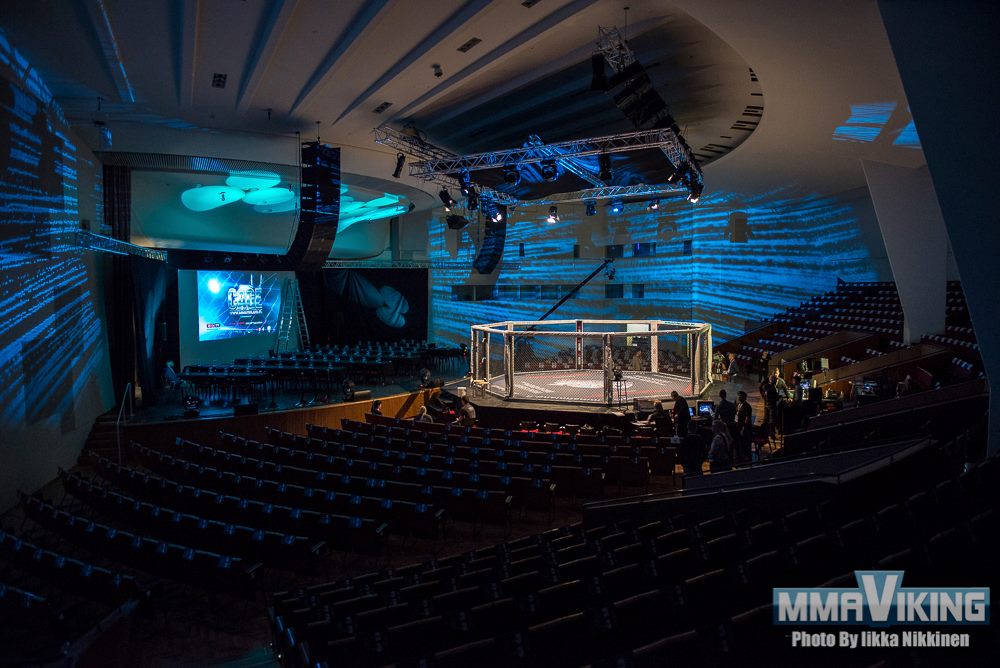 Cage 31 Results
Saku Heikkola Finland vs. Milan Markovic Austria -93 kg
Round 1
The touch of gloves…. and we are live! The southpaw Heikkola looks patient, but Markovic jumps in to try for a quick take-down, but nothing is there. The Austrian fighter likes the tie-up, while the Finn likes to strike from a distance.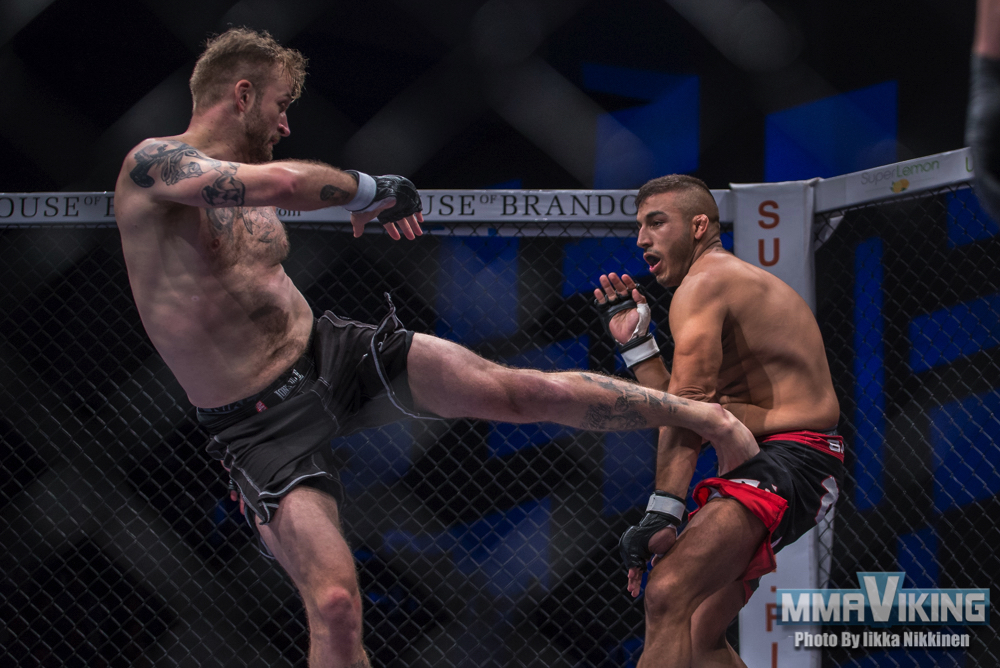 Both of these guys came to fight. Left kicks form Saku, but Markovic gets it to the ground breifly, but they are back up. Good crowd in Helsinki appreciates the work being done by there fighter, cheering with each kick.
Round 2
Good counter right from Markovic, and after several left high kick attempts Saku is taken down to the ground. Some light ground and pound on top, and Saku doesn't seem to be comfortable on the bottom here. Heikkola back to his feet with a minute left in the round.
Round 3
Final round, and the winner of the next 5 minutes should get their hand raised. Good one two from Saku in the middle of the round, but no fighter has established an offense so far. Now with 2 minutes a clinch, and Saku lands a knee…. but it is low. A break in the action, and Markovic face is busted up. Quick takedown from the Austrian. Back to the feet, but a quick last second take-down from Markovic at the buzzer. Great battle, good matchup.
Winner by unanimous decision is Saku Heikkola.
Niko Myllynen Finland vs. Ash Griffiths England -70,3 kg
Round 1
Griffiths with a nice double leg to get the fight to the ground, and both fighters against the cage. Griffiths looking for a guillotine, but he is mounted and not in any position to finish. Myllynen is on top and punishes, and now back. Rear-naked choke is applied, but Ash wraps up one arm here. The Finn flips Ash to his face and flattens him out, and now the finish will come. And there is the tap.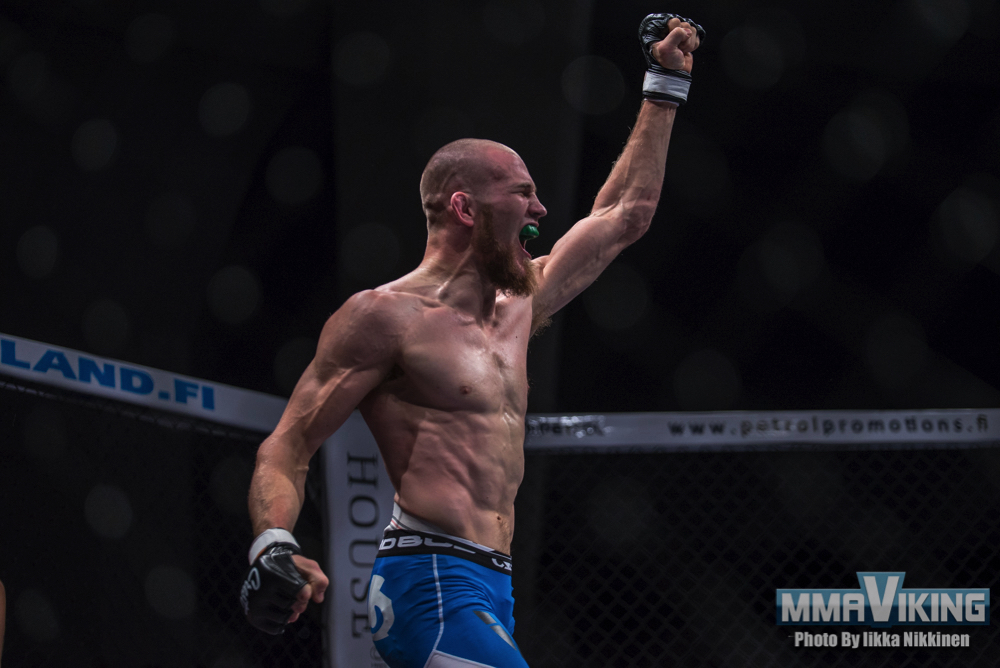 Winner by first round submission (rear-naked choke) is Niko Myllynen.
Suvi Salmimies – Cor Sundman Finland vs. Lucie Pudilova Czech Republic -56,7 kg
Round 1
Pudilova looks relaxed, and Salmimies has her game face on with the corn rows in place. Suvi refuses to touch gloves, and the fight begins. The Czech fighter stands straight up, and swings with a huge right hand that misses. The Team East Front fighter moves her head well, and moves in for a take-down. The two are now against the fence. Suvi as a body lock from behind, that moves to the side and now pushes her opponent to the cage.
Such a long reach for Pudilova, but Suvi tries to work inside with tighter punches, while the visitor with more looping swings. Good exchanges late. Close first round. No fighter takes a seat in between rounds.
Round 2
The two tie up here, as Suvi presses her to the cage. Pudilova striking is very good from the outside, and the Finn is avoiding. The left hand of Pudilova is making all the difference here. Suvi looking for opportunties with a low kick. This is turned into a kick-boxing bout, and you can feel the tide turning to Pudilova. Salmimies tries for a single leg take-down, but it is defended well.
Round 3
Salmimies gets a body lock again, but it is Pudilova that finishes with a head and arm trow to the ground. The Finn has back, and in position to control as she throws a leg in here. Tight headlock however remains locked in this stalemate position. The stand, but another throw to the ground from Lucie. Suvi now is out after some work, and less than two minutes left in this one. Some good stiff jabs from Pudilova against the cage. Suvi catches a leg, and lands a good elbow at the final bell.
Winner by split decision is Lucie Pudilova.
Aleksi Nurminen Finland vs. Jonathan Svensson -70,3 kg
Round 1
Svensson is hearing a few boos as his name is announced first, but urges the crowd to give him some love. The popular Nurminen gets his cheers, and it is going down now as the chants sound like a soccer game.
Svensson switching stances as the two keep their distance early. Nurminem with a spinning kick that misses and a high-kick that misses.
Decent overhand right from the Finn, but no damage here… but now Svensson unleashes a nice combination then presses up the Finn against the cage. Good knee for Nurminen in response, as he holds a thai clinch. Another good combination from Svensson, but Nurminen lands a spinning kick to the body.
Good clinch work from the Finn again, using knees. Leksi with a body lock against the cage as the first round comes to the end. Close round.
Round 2
Right low kick from the Swede that brings down Nurminen to the ground. Svensson looks strong and well conditioned here. Svensson gets top position after Nurminen rolls for a leg lock, but 3 minutes left and the two are standing again. Nurminen snatches a quick guillotine attempt, but leaves with a knee to the face.
Svensson working the left leg with kick after kick here. The Pancrase fighter looks like he is doing what he came to do today. Another solid low kick. Good knees from Aleksi, and they drop Svensson to the ground and the Finn is going for the kill here. Now moves to back, and working a head and arm choke. It looks tight, and a tap! It is all over! What a turn of events, as the Finn turns it on quickly! Wow.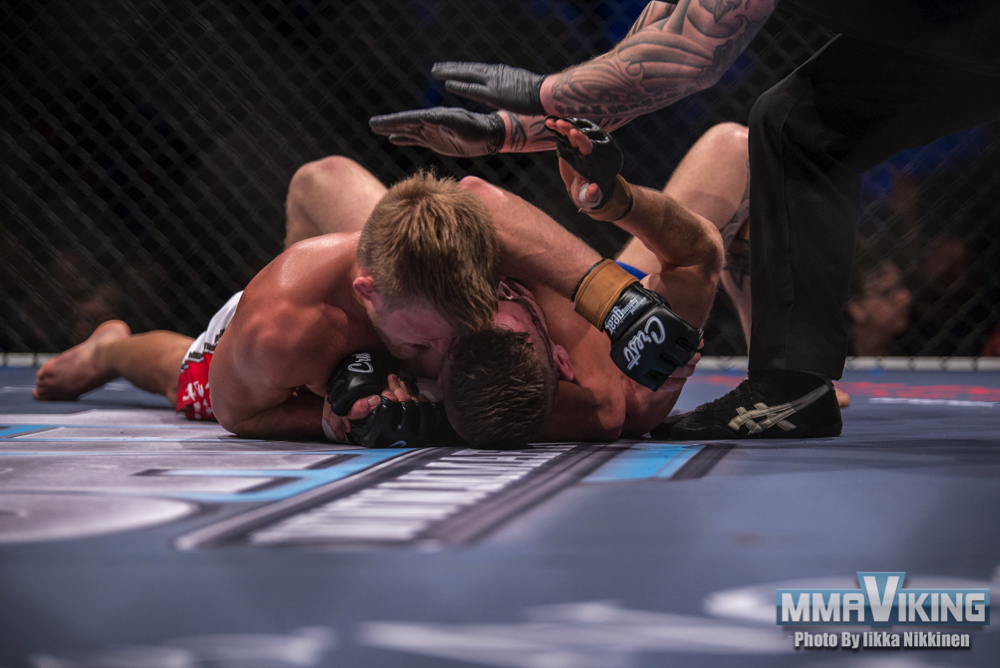 Winner by submission (side choke) Aleksi Nurminen.
Janne "Jamba" Elonen-Kulmala  Finland vs. Evgeny Manko Belarus -61,2 kg
Round 1
Jamba in his southpaw stance looking to land from the outside, but this Belarus fighter is not here to play around… as he fires back punches. Two real athletic, fast, and strong fighters in the cage. Good combinations from the visiting fighter, while the Finn sits on his lethal left hand waiting to land. Jamba puts Manko on his back with a double-leg takedown.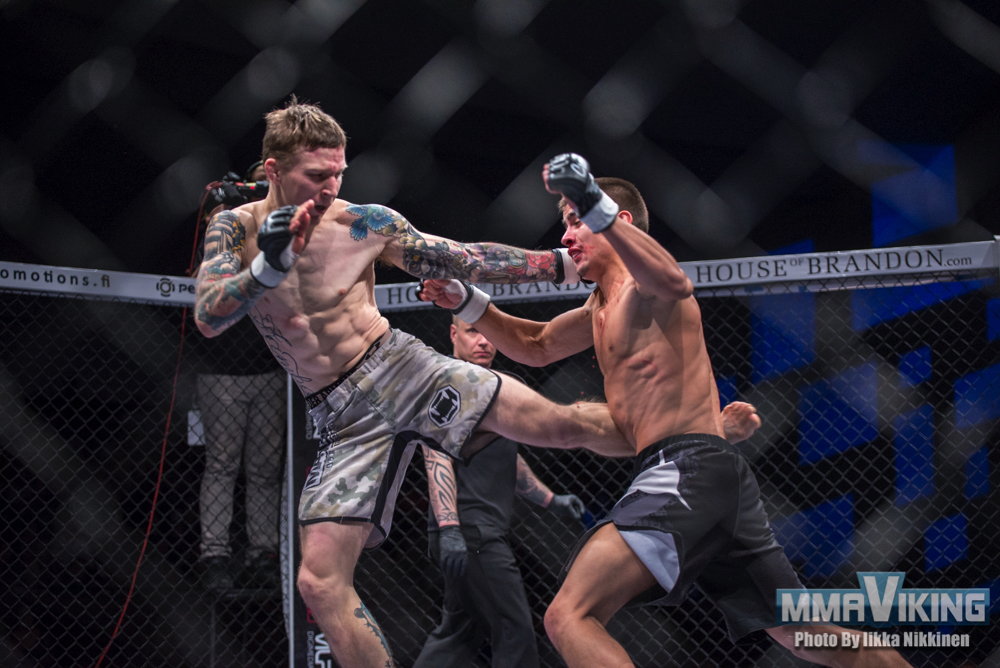 The Finn improves position, and now moves in for a side choke, but it is too close to the cage… now he transitions to an armbar. Back on top, but Manko goes for a weak guillotine… and it looks like a von flu choke. Wow… there is the tap! Sneaky Jamba. What a win!
Winner by submission (von flu choke) Janne "Jamba" Elonen-Kulmala.
Rafael Domingos Brazil/Finland vs. Vitaly Ulich -65,8 kg
Round 1
Here we go, kick then a quick take-down from Rafi.  And he has back, and I get a bad feeling about this fight not going very long.  Punches from the top to each side of the head, and now a rear-naked choke!  But, Ulich fights it, but looks in all sorts of trouble.  Full body lock.  But a scramble as Ulich won't give in easy.  Domingos picks up and puts down his opponent, and he has back again.  Rear naked choke looks TIGHT.  There is the tap, and another win from Rafi.
Winner by submission (RNC) by Rafael Domingos in first round.
Eric Reynolds (C) USA vs. Anton Kuivanen -70,3 kg Title Fight
Round 1
Very strange to see Kuivanen waiting in the cage, but the champ comes in last… and for the moment that is Eric Reynolds.
Here we go!  Reynolds comes out aggressive.  Kuivanen with some kicks to keep distance.
A spinning kick lands Kuivanen on his own butt as he misses.  Reynolds misses a kick, and lands himself on the floor.  These guys are swinging, and Kuivanen with a good right… then gets one back.  Good body kick from Kuivanen lands.  The American doesn't seem to be worried about the striking of the Finn.  Left kick lands, and after some exchange it is Reynolds on the floor and Kuivanen is ALL OVER him.  But Reynolds survives and stands up.  Spinning kick from Kuivanen that lands to the face, now Reynolds with a solid right hand rocking the Finn.  Anton reacts with a quick takedown, slamming the champ to the ground.  Just over a minute to work here.
Kuivanen in side control, landing some good punches.  Reynolds is trying upkicks with his toe nails painted black.  Back to the feet, but Kuivanen gets it right back down and looks for a rear-naked choke!  It is tight, but no time on the clock.  Round 1 in the books, and a frenetic pace.
Round 2
Kuivanen priimarily in a traditional stance, and now looking for opportunities in the second frame.  Good combination from the Finn, and we got a fight here.  High stakes for Kuivanen, and he looks sharp tonight.  Missing a punch, Kuivanen gets on top towering over the American on the cage.  Looking for a kneebar, and it looks tight and uncomfortable, but not enough for a finish.  Kuivanen now in half guard and more importantly in control of another round.
Kuivanen pivots on top and looking for a kimura, but loses position and now on the bottom.  One minute left.  The Finn back on top after an opportune double-leg takedown.  Two rounds for the Finn in this 3 round championship bout.
Reynolds is tired, as he lays on the floor for a while before heading to his corner.
Round 3
Nice left in the exchange from Kuivanen, that is now mixing up kicks.  A double-leg takedown from Kuivanen that is imposing his will.  No damage being done here, but total control.  Kuivanen takes mount and just over 2 minutes left.  The American is smushed up agains the cage and nice short punches from Anton.  Full mount from Anton, but he gets too high and Reynolds sneaks out to his feet.
Kuivanen with another take-down, and the belt will be his shortly.  Side control and punches to the face, over and over.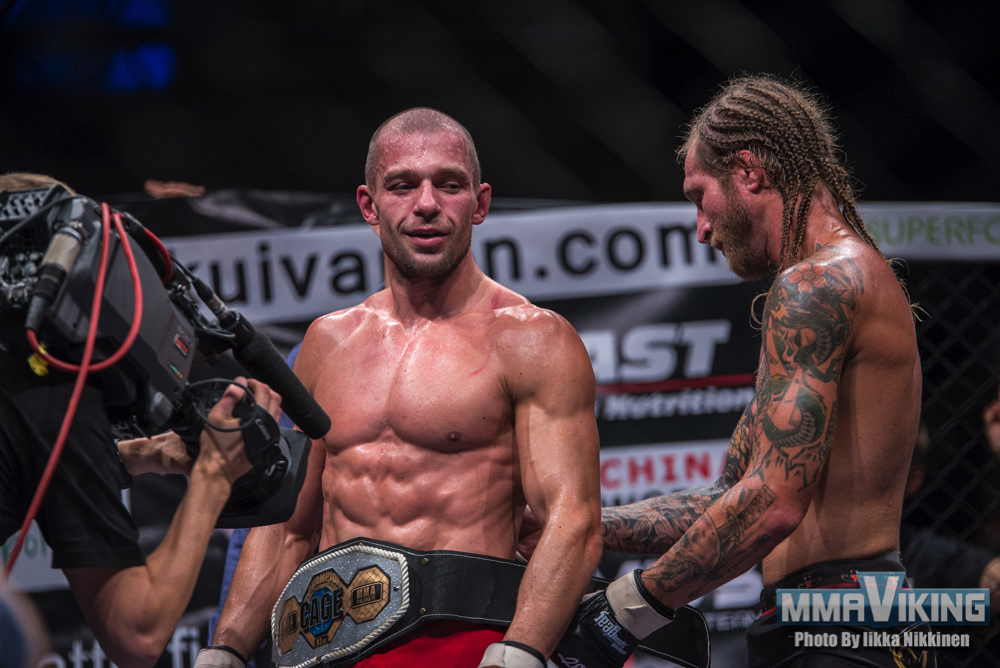 Winner by Unanimous Decision… and your  new Cage Champion Anton Kuivanen.