Norway's Emil "Valhalla" Meek (9-3, 1 NC) takes on Poland's Bartosz "The Butcher" Fabinski (13-2) at the UFC Fight Night in Hamburg. MMAViking.com's Ryan O'Leary is cageside in Germany to provide live PBP and updates.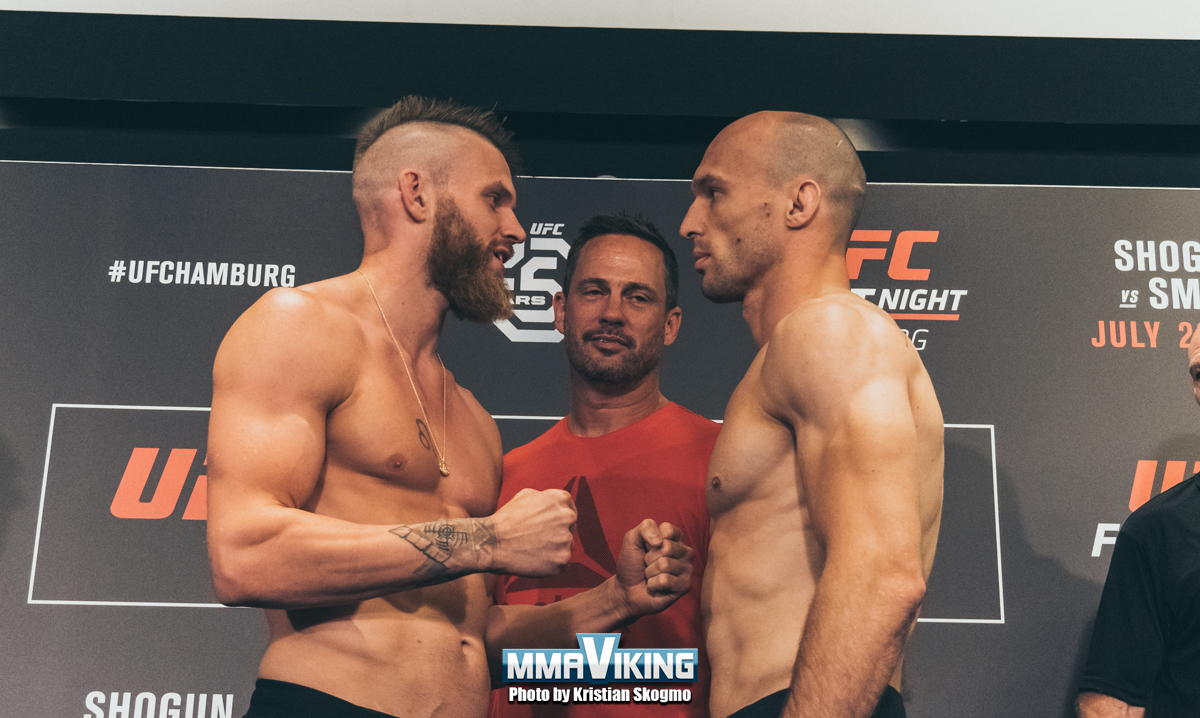 Live Results
Round 1 – Meek with a flying knee to start the bout, but Fabinski fires back with a spinning elbow before lowering for a double-leg take-down and put on his back. The Polish fighter is smothering on top. Valhalla pushes down on the head to make room as the crowd chants "Emil, Emil, Emil."
Both @EmilValhalla and @BartoszFabinski right out the gate at #UFCHamburg!! pic.twitter.com/VCMk9K561D

— UFC Europe (@UFCEurope) July 22, 2018
Half way through the round and Meek makes it to his feet before getting put back down. Not much of progression from the Butcher that seems to be resting as Swedish referee Kevin Sataki taking a look to see if he should call the fighters to their feet for lack of action. A few punches and elbow as the Norwegian sits up briefly. Not much damage, but a controlling 4 minutes and 50 seconds for Bartosz.
Round 2 – Emil lands a few punches, before Fabinski lowers his level and secures a single leg. A bunch of quick elbows in tight from Meek as he is raised in the air and takes down Emil. Blood on the top of the head of the Polish fighter.
Meek gets to his feet and applying pressure. Meek lands a good combination and the crowd is cheering. Fabinski quickly in on a leg and again finishes with a double-leg take.down. Two minutes left, and Meek has shown he is dominant on the feet, but the fight is taking place almost exclusively on the ground so far. Just a suffocating top game from the Polish fighter, he gets in on a double-leg as Meek gets up and as the Trondheim fighter secures a standing guillotine is picked in the air and slammed on his back. Full mount as the bell rings to end the second round.
Round 3 – Emil again lands some good combinations, and a right hand makes the Polish fighter stumble as he steps on the edge of the cage. A set-up combination fake to a double leg take-down from Fabinski that is again in on the legs. BUT, Meek defends well here. Meek going forward, and tries an overhand right hand. Meek os in control, and lands a good body kick. Meek with a combination! Fabinski is tired! Emil forced to defend a take-down half way through the round, and a submission looks tight! A no arm guillotine, but not tight enough. The action is stopped briefly, but again Meek is put on his back… killing all his momentum.
90 seconds left, and Emil needs something big here. Fabinski is one strong dude, limiting the options for the Norwegian to scramble out. A tight head and arm choke, and only 10 seconds left.
Unanimous decision for Fabinski (30-27, 29-28, 29-28).