Denmark's Damir Hadzovic (11-4) will face Nick Hein at the UFC Fight Night card in Hamburg. MMAViking.com's Ryan O'Leary is cageside in Germany to provide live PBP and updates.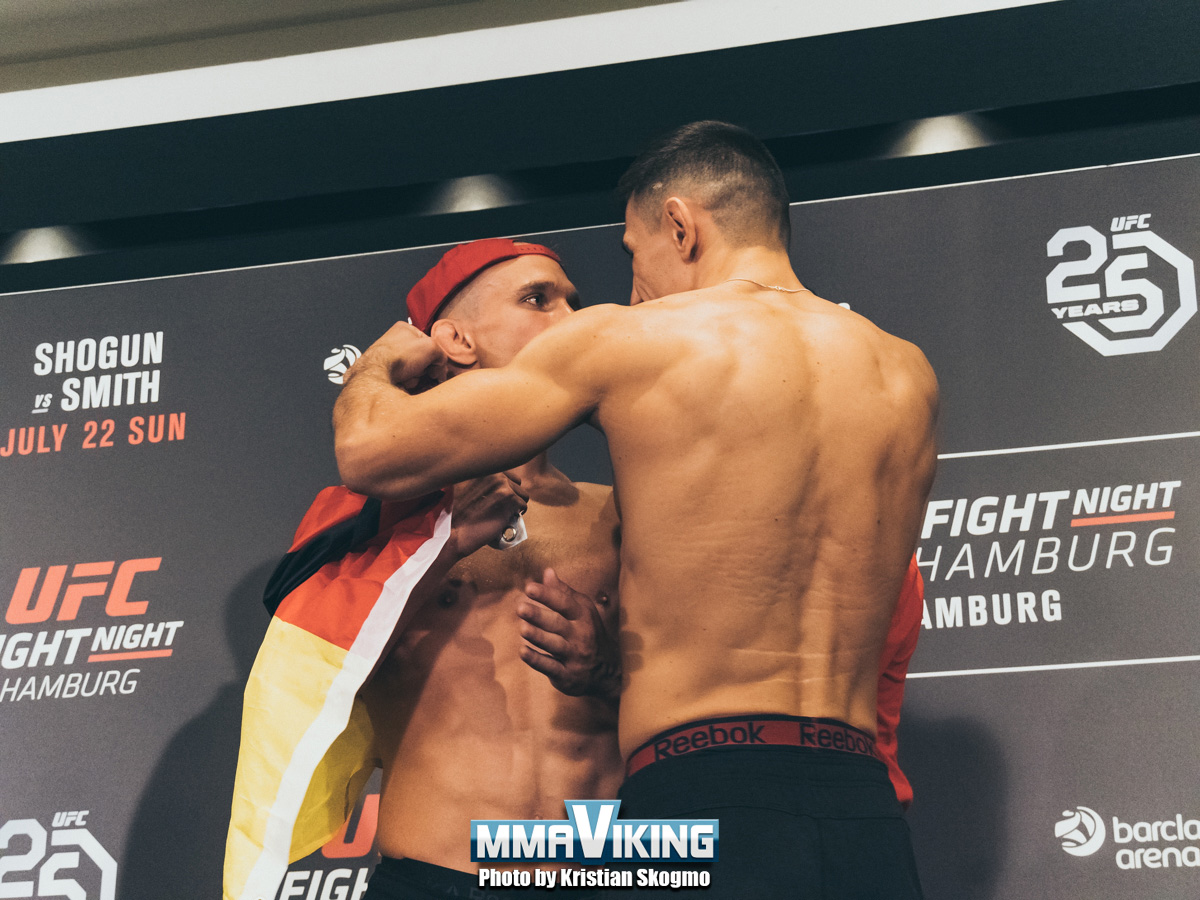 Live Results
Round 1 – Damir relaxed early, faking kicks and measuring the distance. Hein has power and tries to land with a right. Using the jab, Damir continues to measure as the German is more set on counterpunching. It's anyone's round here with two minutes left. The left hand is redening the right eye of the local fighter, and a right hand finds a home for Damir. No fighter with a take-down attempts and a close round, that may lean toward Nick's direction as he was more active.
Round 2 – Good overhand right and crisp left hand in the first minute. Right kick down low from the German. Damir very relaxed and focused on tighter punches as Hein is looping his punches. A wild left hand spins Hein in a circle. Hein attacking with slower punches to set up his attack, and he lands an uppercut. The Bosnian Bomber tries to go high with a kick. Crisp overhand left lands clean for Nick. Damir now pushing forward after landing a good left of his own. The face of Nick is reddening to include both his eyes, nose, and mouth. A close round, but again a more active one from the German but the cleaner shots landed by Damir.
Round 3 – Damir coming after Nick in the third sensing he needs it on the scorecards and lands a good kick and punch that gets the approval of a smiling Hein. Damir tries a right head kick and this time Nick shakes his finger saying that won't land. Damir lands and drops Nick! He is hurt from that punch and goes down to the mat. Damir lets him up and stalks him, starting with a good right hand. Counter one two from Damir, and Nick waves him in.
One two lands from the Danish fighter. Nick's mouth is open and looks like a broken fighter. Just over a minute left, and Damir looking for the finishing blow. Overhand right lands clean, a big round for Damir!. Another counter left hand! A flying knee and Damir hopes he did enough to get the win. It will come down to scoring on the second round.
We go to the judges!

How did you score @NickHeinMMA vs. @DamirHadzo at #UFCHamburg? pic.twitter.com/VHvtK83EPJ

— UFC Europe (@UFCEurope) July 22, 2018
Hadzovic wins by split decision 29-28, 29-28, and 28-29.