Fight Club Rush 4. goes down at the Bombardier Arena in Västerås with 6 pro fights on the card.  The story here is the up and coming Västerås Fight Club fighters that will be featured again on the promotion.  Tobias Harila (4-1) headlines the card, and top-prospects and former Swedish amateur champions Andreas Gustafsson Berg (0-0) will Robin Roos (0-0) will make their pro debuts in quality match-ups for the local fans.  Oh, and don't miss Hamza Bougamza (1-0) that is finally back in the cage! Get your live results here!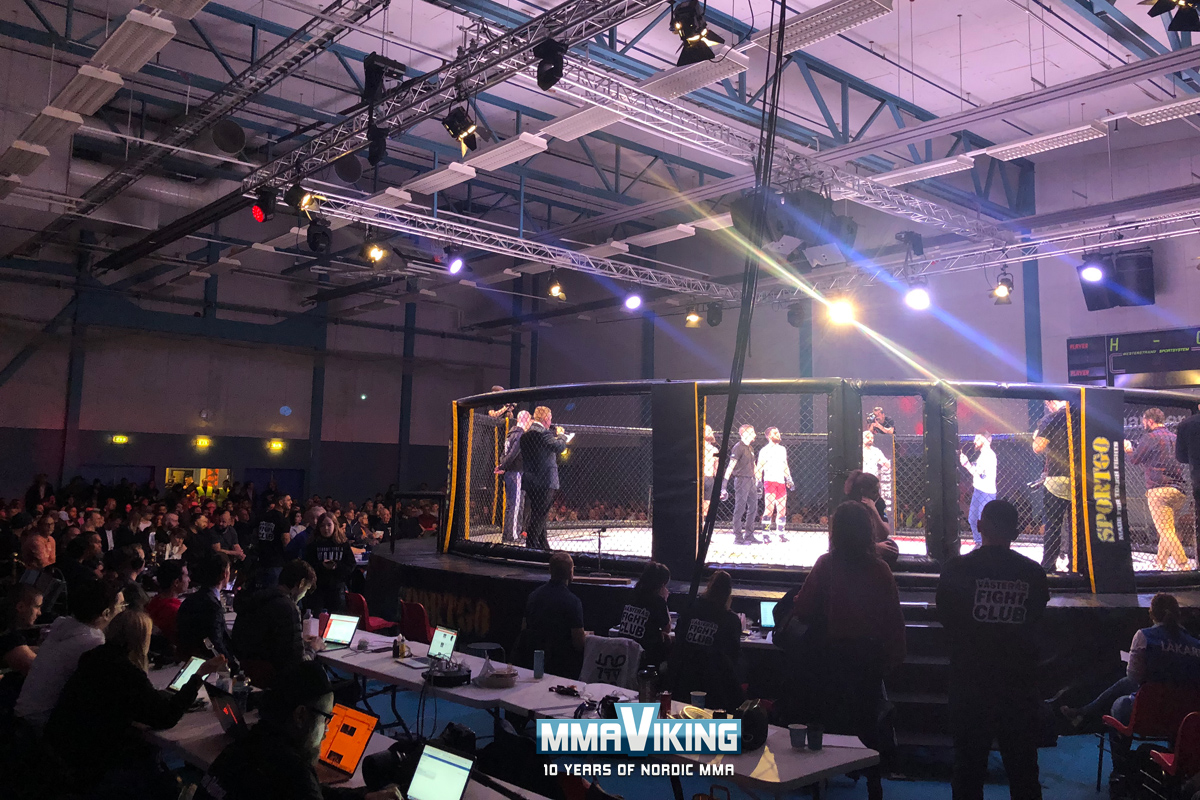 Get your live Fight Club Rush 4 updates here!  For most of the ammy winners, check out our Nordic MMA Instagram page.
PRO RESULTS
The fights have not yet started, but they will at 18:30 local time Sweden.
Ivan Zidar (3-2) V Lucas Tenorio (7-9-1)
Here we go!  Right low kick from Zidar that brings him down and some nice elbow follow-up from the Allstars Training Center fighter.  Good combination and spinning punch from Ivan.
Lucas is relaxed and takes the punishment well.  But Zidar with some nice angles on his kicks and punches.  Left hook, right kick.  Left hook, right kick the combination of choice till Tenorio has enough and gets a take-down, and as the bell rings gets a rear-naked choke… but no time.
Round 2
Good right hand from Lucas as Ivan now begins to pressure, and lands some real crisp body shots.  The two are letting them go in a nice matchup. A take-down from the Brazilian, but Ivan stays calm and eventually escapes, then unleashes his favorite combination again and again. Ivan gets on top, and now in full guard, but does not want to be there and the fight goes back to the feet. Good knee and kick as the bell ends.
Round 3
Ivan has a bit more energy and still pressing the action.  Both fighters looking for an opening.  Zidar finds it with body punches.  Lucas tries to butt scoop his way to a grappling session, but won't happen here.  Ivan does get on top after Lucas misses some spinning stuff, and avoids a knee bar.  A good flurry from the Allstars fighter to wrap this one up.
Result : Zidar wins by unanimous decision.
Robin Roos (0-0) V Oskar Sivard (0-0)
Wow!  What a pop for local Robin Roos!
Round 1
Low right kick is the first strike to really have damage, and Sivard smiles after absorbing it.  Sivard tries for a take-down, but Robin reverses it and pushes Oskar against the cage.
Oskar lands a nice left right combination, and now he is moving forward with Robin moving back.  Robin with a kick, and Sivard really light on the lead leg… ready to catch a kick.  Both fighters have some pop in their punches.
Oskar catches teh kick this time and quickly in on a take-down, but defended well by Roos.  Oh, high quality action we have here.  Close round 1.
Round 2
Roos really attacking low with the kicks, but Sivard ready for his take-down opportunity with each.  The two tie-up at the cage with Roose now taking back and landing knee after knee to the the back thigh… the crowd likes it.  Another strike and knee, and now Oskar is down.  Roos ground and pounds his way to a TKO finish.
Result :  Robin Roos finish at 2:09 by TKO punches
Anton Turkalj (1-0) V Filip Vujič (0-1)
Round 1
Anton with an impressive variety of tactics as two fighters go back and forth.  The striking is crisp from the Swede that throws with power.
Anton closes the distance and ties up with two minutes left.
Turkalj has Vujic on the ropes as the round comes to an end and is stumbling backwards against the cage, but Filip is complaining about something.  The mouthpiece is out, and the referee stops the action to put it in.
Round 2
Big right hand and then a low kick fro Anton that looks good here on the tiring fighter.  A big punch and Filip is down… Anton pounces for more punches and it is all over.
Result : Anton Turkalj wins by TKO.
Andreas Gustafsson Berg (0-0) V  Ole Magnor (3-5)
Round 1
Ole relaxed early, and defends a takedown attempt from Berg.  The two are against the cage and Berg in on a body lock, then take-down.  Ole gets full guard, and the powerful Andreas lifts him to his feet… and eventually back down.  Magnor taking some punches, but nearly locks up an armbar, but defended.  Berg with some aggressive ground and pound, and Ole looks for a leg as he scrambles from his back.  A big right hand sends a thud through the arena.  More ground and pound, and this could be over!
Now, Magnor holds on as Berg uses his energy till the bell.  On to round 2.
Round 2
A quick take-down from Berg that remains on top.  More ground and pound from Berg that is using his wrestling to keep the Norwegian down.  Magnor gets a single leg, and "Bane" defends with a front headlock then spins around to take back.
UPDATE : Ole's team is claiming an illegal knee sent him to the mat, before the final action below took place. (see picture here)
Berg has a bulldog rear-naked choke, and Ole goes out.  Berg wins as the referee realizes the fight is over.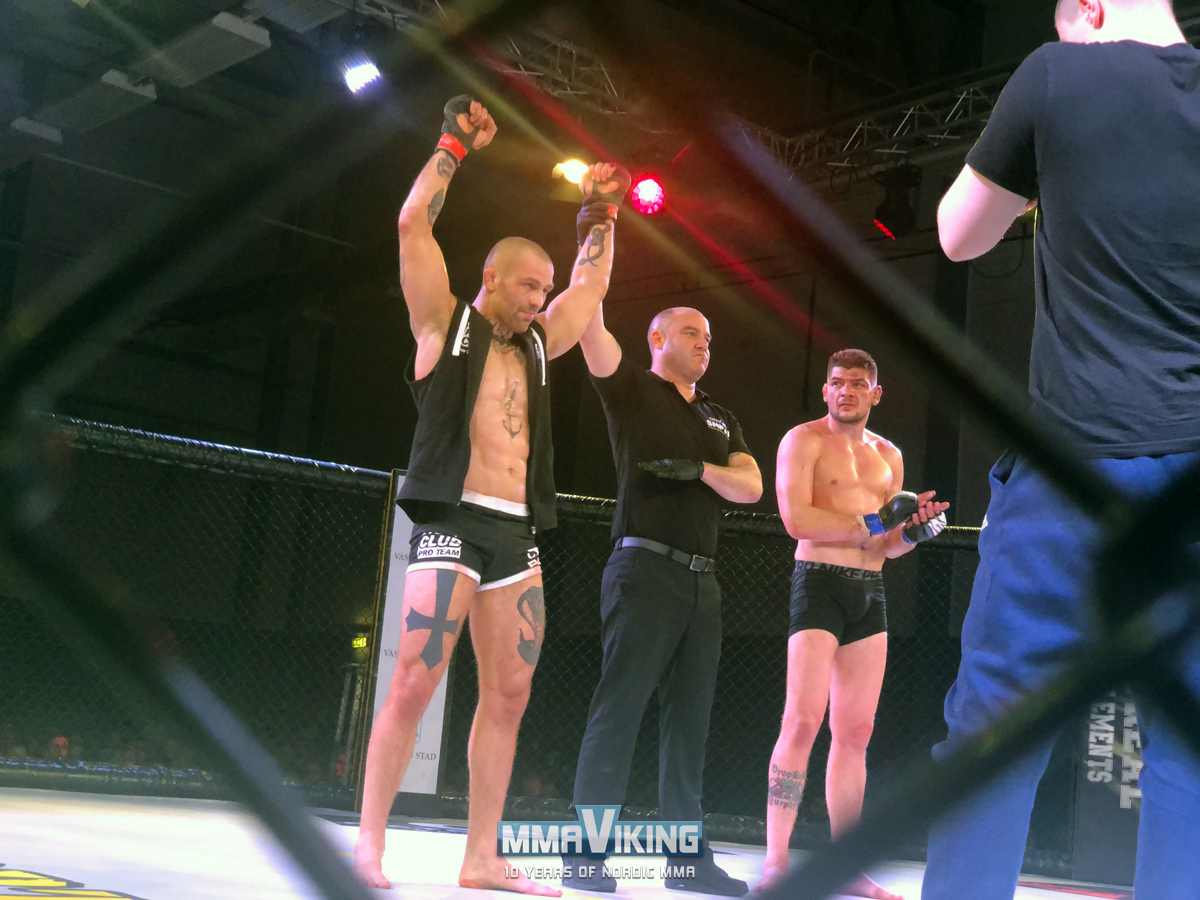 Result : Gustafsson wins by submission.
Hamza Bougamza (1-0) V Darius Buda (2-0) – Co-Main Event
Hamza might have had the longest walk-in in Nordic history with his crew and rappers having a little party on the runway to the cage.
Round 1
Hamza circling and sizing up Buda.  A left kick low from Hamza has some snap on it, and he lands another knee on Darius that tries to put pressure on the Swedish standup specialist.  Hands are low for the Allstars Training Center fighter.
Buda ties up Hamza and tries to lock on a guillotine and lands a nice knee.  Hamza avoids the follow-up take-down and back to the feet.  Bougamza lands some nice front kicks.  Oh, what a good style matchup.  Hamza will have to battle in this one as he balances his aggressive attack with opening to get taken down.
Round 2
Buda is pressing the action and loading up on a overhand right hand.  With each low kick, Hamza is open for the take-down.  But, it looks like Buda has enough trying to defend.  The tide is turning. OH, Wow!  The tide turns again!  A right hand from Buda lays out Hamza, but he is fighting back.  On his back he defends but a few more punches from Darius and it is over by TKO.  A stunned crowd and a disappointed Hamza on the mat, knowing it is over.
Result :  Buda wins by TKO
Tobias Harila (4-1) V Carlos Eduardo de Azevedo (17-16-2) – Main Event
Tobias looking for his opportunity to strike.  Looking relaxed.  And boom a straight right drops Azevedo.  Another one on the ground… and it is all over!
Result :  Winner by KO at 1:06