IRFA 14 goes down in Uppsala and MMA Viking.com is cageside to give you live play-by-play and results.  Norwegian Gard Olve Sagen (1-1-0) will face Sweden based fighter Khamzat Girikhanov (0-0) in what will be his pro debut in the main event.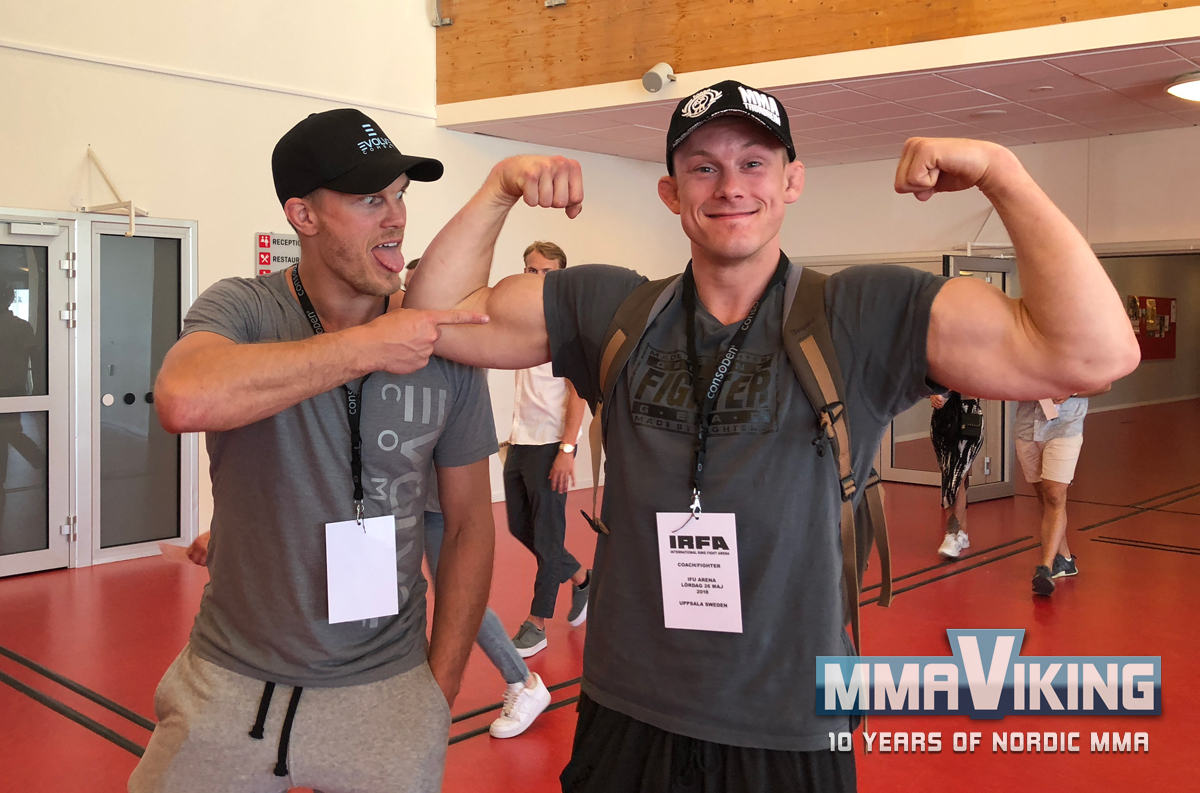 Allstars Training Center fighter Firat Haco Dogan (0-3) will look for his first pro MMA win at IRFA 14 as he faces Halmstad MMA's Robert Nyström (1-2) in the other pro MMA bout.  There will be 9 other amateur bouts on the card.
MMA Viking will be cageside for live reporting.  Check out the full fight card here:
Shootfighting:
Noah Aggeborn Leander Hilti Uppsala vs Daniel Östlund Västerås Fightclub 75 kg – CANCELLED ON FIGHT DAY
Amateur:
Jessica Andersson Coloseum Fight Center vs Jessica Forslund Reis Linköpings KC 65,8 kg
Forslund Reis Wins by Majority Decision 29-28, 29-29, and 30-27
Johnny Andersson Linköpings KC vs Omid Mosavi Södermalm MMA – 93 kg
Anderson wins by unanimous decision.  Andersson dominated on the feet and even took full mount at the end of the fight.  Mosavi landed a an illegal knee to the groin, that had Andersson on the mat recovering for 5 minutes.
Salif Diop Pancrase Gym vs Onofrei George Legion FightClub -120kg – CANCELLED ON FIGHT DAY
Christopher Jeanpier Basauri Corrales Nacka Dojo vs Oskar Biller Nova MMA 77,1kg
Oscar "Killer" Biller wins by split decision 29-28, 28-29, 29-28 in a spirited fight of solid leg kicks throughout.  Biller got the take-down late in the third rounds after taking some nasty kicks and went for a RNC as time ran out.
John Oldenqvist GBG MMA 70,3 kg vs Elvin Hoxha MAAC 70,3 kg
Elvin Hoxha gets the submission in the first round with a rear-naked choke.
Tobias Söderberg Mjölby Fight Gym vs Wasi Id MAAC 70,3 kg
Wasi lands some nice left hooks to start the bout, but Tobias closes the distance and gets the take-down with a nice throw, and wow…. a suplex!  Tobias finishes with ground and pound for TKO, and looks like Id's shoulder went out early in the fight and now getting attention.
Jimmie Nilsson Coloseum Fight Center vs Bilal Borz Allstars 65,8 kg
Borz uses his wrestling to control the bout on the ground.  Ilir Latifi in the corner of his teammate is there to shout out direction and support the fighter that wants to go pro in his next bout.
Jakob Valegren Akademi Nord Vs Shoeb Perrys Gym 65,8kg
Shoeb wins by rear-naked choke in the second round.  Valegren looked good in the standup, but the Perry's fighter gym was able to get the fight to the ground and get the stoppage.
Said Hussein Legion FightClub Romania vs Vincent Pettersson Allstars 83, 9 kg – CANCELLED ON FIGHT DAY
Mesut Ismash Pancrase Gym vs Kevin Osorio MAAC 61,2 kg
Osorio gets the armbar submission in the second round.  
Moraad Moreno Pancrase Gym vs Heytam Tounes Gladius MMA 83, 9 kg
Moreno looks good early in his comeback fight.  Tounes shows some flashy spin kicks and ability to keep a good distance to land.  The Pancrase fighter makes his way in and out to land more often and in the second round bloodies the Gladius fighter.  A good last round for Moreno to get the unanimous decision 30-27, 29-28, 29-28.
Pro Fights:
Firat Dogan Allstars vs Robert Ado Nyström Halmstad MMA 65,8kg
Firat starts out strong with a take-down then a nice slam to the mad, but Robert is able to outgrapple his way out and take back.  A rear-naked choke finishes the bout in the first.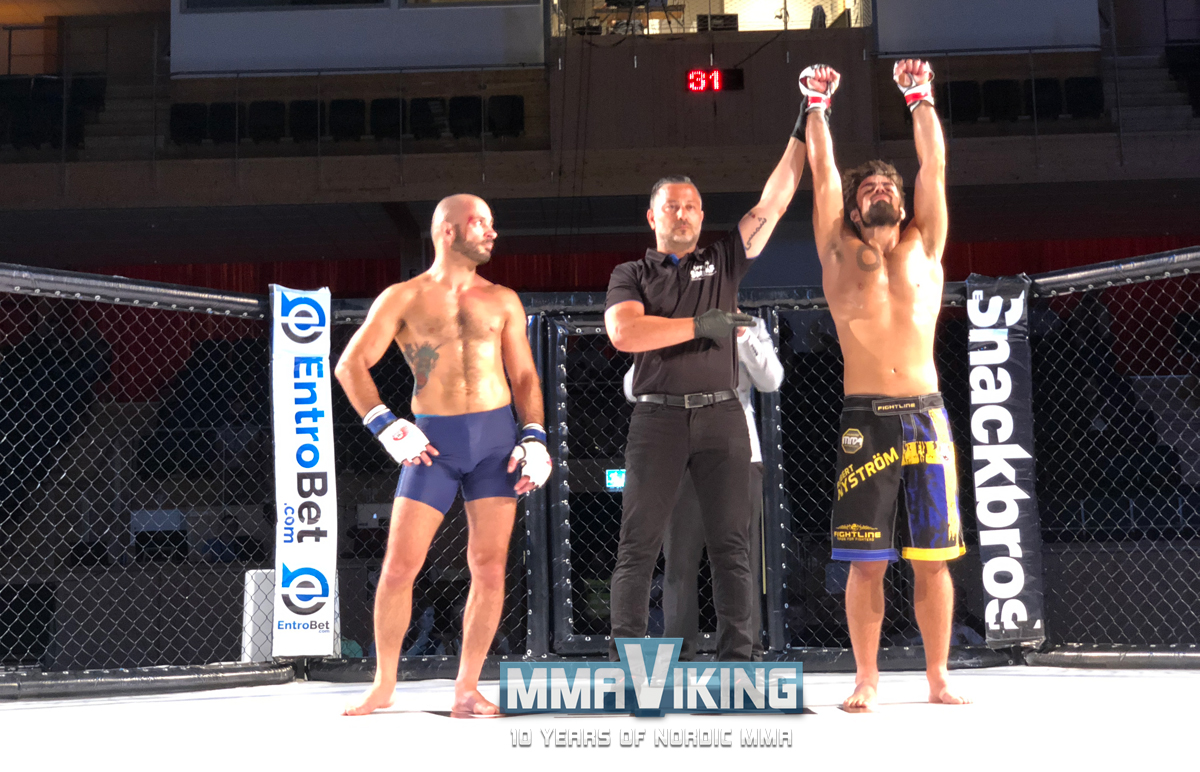 Khamzat  Girikhanov Allstars vs Gard Olve Sagen MMA Trondheim Catchweight 80 kg
Khamzat having his way in the first round with lots of straight punches for damage, a take-down and a knee.  More punches in the second from the Allstars fighter and he is on top for a finish by ground and pound TKO in second round.