MMAViking.com is live in Stockholm for full coverage of IRFA 8 at the Solnahallen.  The card starts at 17:00 local time in Stockholm.  Pictures will also be available after the event.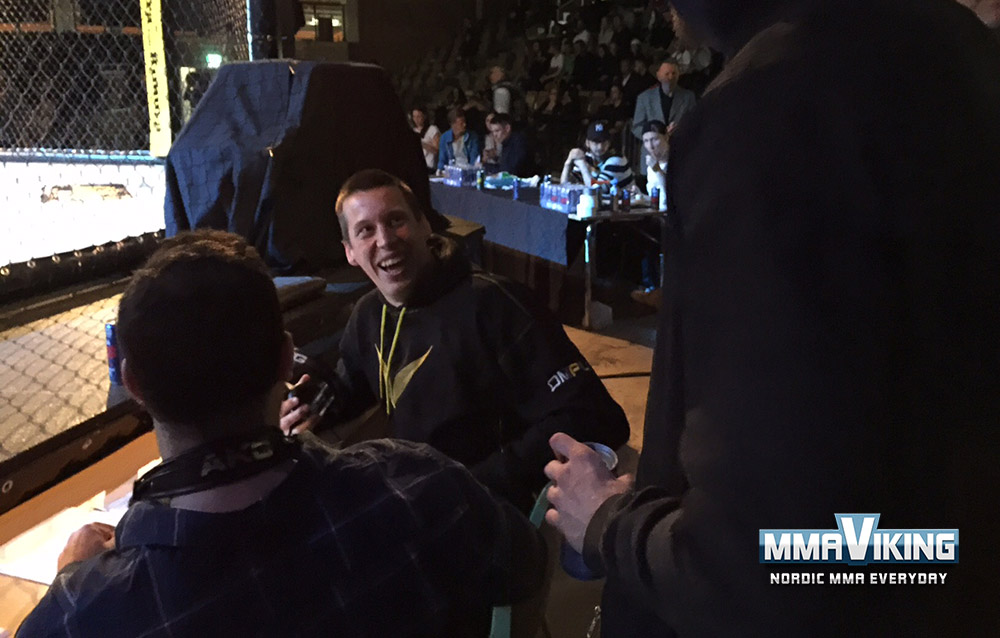 Results and Play-by-Play
AMATEUR MMA
David Eriksson (Pancrase) vs. Bilel Farhat (GBG MMA) – Shootfighting
Eriksson won by unanimous decision.
Jill Holmström (Pancrase) vs. Cornelia Holm (GBG MMA)
Round 1 – The two come out swinging. Goood standup and head movement. Nice GBG versus STHLM battle. Holm uses the cage to control the bout, then the two exchange knees. Good headlock from Holmström, but the GBG fighter fights out of it. Again, good cage control from Holm to finish the 1st.
Round 2 – Holmström defending the takedown for much of the round, and landing good punches as she defends. Eventually, it is Holm on top in this ground battle, but the Pancrase fighter locks on to an armbar. It is a tap.
Holmström wins by submission in round 2.
Muroa Ghesn (Allstars) vs. David Schneider (GBG MMA)
Round 1 – Ghesn landing big punches in between attempted takedowns from Schneider. The GBG MMA fighter gets the take-down. The allstars fighter gets out, and now slams opponent. But there is no quit in David that battles up to his feet, in what seems like the longest round ever.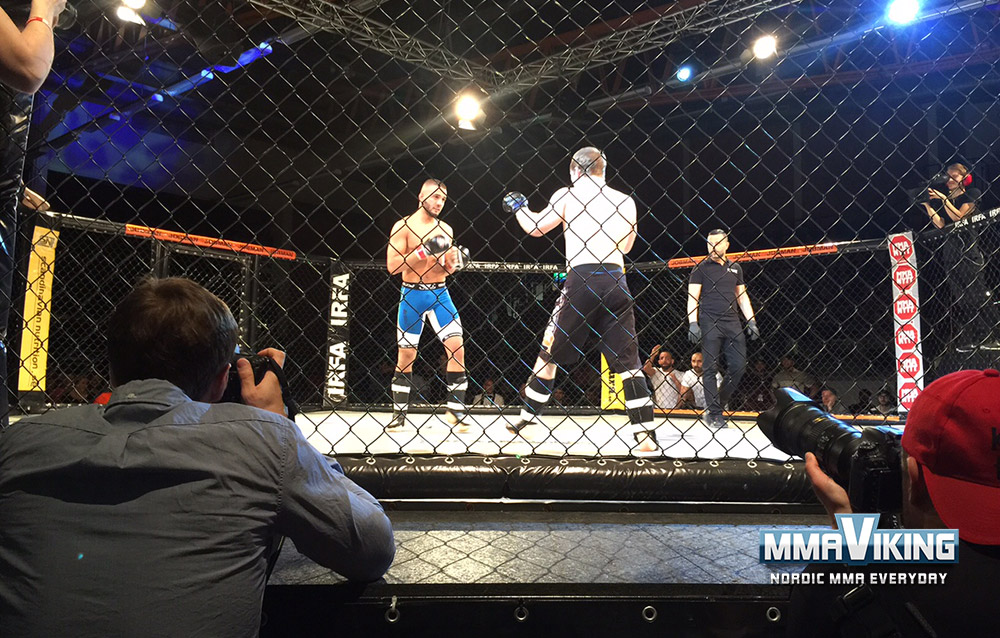 Round 1 – Back and fourth battle in the second with both fighters taking top position with take-downs. Ghesn getting the best of the fight late with nice ground and pound to finish.
Ghesn wins by decision.
Seihou Fawlise (Allstars) vs. Malik Tambe (Pancrase)
Round 1 – Tambe lands good right hands throughout the bout and a take-down late to stay on top and win the 5 minute fight. The Fawlise fans came to see their man win, but are leaving disappointed.
Tambe wins by decision.
PRO MMA
Martin Fouda (Fightzone) vs. Fernando Flores (Renyi)
Round 1 – Both fighters taking it slow to start. Fouda lands some good leg kicks early. The two begin to swing later in the first. Big left hand from Fouda and the Renyi fighter is hurt. A kick, and now Flores is limping. Not looking good for Flores heading into round 2.
Round 2 – Flores tries for a take-down, and gets it with a nice slam. Fouda is patient and escapes. ON the feet, Fouda again lands a good kick. Out of knowwhere, it is Flores with a slick double-leg take-down. He finished the round on top.
Round 3 – Off of a kick, Flores hits a perfectly timed double leg. The wrestling has made a difference here from the Umea fighter that looks to have wrapped this one up.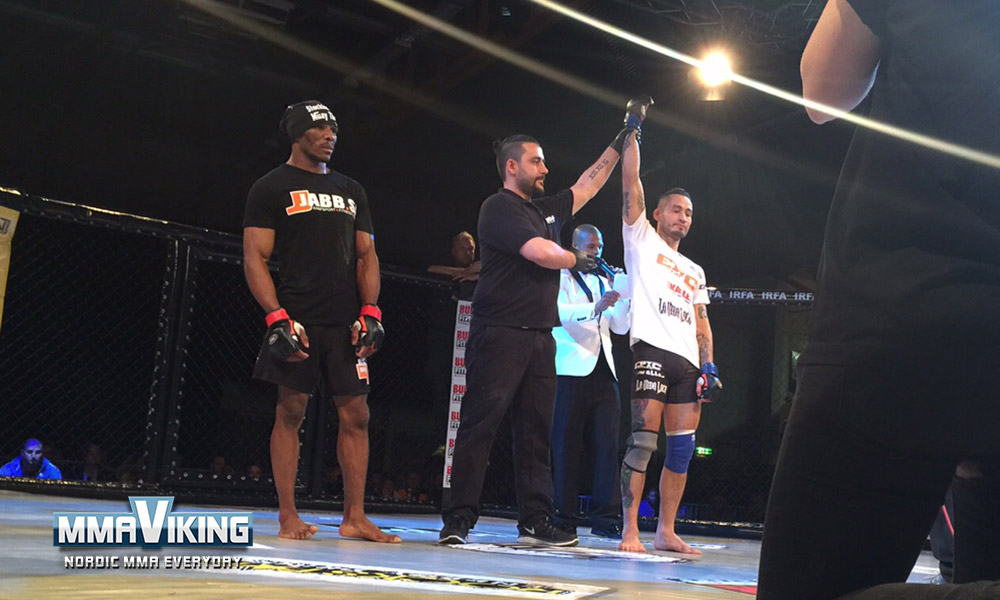 Flores wins by decision 29-28 in all cards.
Johannes Lundström (Hilti Uppsala) vs. Thomas Jessing (Artesuave)
Round 1 – Oh, a Dane is on the card. Very cool.
Early takedowns from Lundström, but not much damage. Jessing landing some nice kicks to end the round, and he goes back to the corner with energy, ready for the 2nd.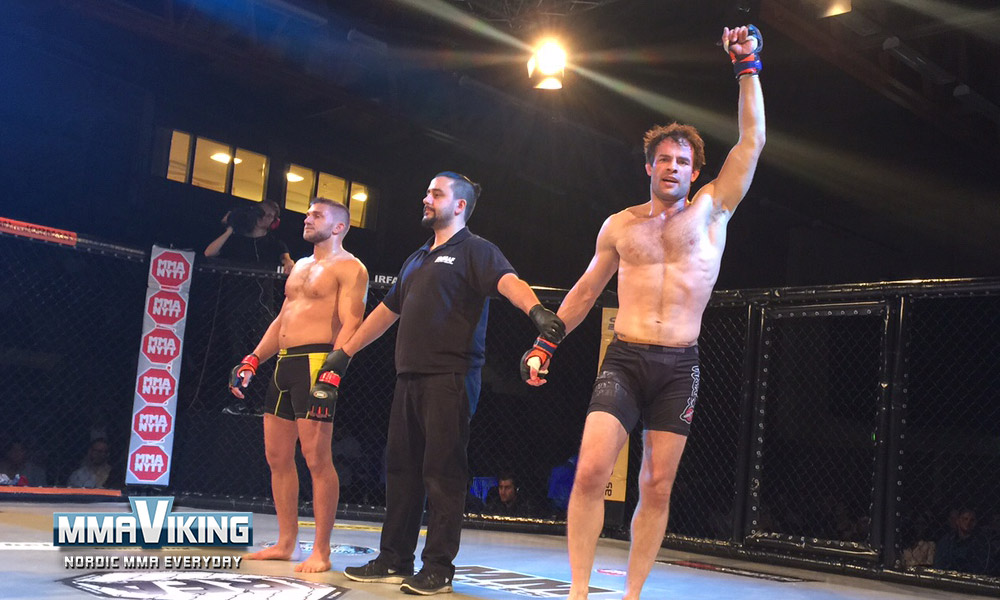 Round 2 – Jessing gets on top, and working for submission. Looking at rnc, and he gets it.
Flores wins by decision 29-28 in all cards.
Bilal Musa (KFUM Fight Zone) vs. Binh Son Le (Freestyle Academy Sweden IF)
Round 1 – Le lands some nice kicks early. The GBG fighter goes for another kick, which misses but he lunges in for a double leg take-down for a finish.
Round 2 – Musa has Le hurt as Le limps back to his corner. A short break in the action, but seems Le's vulnerability is working in his favor as he gets a takedown when Musa tries to kick it. The Freestyle Academy in charge of this one.
Round 3 – Le is on one leg, and now Musa pressing forward. Le just waiting, but Bilal not doing anything. Strange waiting game here. Le is loading up to counter, but Musa isn't punching. Le dives in for a single leg, but can't get it. Good body shot from Musa, but still not enough.
Le wins by unanimous decision.
Herdem Alacabek (Allstars) vs. Rumen Blagovestov (Respect)
Round 1 – Alacabek with a flurry of punches early, and looks good standing. Blagovestov dives in for a takedown, but the Swede looks for a guillotine and now takes top position. He is listening to his coaches, and now lands punch after punch after punch. This is over.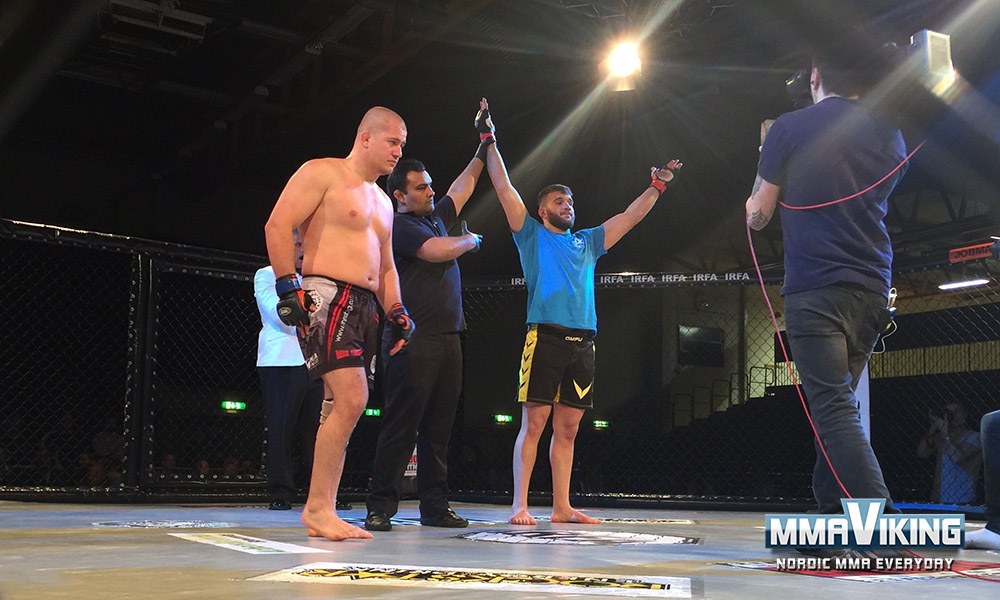 Alacabek by first round TKO.
Iman Darabi (Pancrase) vs. Simon Soukopova (Ronin MMA / Fightzone)
Round 1 – Solid right hand from Darabi, and she is starting to make the most of it landing nice punches standing. Soukopova is on her back and taking punches. Back to the feet and this is an intense battle, with no clear advantages early. The two battle in the tie.
Makwan Amirkani is in the corner, and calling out instructions in addition to Omar from Pancrase. One minute left and Soukopova looks for a body lock to bring the fight to the ground. The visitor gets the fight to the ground, but Darabi pops right up. BIG knee from Soukopova and drops Darabi to the floor at the end of the first. The Swede is hurt, and looking to corner for help with that body shot.
Round 2 – Spilled water in Soukopova corner gives the Swede a little more time to recover. Darabi looks to be back in it and lands some good punches, Darabi does not like the knees to the body. Soukopova lands another to the body, and it will be over… now a knee to the face. It is over.
Soukopova wins by TKO in second round.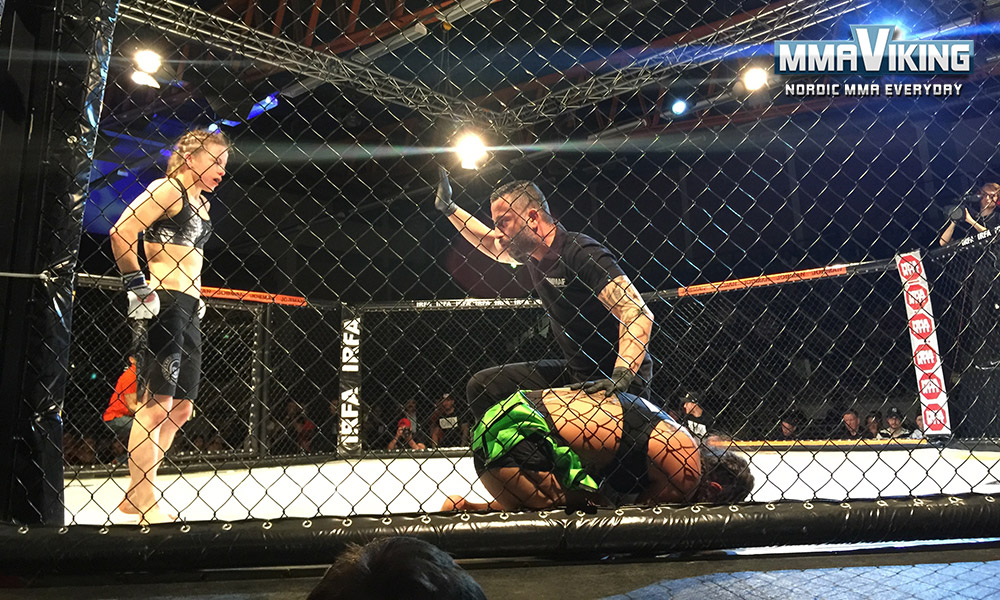 Come back for full fight-by-fight galleries! Like us on Facebook to the right for updates and more info.