Joachim Christensen (13-3) will enter the Octagon tonight for the first time and face undefeated Brazilian Luis Henrique da Silva (11-0) in the Oregon Convention Center in Portland, Oregon.  MMAViking.com will provide live results to the UFC FN 96 bout below.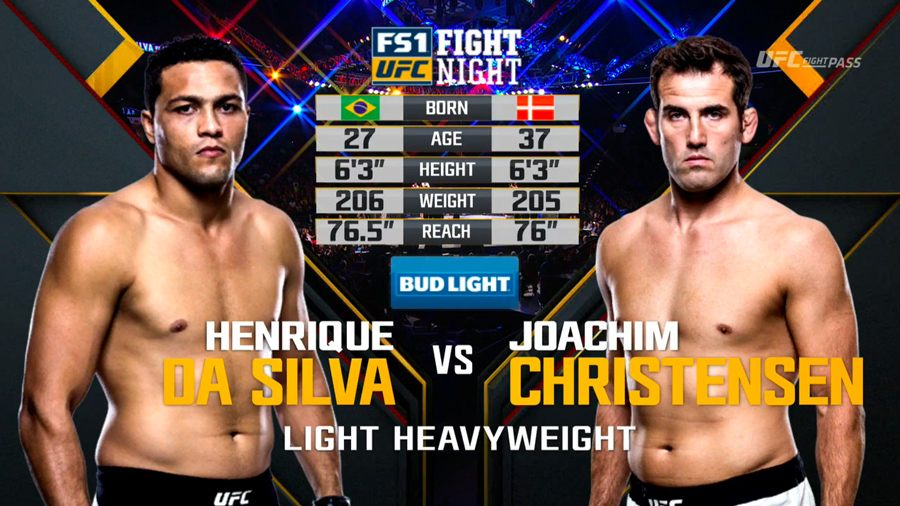 Christensen walks toward the Octagon first and will be in the blue corner. The ArtSuave fighter looks to be in tremendous shape. Da Silva is all smiles as he gives high-fives to those in the crowd. John McCarthy is the referee.
Round 1 – Da Silva snaps a low right kick showing his speed. Christensen punches his way into a clinch, and the Brazilian is countering with knees in the tie-up. Dirty boxing for the Dane that lands a few little uppercuts. Da Silva goes big with an uppercut that just misses.
Da Silva is an athlete and he tries to use it with a variety of punches, but the Dane pumps his jab and looking good against the kickboxer. Christensen is caught by a rocket right hand and eventually stumbles his way to the ground with Da Silva chasing him. A little time to recover as Da Silva doesn't follow to the ground, but Christensen isn't going to give up and now lands a solid standing elbow. Another big right from Da Silva, that Joachim absorbs. 40 seconds left here, and the Dane takes a body kick. A high left kick to the face of Christensen, but the Dane ties up quickly and makes it through the first round.
Round 2 – Christensen lands a flurry of punches here and looks to be aggressive, but Da Silva comes back with a big right to the head. We got a fight here. The two are back to the clinch a minute into the second round. A spinning elbow for Da Silva, and the Dane is showing his durability. Nice one two from Christensen! Now a left knee that lands on the chin, and Da Silva drops to his back! The Dane is looking to finish and jumps on top and in full guard. Two minutes left in the second, and Da Silva tries to sweep, but Christensen counters nice and shows his ground game. BIG straight right hand from Christensen to the face, and now he steps up into half guard where he lands some chopping elbow.
But with knee on belly, Christensen gets swept. The Brazilian takes back and forces Christensen to go to his belly. He tries to roll out of position and looks to be trying to get on top, but an armbar is there for Da Silva and he takes it forcing the tap from the Dane.
Da Silva wins by armbar in 4 minutes 43 seconds of the second round.
"He is one of the toughest guys I've ever fought" comments the Brazilian after the right.  "I am happy to show my jiu-jitsu."