Finn Joni Salovaara (14-7) versus Sweden based Brazilian Rafael Macedo (11-5) will headline today's CAGE 32 card in a rare Friday event. MMAViking.com is live cageside to bring you all the action live.
Get your live play-by-play and updates here! We will also add pictures as soon as we can!
Play-by-play
It is pretty full here at the Culture House of Finland. A cozy venue with a big VIP section for eating and having drinks. Over 1,000 people easy, perhaps 1,500.
Janne Kuusela (0-0-0) Sisu Gym, Järvenpää vs. Dennis Olofsson (0-0-0) Pancrase Gym, Sweden
Round 1 – A wild round one that saw both of the fighters have their moments. The take-down and ground and pound from Olofsson however made the difference in the first frame that ended up with haymakers thrown in the last minute of the round.
Round 2 – Another takedown to start the round for the Pancrase Gym fighter. A BIG knee followed up by heavy punches to the head, and knees and this should be stopped. The ref lets this go waaaaay to far for a young fighter. Eventually this bout is stopped after unnecessary punches and more punches and knees.
Olofsson wins by TKO in round 2.
Kennet Mattsson (7-2-0) GB Gym / Primus Fight Team vs.
Ville Heikkonen (3-1-0) Espoon Kehähait
Round 1 – The hits the ground early with Mattsson taking back quickly, but Heikkonen attacks the ankles and now the knee. Heikkonen goes to grab a leg, but elbows and more elbows from the Primus Team fighter. Follow-up punches look like they might be to the back of the head, and Heikkonen thinks so, too as he puts up his hands in frustration as he bleeds from a cut on the front of his head. The bout is stopped after a few more punches, but the doctor comes in to check it out. A bit of confusion, but Heikkonen isn't happy as he walks out of the cage and the fight has now been called.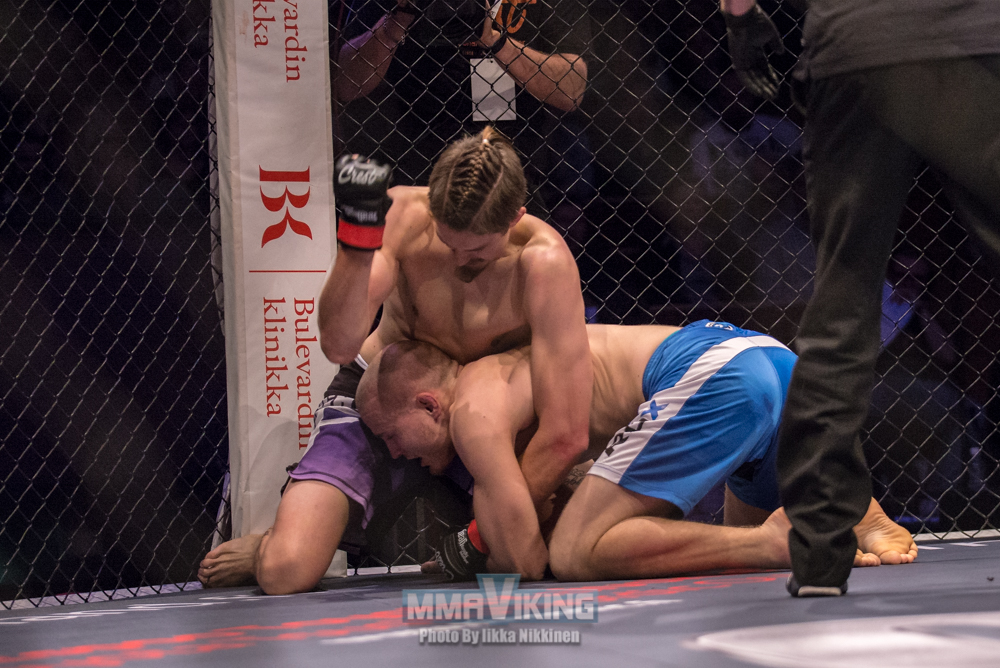 Mattsson wins by TKO in Round 1.
Jussi Halonen (5-3-0) HardKnocks Helsinki vs.
Julien Piednoir (5-2-0) ABS Team, France
Round 1 – Jussi comes out and lands huge lefts and rights, and Piednoir is slumped over and the ref is about to jump in but doesn't. Good recovery from Piednoir that is now on top with a takedown, but Jussi fights back and ends the round strong. Good round for the Finn.
Round 2 – The French fighter is tired, and Halonen pours it on. Defends a takedown and no looks for a choke. He gets it with a barbo as Piednoir taps!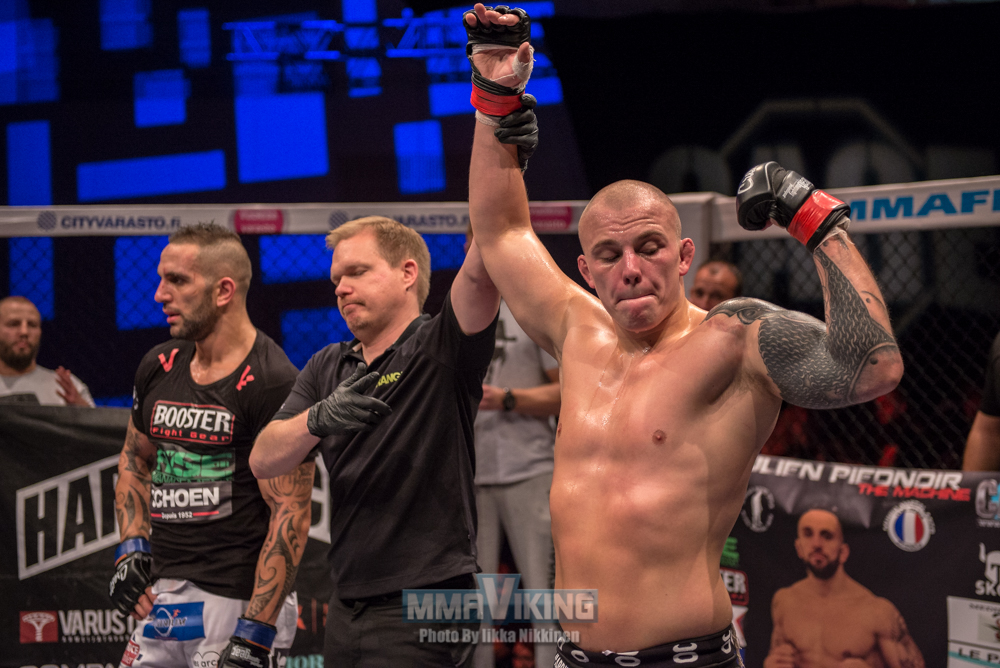 Halonen wins by submission in round 2.
Mika Hämäläinen (6-1-0) GB Gym / Primus Fight Team, Helsinki vs.
Ondrej Skalnik (9-6-0) Penta Gym Prague, Czech Republic
Round 1 – Quick takedown from Hämäläinen, and he looks relaxed on top, and he drops back for his kneebar, and they are both attacking the legs. Wow, the Czech fighter goes for an armbar, but it is defended well. Now Mika with a rear naked choke and it is tight, but can't finish. Turns into a neck crank for a bit. Mika is reversed now, and these grapplers look well matched here, going for heal hooks to counter each other.
Round 2 – Quick knee to the face, and Mika falls to his back… but immediately counters with a kneeler attempt. In the scramble, it is Mika on top. Now the position changes, and against the cage elbows are landing on the head of the Finn. But Mika has seen enough, and he gets on top and lands a nice right hand. One minute left and the game of heal hooks begin again.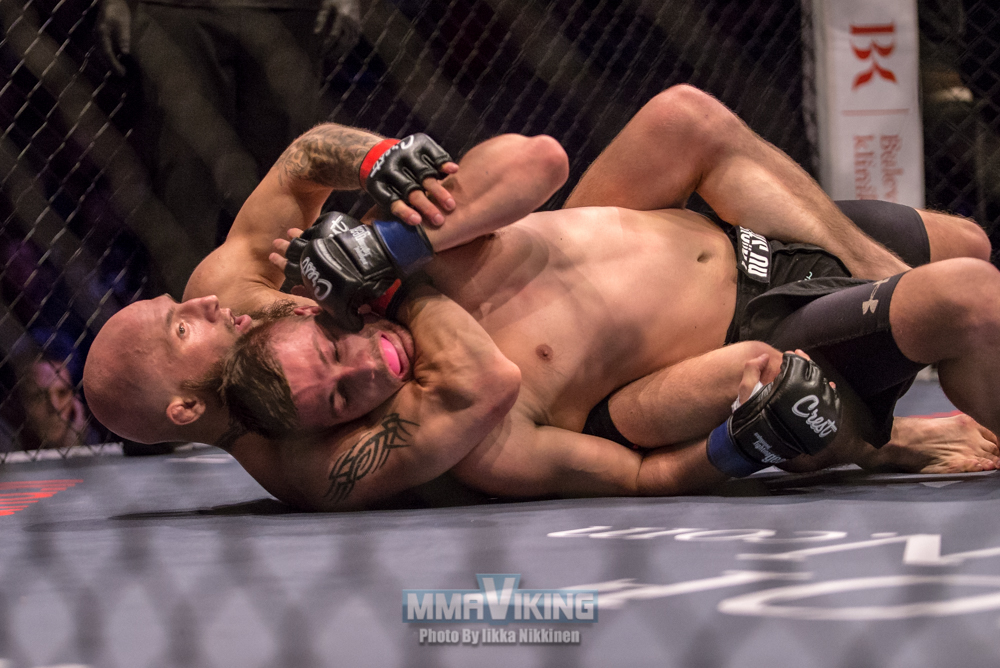 Round 3 – Hämäläinen is controling the third, taking back and riding. Oops, the Finn gets too high and is now on his back. The visiting fighter also likes the heel hooks, but usually ends up on his back… as he does late in the third. But Skalnik won't go away quietly as he finishes the round strong with punches and taking back. First bout of the evening to go to a decision.
Hämäläinen wins by split decision.
Juha-Pekka Vainikainen (22-10-1) Espoon Kehähait vs.
Domingos Mestre (11-7-0) Götebörg MMA / Team East Front, Portugal
Round 1 – High kick from Mestre to start the bout, JP looks to be cautious and counter. He does sneak in a few punches early, and when he lands it is the Sweden based fighter that shoots in for a takedown and a nice pass. Back to the feet and Vainikainen looks for a double leg, but it is defended against the cage. The two are up again, and JP lands a nice right hand to end the round.
Round 2 – Mestre on top, and he seems the fresher of the two fighters. JP is battling off the bottom and initiates the tie up against the cage, but pulls Mestre on top of him. Good punches to the head from the left and right, and you get the feeling that Vainikainen is fading. Cookie lands some nasty punches to the face that send slapping noises through the silent crowd. Now the Finns pull for their own as they initiate cheers. Good round for Domingos.
Round 3 – Domingos coming on strong here, and after some brief standup finds himself on top again. Now a guillotine as Vainikainen shoots in… and there is the tap!
Domingos Mestre wins by submission in the third.
Kai Puolakka GB Gym / Primus Fight Team, Helsinki vs.
Emil Weber Meek CSA.dk / MMA Trondheim, Norway
Round 1 – Snapping right kick from Meek. These two seemed fired up, and Kai light on his feet. Another low right from the Norwegian. Meek trying to establish his jab, and work low kick. Puolakka seems very relaxed here, alert for a counter strike opportunity.
Probably 50 Hulk fans in the crowd going nuts for their own. Puolakka is on his back after a trip, but Meek doesn't want to go to the floor and elects for kicks instead. Kai shoots for a take-down, but it is defended well. The two go toe to toe just throwing blows, and it is Meek that drops Puolakka with a hook. One minute left and Meek counters a double leg with some nasty elbows. A knee to the face for the hulk in the clinch. Great fight here, and you can hear both fighters breathing hard for their effort. Puolakka shoots for a late take-down, but can't get it. The two give each other high-fives. Meek got the first.
Round 2 – Good leg attack from Meek, but it is Puolakka pressing the action. The Finn came to fight, and looking to land a big blow. The right low kick of Meek is nasty… nasty enough to change the lead leg of Puolakka. Good two left jabs from Meek, that flicks his fist out there looking to come over with a right. Now Puolakka pushes back landing a left kick. Kai is having fun in there, smiling at Meek between exchanges. The two tie up on the cage, now Meek with a body lock… but lets it go. One minute left, and a double-leg from Puolakka, and he finishes it after grabbing the ankle to get it to the ground. Meek tries to get up, and he does. Then pulls a much at the end.
Round 3 – The two give a big hug before doing battle in the last round. Again the two go toe to toe and it is Meek's mouth piece that flies out in the exchange. The action is stopped. Puolakka again presses the action, and shoots in for a double. Meek lands good elbows, and now locks onto a front choke. I see Puolakka leg shaking. And this is over. The Finn is out.
Meek wins by submission in third round.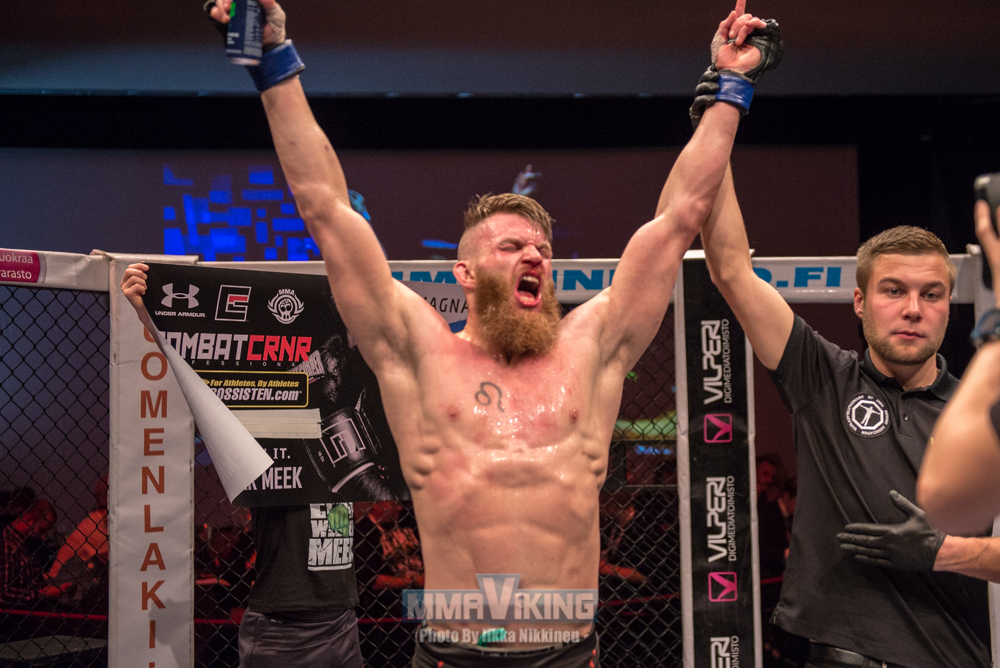 Joni Salovaara (14-7-0, 1 NC) Espoon Kehähait vs.
Rafael Macedo (7-2-0) Swedish Top Team/Team East Front, Brazil
Round 1 – Both fighters come out fast, but is Macedo that snatches a single leg and takes it to the ground. Swiftly, the Sweden based fighter tries to get side mount. Back to guard, and Salovaara almost snatches an armor. The Finn kicks off his opponent, but gets cracked in the face with a left then a right. Wow. Big punches, as the Finn let his guard down. Rafael isn't giving any room to breath, and on Salovaara right. One minute left, and the Butcher stays in control, but now Joni gets out and lands a good knee. Seems like the Finn may have underestimated the power of Macedo that pushes through a body lock and dumps Joni on his back, then follows with good elbows. That round is for Macedo.
Round 2 – These two are so quick! The quick scramble is insane to start off the round, and a power left kick from Salovaara early. Merced tries to get the fight to the ground, but Joni steps over nicely and is now on top. What a great fight we got here. Salovaara goes low and high looking to mix up the damage. Rafael is crafty, and looks hard to control as he looks for openings. But the Finn just lands two straight punches to the face, and the tide is turning here in Helsinki. We have some technical grappling here, but it is Joni now on his back before he pushes out. Back to the feet, and it is all Salovaara as he crushes elbows in the head of his opponent.
Round 3 – A high kick and a low kick from Salovaara that looks to turn up the pace here in the third. But the Brazilian shoots in and finishes a double leg. I think this third round will decide it, and keeping the Finn on his back could do it. Joni gives up back, but goes for a switch. They are up against the cage, but Rafael has control and Joni's corner is yelling out to him to get up. He does, but Rafael shoots for a leg… but he is PUNISHED with elbows. Less than a minute here, and the Butcher looking to finish his shot. Joni goes for a crazy flying triangle, and ends up on his back. Hmmmm…. the round controlled by Macedo, but Salovaara landed several nasty elbows. Let's see what the judges say.
Majority decision for Salovaara.  
UPDATE : Macedo and camp will protest decision, and the crowd and media was buzzing about this decision.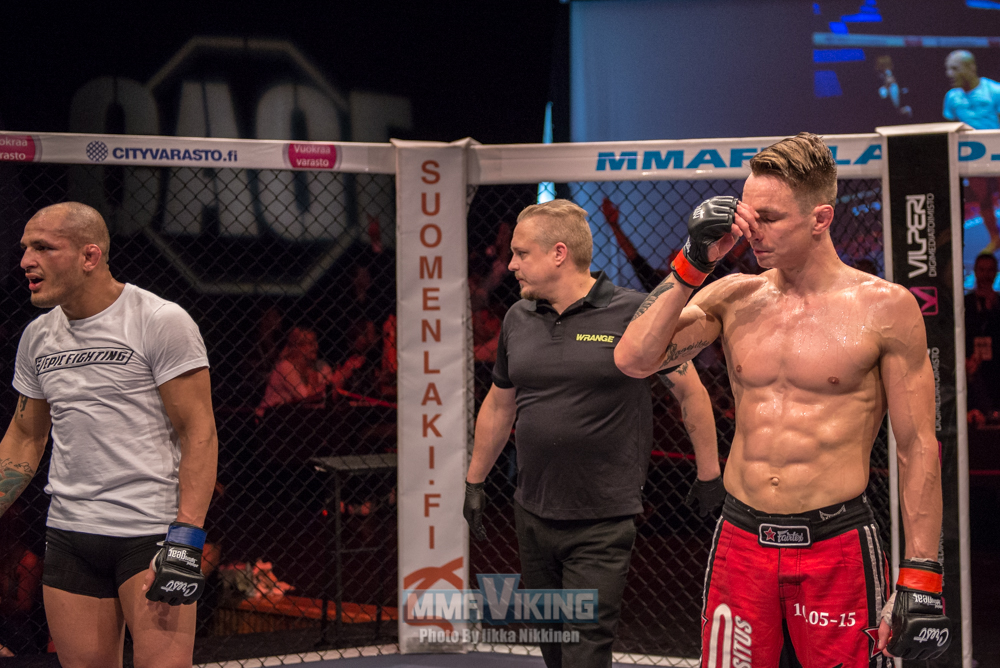 That is it. Photos from Super iikka coming up!