Swede Magnus Cedenblad (10 wins & 4 losses) will be facing American Jared Hamman (13 wins & 5 losses) tonight in Milwaukee, Wisconsin at UFC 164. Jycken will step into the Octagon for the first time since his Octagon debut in April 2012.

Get more pictures like this from SHERDOG.COM
Hamman and Cedenblad at Yesterday's Weigh-in (see video)
Play-by-Play and Results
Pre-fight
Magnus Cedenblad is the first to enter the cage.  Tale of the tape shows both are 31 years old, and Cedenblad listed at 6'5″ and Hamman at 6'3″.  Jycken has both coach Andreas Michael and Eric Delfero behind him, matching that of Alexander Gustafsson's man coaches from Allstars Training Center Stockholm and Alliance in San Diego.  Al Wichgers is the referee.
Round 1
Two kicks early from Hamman who comes out agressive, and Cedenblad counters with a knee.  The two looking for big punches early, as the lanky fighters fire away.  A nice overhand right hand from Cedenblad lands 35 seconds in.  Hamman dives in for single on the left leg, but the Swede looking for a guillotine as he roles through in full mount… and it's tight, and Hamman taps!  Cedenblad with the submission!  The bout is over in 57 seconds.
High-fives to the coaches, as the Swede throws his mouth piece out of the cage.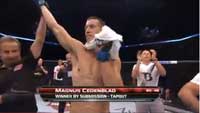 Post-fight
And Cedenblad steps up to the mic to talk to Joe Rogan.  "I hope submission of the night" says the Allstars Training Center fighter who jokes he wants to go "Business class home" to Sweden.  "Yes, that looks good" says Cedenblad watching the replay of the submission on the big screen with Rogan.
Cedenblad calls out Dylan Andrews, as he wants revenge for Papy Abedi, his teammate who lost earlier in the week to the New Zealand fighter.
Jycken goes to a record of 1 win and 1 loss in the Octagon, and looks to be ready for another fight in the Octagon shortly, taking no damage in this short bout.