Martin Svensson improved his record nine wins and two losses with his victory at Scotland's SFC 5 "Rivals" this past weekend. The Swede fought UK favorite John Cullen in a back-and-forth war that eventually resulted in a 5th round submission for the Frontier MMA ground specialist. More importantly, the triangle choke earned him his second straight featherweight title, his last was at The Zone FC's in May.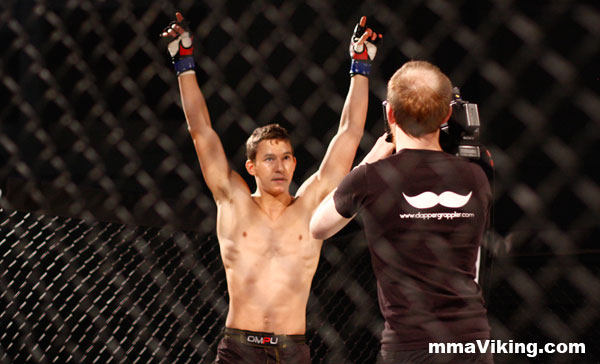 Let's hear about the bout, and what's next from Svensson in this exclusive interview with MMA Viking.
Interview
MMA Viking : What did you think of your performance?
Svensson : I'm satisfied with the fight, but my stand up needs a lot of work. But I'm happy that we went five rounds it gives me a lot of confidence for the future.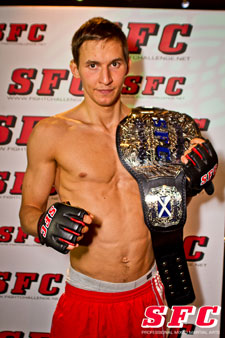 MMA Viking : You and John Cullen battled back-and-forth for four rounds, how did you feel going into round 5?
Svensson : I felt great just before the fifth round. I like to be really tired so I enjoyed it, but I was really tired, it felt like it was pumping metal in my blood. My coach (Bobby) was just screaming "hold up your hands, just hold up your hands". It was a really good feeling.
MMA Viking : What did you you think of fighting in Scotland, where you didn't have too many fans?
Svensson : I think it was the best crowd ever. I like it when it is a lot of noise, I felt like a real superstar.
MMA Viking : What does it mean to have two belts?
Svensson : It means a lot when we are going to get new fights and when I'm going to date new girls:) And it makes me really proud.
MMA Viking : What's next for you? Are you looking at a possibly UFC agreement? Paul Reed would like a rematch, would you be interested in the rematch?
Svensson : I dont really know what's next. Im sorry I can't give you a good answer, I wish I knew my self.
"Like" us on Facebook for updates on the Nordic MMA.