Allstars Training Center fighter Max Nunes (13 wins, 1 loss, #5 Nordic middleweight) will face Scott Askham (11 wins, 0 losses) for the BAMMA Middleweight Title on June 7th. The Swede has bounced back at middleweight winning both of his bouts at the new weight class after racking up an 11 win and 1 loss record at light heavyweight. See the press release sent out by the promotion today.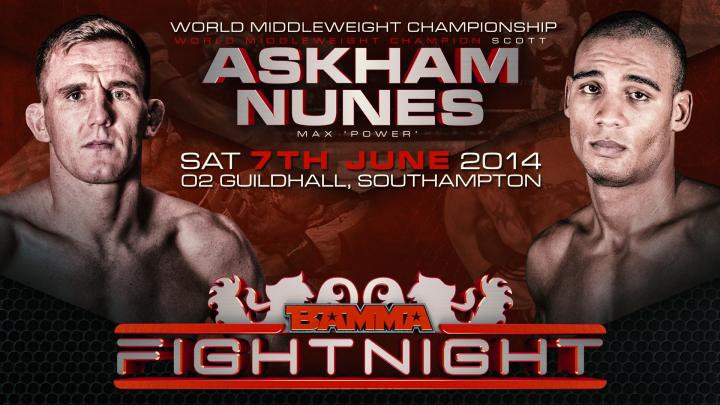 Press Release
April 29th, 2014 – BAMMA is excited to announce the launch of BAMMA Fight Nights, which kick off with "BAMMA Fight Night: Askham vs Nunes" in Southampton on 7th June 2014. The event will be headlined by Scott Askham vs Max Nunes for the BAMMA World Middleweight title and takes place at the O2 Guildhall.
SCOTT ASKHAM VS MAX NUNES FOR THE BAMMA WORLD MIDDLEWEIGHT TITLE
BAMMA's exclusively signed World Champion, Scott Askham, holds a professional record of 11-0-0, with his first 8 professional victories achieved between 4 seconds and 2:48 and a flawless record at Amateur. The majority of his wins have been attained via TKO. Askham debuted in the BAMMA cage for BAMMA 12 where he defeated the now BAMMA Lonsdale British Middleweight champion, Harry McLeman, by Rear Naked Choke, before going onto secure a victory over BAMMA's former British champion, Jack Marshman. He returned for BAMMA 13 where he defeated BJJ black belt, Jorge Michelan Bezerra to earn the BAMMA World Middleweight belt. The Doncaster fighter was slated to fight Ion Pascu at BAMMA 14 but was forced to withdraw due to injury. "BAMMA Fight Night: Askham vs Nunes" sees the champion's first title challenge play out.
At Light Heavyweight, Max "Power" Nunes was the golden boy of the UK scene as he went undefeated over his first 10 professional fights. His first fight on BAMMA saw him demolish Kevin Thompson via TKO at 1:40 into round 1 and achieve the 8th 1st round finish of his career. Nunes went on to face unorthodox Marcin Lazarz at BAMMA 12, in a tricky bout that was his first to stretch to the third round. BAMMA 13 ushered in Nunes' first career loss against Jason Jones in a bout for the BAMMA World Light Heavyweight title, after which Nunes made the decision to drop to Middleweight and took on Romanian Ion Pascu in a BAMMA 14 scrap that went the distance in Max's favour. Now based back in his homeland Sweden, Nunes returns for the title shot at Middleweight following a 1st round victory over Boris Miroshnichenko at Pro FC. Nunes holds a current record of 13-1-0 and trains between Allstars Training Centre in Stockholm and Alliance in San Diego.