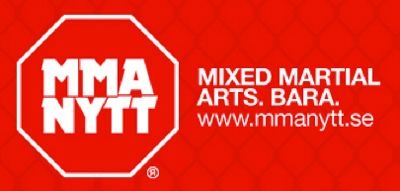 MMAnytte.se, Sweden's largest MMA's website, with 300,000 – 500,000 unique visitors a month, recently announced it's yearly awards. In addition to the awards, Simon Kölle has inked a comprehensive review of MMA in Sweden and the world… including a kind mention of the mmaViking's, Ryan O'Leary, feature published on Sherdog.com.
Cheers to MMAnytte.se for their continued growth and success, with exclusive interviews and keeping MMA fans around the world updated with the latest news stories 24/7.  Below are links (use Google Translate, because it is in Swedish) to each of the 3 part series that chronicled 2010:
Below is a list of 2010 awards from MMAnytte.se and MMAnews.se.

Swedish MMA Event
Superior Challenge 6
Reason is unparalleled in Swedish MMA. It put Sweden on the map and put the world's name for the Swedish audience. Powerful!
Submission (MMA) on Swedish soil
Hamid Corassani
(Scissor Choke) at VFC.
Swedish War
Matti Mäkelä vs. Linton Vassell
The winner was Matti late in the third round. Tommy Blom's war against Pavel Pimenov ended in the second round, but deserve some mention as well.
Best Swedish Female Fighter
Hanna Sillen
Reason: She has a good track and really showed up the feet in all their matches. Strikeforce next?
Swedish Win Streak
Magnus "Jycken" Cedenblad
Reason: Did in 2010 gained no less than four games in a row.
Swedish Rising Star
Assan Njie
Reason: A bit overshadowed by the most famous in Sweden listed Assan who scraped together an impressive record of 13-2. There are other Swedes Papy Abedi with very good records, but we knew that already. When Assan entered the cage at Superior Challenge in 2010, it was probably many at Hovet, who realized that in front of one was a Rising Star.
Swedish Stare down
Reza Madadi
Swedish Fighter Entrance
Reza Madadi
Swedish Comeback (in a match)
Matti Mäkelä
Reason: in the game against Linton Vasella Matti showed a huge heart and will to win. When he also managed to finish the match late in the third round was clear there was a doubt before? Matti Makela is a warrior who never gives up.
Swedish Leader
August Wallen, Babak Aghavali and Manos Terzitane
Justification: Leader of the Year as MMAnytt.se goes to three people each in their way sat Swedish MMA on the map. August Wallen, together with SMMAF pushed through both the international mixed martial arts can come to Sweden (read: UFC) and to an amateur league on Swedish soil, kicks off 2011th Babak Aghavali has pushed Superior Challenge to an unprecedented level. Only the fighters like Joachim Hansen and Thales Leites fought on Swedish soil was large. Manos Terzitane which has the largest manager in 2010 brought out the Swedish MMA as never before. In addition, he has helped his Swedish media, with the first contacts with the UFC.
Swedish Coach
Omar Bouiche
Justification: Omar has long been one of the leading Swedish coaches in Sweden and in 2010 he has taken another step to perfection with their gameplan and game coaching.
Fight rankings for Sweden were also included, which I will list along with other rankings for comparison and discussion in a future article.  Visit, "like", and tell friends about mmanytte.se (in Swedish) and mmanews.se (in English).  It's fantastic that the dedicated staff in Sweden share their passion and continue to educate the world about MMA.