Nicolas Dalby is rising star on the Nordic MMA scene.  The Dane has climbed-up his way up the welterweight rankings by staying undefeated in his 8 professional fights, and on August 31 will face Ivica 'Terror' Truscek on the popular Royal Arena promotion. MMA Viking interviews the 27-year-old Rumble Sports fighter, that quickly shows he's much more than just a brawler.  Read the interview that touches on topics such as the coolest apps, music, photography, and some fighting, too.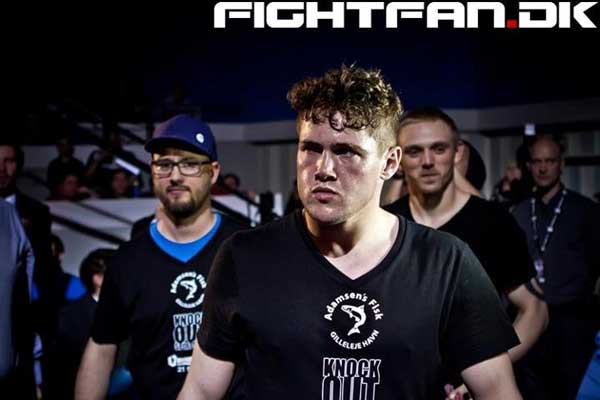 Interview
MMA Viking : You are undefeated and have quickly racked up 8 wins in your MMA career. What are you most proud of in your short pro career? 
Dalby : Yeah it's kinda crazy. I had not expected that 3 years ago.
I think that my fight against Raymond Jarman was the one fight as a whole I'm most proud about. The reason for this is that I was able to completely shut down and run over the really experienced and tough/durable fighter Jarman due the great gameplan that my coaches and me put together. Of course there were things that I could've done better but as a whole that fight is the only one so far I've felt really, really good about afterwards. There is also some moments from my fights against Glenn Sparv and Acoidan Duque that I like, and I was able to learn alot from those fights. But the Jarman fight is clearly the best one overall so far.

Video of Dalby Versus Jarman
MMA Viking : Are you a full time fighter, or do you have a day job?
Dalby : Both in a way. I have a full-time job (as a technical supporter at an IT company) which in Denmark equals 37 hours a week. And I train around 20-30 hours a week leading up to a fight, depending on how close to the fight I am (full time). Besides that I'm also a freelance photographer, mostly doing work for the largest concert venue in Copenhagen (and Denmark), called VEGA.
MMA Viking : You seem like a real technical / geeky dude (in a good way), what are some apps that you use that you would recommend? What about some hardware or gadgets?
Dalby : You got that right. I've always loved messing around with computers, cameras and other gadgets that can improve or make my life easier. I use a lot of apps daily but if I should recommend anything fight or training related it has to be these:
– ithlete app for iPhone and Android: I use this app daily to track my recovery from training. It's a really useful tool that can give some good pointers on whether or not I'm nearing over-training and how my body is doing in general.
– Sleep Cycle: Tracks my sleep and the quality of it. I use this together with ithlete to help me plan my training.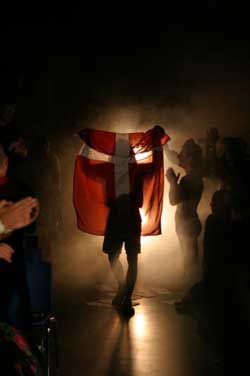 – RoundTimer: The app name says it all. A timer used to time rounds for training. Great and cheap. I use it for the iPhone but I don't know if it's also available for Android.
Hardware-wise I don't think I can recommend anything in particular as it really depends on the your needs. But I cannot recommend this gadget review site high enough: www.thewirecutter.com.
They gather reviews on gadgets in several categories and only use the opinions from people that actually know something about the type of reviewed item. This makes for very good and usable reviews and guidelines for buying gadgets.
MMA Viking : When I was looking at some photos for articles on Danish MMA, I found a few great pics that I realized you took. As a photographer, do you have any favorite photo you could share?
Dalby : Thank you very much!
I think the picture I like the very most is this picture from Fightergalla 3 where former Danish pro fighter Sonny Nielsen is walking in to his fight against Kristian Hacklou. (see to the right)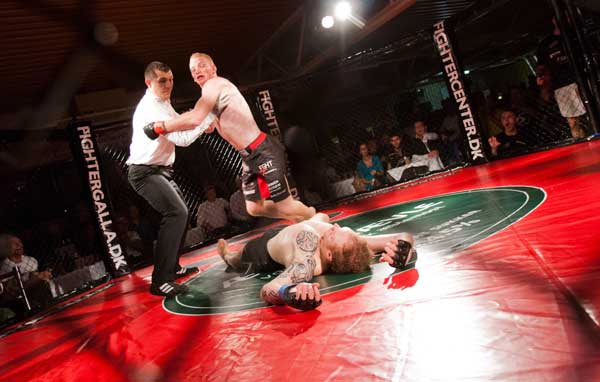 The other picture is of Kenneth Rosfort-Nees rushing in to make sure the fight is finished, taken at Fightergalla 10, which kinda became his big 'coming out' party. Partly because he had a really high profile fight against Jeff Lawson who was a part of the TUF 9 cast. And partly because a big national tv show had been following him during his training camp and him winning made for the perfect ending to the show which was broadcast on one of, if not the biggest Danish tv channel to the whole country, creating some great awareness about the sport.
MMA Viking : You have never fought outside of Denmark.  Any plans to take fights abroad, with a big promotion?
Dalby : That's right. And it's only bad luck that has resulted in that. In the spring/summer of 2011 I was really close to getting several big (compared to my level at the time) fights abroad. But everything fell through and none of the possible fights mounted into anything. And that's just the way it is in the fight biz.
Shortly after, I got some very good offers from Danish events so I took those instead of not fighting at all. I'm pretty confident that the opportunity to fight outside of Denmark will come in the future. And hopefully sooner than later if I continue my current streak.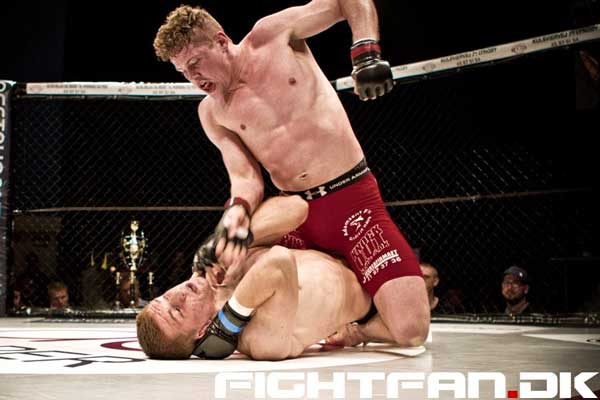 MMA Viking : Who are your MMA idol(s)?
Dalby : Phew. You just asked a question to which the answer can get really, really long if I don't try and limit myself. Technique wise it can be GSP, A. Silva, Jon Jones and José Aldo. And lots of other guys. Fight-style wise I really enjoy watching Pat Barry and Nick Diaz among others. Image wise I think GSP does a terrific job. He might seem too polished at times, but I really like his attitude and humbleness and he really is a great exponent for MMA.
MMA Viking : What are your favorite all time songs?
Dalby : Uhm. Must be something like this: AC/DC – Back In Black/Thunderstruck, Malk De Koijn (Danish rap group) – Musclebundt, and Archie Bell & The Drells – Tighten Up.  But I listen to alot more music than this so the list would get quite long if I had to list all my favorite songs.
MMA Viking : You are scheduled to fight on the next Royal Arena against Ivica Truscek. The card is televised live, and draws a lot of attention. How was your first experience at Royal? 
Dalby : My experience at the first Royal Arena event was really, really good. The fighters had much better facilities than we were used to at other events and it was great to fight at an event where all our needs were fulfilled. And of course it was a blast to fight in front of a crowd of 2,200 spectators and around 100,000 television viewers.
MMA Viking : What can we expect from your fight with the veteran Truscek?
Dalby : My next fight is at Royal Arena 2 where I'll fight Ivica Truscek who defeated one of my training partners at the first Royal Arena event.
You can expect two really well prepared fighters that know each others weaknesses and strengths. I could try and predict an outcome but without lying or telling more about my gameplan than I'd like right now that would be like trying to predict the danish weather ;-). But I can guarantee that I will do my utmost to finish Truscek before the time runs out. And anybody that knows me know that I like to do that in spectacular fashion.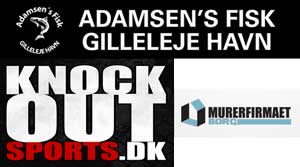 Lastly I'd like to thank a bunch of people and sponsors for their support!
Thanks to Knockout Sports (www.knockoutsports.dk)
Adamsens Fisk
(www.Adamsens-Fisk.dk)
Murerfirmaet Borg
(www.murerfirmaetborg.dk)
Tue K. Trnka for being an excellent manager and a part of a fantastic coaching team together with Thomas la Cour. Brian Gronemann, Mikkel Parlo, Kenneth Rosfort-Nees, Nikolai Koubti, Mathias Lodahl Hyldgaard Poulsen and all the other guys at www.rumblesports.dk for great sparring. My father for all his support and lastly my girlfriend who is an invaluable help and gives me a tremendous amount of support!
Visit Dalby's Facebook page and become a fan here www.facebook.com/Sharpshooter.Dalby