Well, it seems nobody is sure what will happen in the main event Saturday night when Ireland's Conor McGregor and American wrestler Chad Mendes clash. So we asked many of our Nordic vikings to give us their thoughts. As picks came in, it was an even race… but in the end many liked the short-notice fighter Mendes to use his wrestling and do his thing.  See the who picked who below!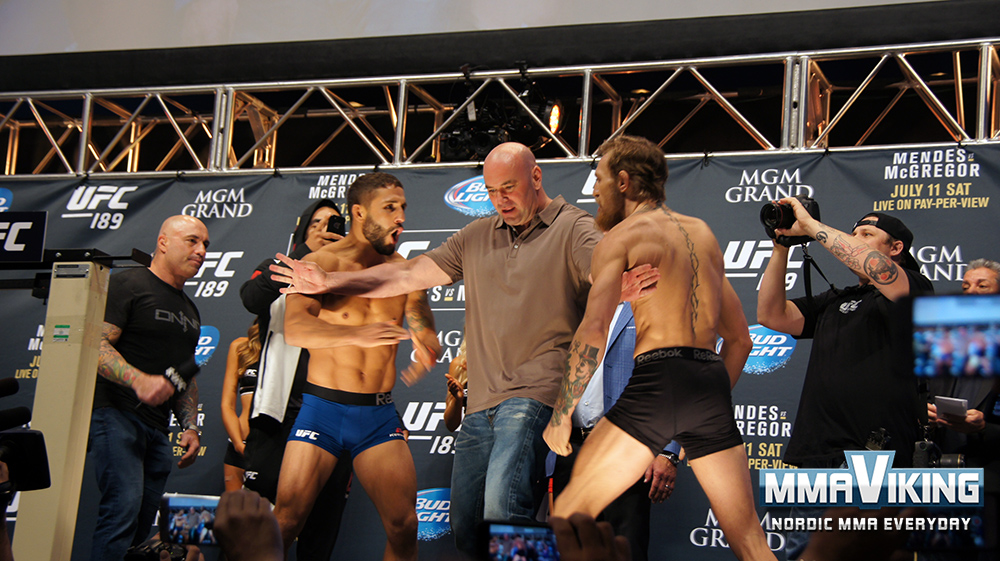 10 Picking Mendes
Makwan Amirkhani : Mendez Because he is a wrestler and conor will soon feel the power of wrestler.
Oliver Enkamp – I will say Mendes by decision. I think McGregor would have knocked Aldo out in what would have been a great striking duel, but Mendes is a completely different fighter that mixes explosive wrestling with high pressure which I think McGregor will have a hard time defending. On the other hand McGregor is hard to finish on the ground, so unless McGregor manages to KO Mendes it will go to a decision.
Janne "Jamba" Elonen-Kulmala : Mendes by decision.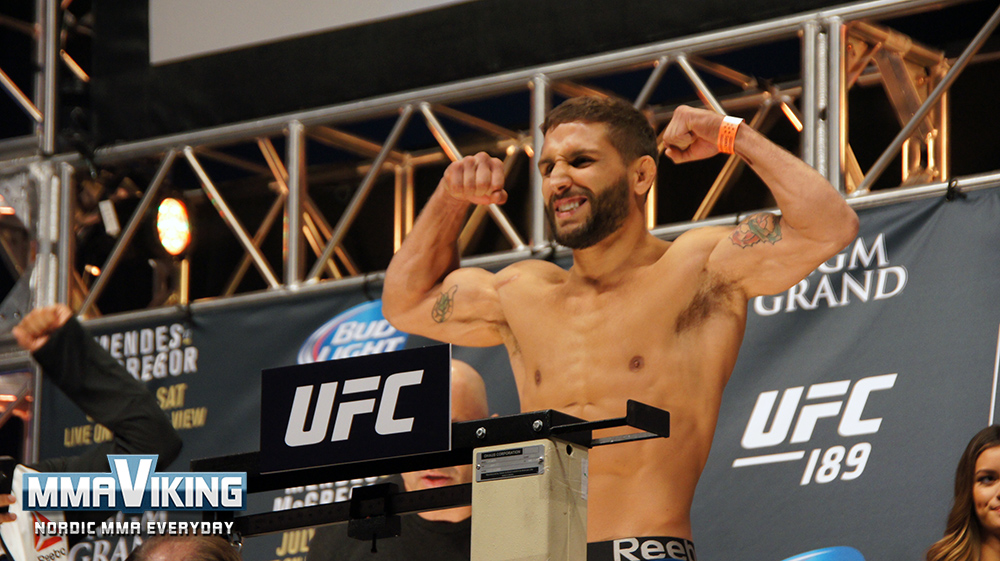 Andreas Ståhl : I think Mendes wins in 5 round war ! smile emoticon
Mathias Lodahl : Mendes has got this one. After rocking McGregor early in the second round Mendes follow up by dragging McGregor to the ground and pounds him out to a TKO stoppage.
Ott Tõnissaar : Hard to pick sides because I haven't been keeping much eye on all that. Also Conor is SBG, that's the same we are here in Estonia but Mendes is a wrestler and that says it all grin =) Still, I would put my money on Mendes by TKO in 3rd.
Sirwan Kakai : Chad by American wrestling.
Glenn Sparv : Mendes, by decision. Because I fucking say so.
Besam Yousef : Mendes I hope.
Mikael Nyysönen : I think that biggest question is can Mendes get takedown(s). Mendes has worldclass wrestling skills and he will get the match to the ground. Mendes grinds McGregor allmost three rounds and finishes fight whit ground`n pound, because McGregor gets too exhausted. Of course McGregor has lot of knockdown power and he strikes from weird angles whit unique style. This is my short holiday analysis of the fight.
7 Picking McGregor
Aleksi Nurminen : McGregor!
Emil Hartsner : It's probably gonna be a real war, Mendes will try taking McGregor and he will succeed in the first round. But then Conor will start using his reach to win by a TKO in round 4
Mikko Ahmala : I hope McGregor wins and in the 3rd round by a TKO or a KO.
Toni Tauru : Conors hype is reaching a whole new dimension, even though the championship match must still wait. Mendes will be the toughest test for Conor so far. I don't think that Conor will change his fighting style for this fight. He, as usual, will throw accurate punches and move relaxed, constantly pressing and searching places to strike and Conor strikes for KO's. He should save those kicks for best opportunities so Mendes doesn't get easy entries to box and go for takedowns. As i said Conor is trying to put Mendes to sleep right from the first round.
Mendes is definitely the best fighters which is without the belt at this time. The fight against Aldo was really close and the end result certainly frustrated him. Mendes comes inside every time when Conor gives him that chance. His fast punches and takedowns, when successful, are poison to Conor. The question is, can he do this. The second question is, what condition Mendes is in. He got the fight in few weeks notice and is not prepared to 5 round fight, like Conor is. If both guys would have their full training camps I would say Mendes would win by decision. But in these circumstances, Mendes will take Conor to ground couple of times in first round, but cant do enough damage, and so the tempo begins to fade. Conor finds those good punches and knocks Mendes out in third round. Conor McGregor wins by TKO in 3round.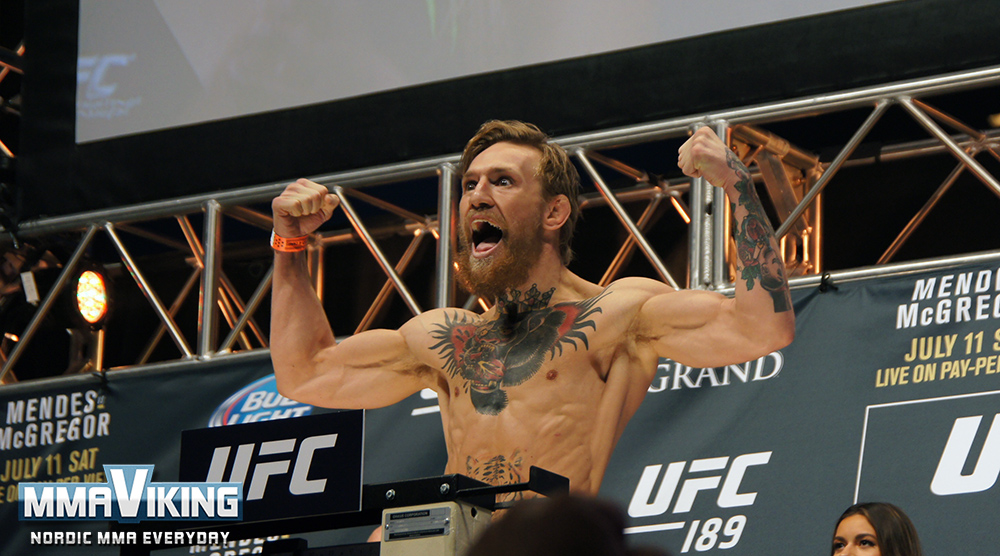 Nick Barnø : After seeing the weigh-ins I have a feeling that this fight is over in the first round. Winner will be McGregor by K.O or TKO I believe he inside Mendes head and therefore Mendes will not be able to stick to he's gameplan. But we will see tonight.
Kai Karar : McGregor is going to be too creative for Mendes, and his reach is gonna' make the difference… McGregor by Murder/KO in round 2.
Rami Aziz : Mc Gregor will win by KO in second.
3 Can't Pick a Winner
Niklas Bäckström : Don't know thats why I'll watch (Note : After MMAViking.com informed the Swede that Mendes was a underdog, he may have used Unibet (yes, his sponsor) to place a bet.)
Emil W. Meek : I think McGregor would have a better chance beating Aldo, and Mendes got too sick wrestling to handle! But who knows maybe he'll end it with a double spinning hawk question upper kick! (Betsafe is his sponsor, and not sure who Meek is really picking)
Nicolas Dalby : McGregor via awesomeness. Mendes via persistence. 50/50
Summary : 10 for Mendes, 7 for McGregor, 3 Undecided.