MMAViking.com is live in Las Vegas at the IMMAF World Championships at UFC International Fight Week. Finns Minna Grusander and Tuukka Repo and Swedes Anja Maxmark, Joel Moya, and Serdar Atlas will go for gold in today's medal rounds.  See live results here.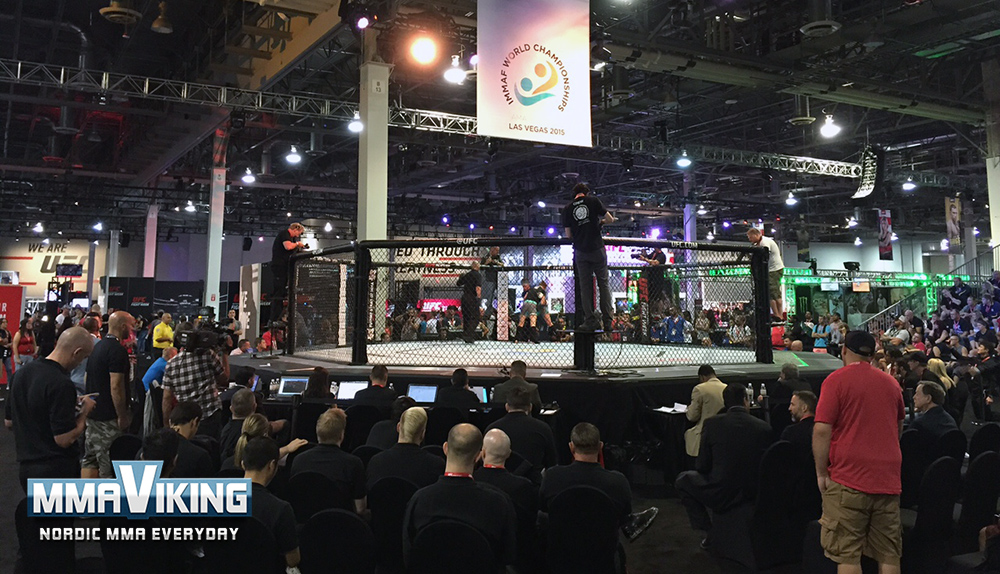 Live Results
125 lb. Men's Championship:
IURIE BEJENARI (FRANCE) VS. SERDAR ALTAS (SWEDEN)
First bout has started!  Close first round, with Atlas getting a takedown.  The Frenchman looks strong to start the second, and takes the Swede to the ground twice and is starting to control the bout.
Not sure how this amateur status works, but the frenchman has grey hair and looks to be around 30 years old.  The frenchman showing his grappling skills with a nice head and arm take-down, and now taking full mount on the cage.
Atlas loses at 1:58 in 3rd round by TKO (Silver Medal for Swede)
115 lbs Women's Championship:
MINNA GRUSANDER (FINLAND) VS. MARIA VITTORIA COLONNA (ITALY)
Close first round as it stayed standing with very little exchange. The Italian landed a big shot early, but Grusander took over with grappling and took back at end of round almost finishing RNC. Another strong round for Grusander who starts to put punches together late, who takes gold in a unanimous decision.
Grusander wins by UD (Gold for Finland)
125 lbs Women's Championship:
MICOL DISEGNI (ITALY) VS ANJA SAXMARK (SWEDEN)
The Italian is set on getting this to the ground and does early in the bout. Saxmark looks for armbars and triangles on her back, but Disegni is staying out of trouble and winning on the scorecards. Third round is a good one for the Italian, landing big punches and dropping the Swede once. Saxmark battles back looking for some standup grappling, but it won't be enough.
Saxmark loses by UD (Silver for Sweden)
145 lbs Men's Championship:
FRANS MLAMBO (IRELAND) VS. JOEL SCHONDORF MOYA (SWEDEN)
Both fighters crisp in their striking. Moya however gets a nice take-down early and puts Mlambo on his back and moves to sidemount. Good early for Moya as he lands some good punches, but it is the Irish fighter to bring the fight to the ground at the end of the second. The Swede looks to be tiring. Clean right hand from the Swede, but he is on his bicycle running around the cage. But, a nicely timed double-leg and now side mount. Full mount taken late in the 3rd and this could be one step closer to gold. But the Irish fighter explodes and it is on the feet. Nice left hook from Mlambo.
Moya loses by unanimous decision. (Silver for Sweden)
155 lbs Men's Championship:
JOSH ELLIS (UNITED KINGDOM) VS. TUUKKA REPO (FINLAND)
Rep starts out strong with some nice punches, rocking the UK fighter. Close round, as Ellis moves forward and gets a take-down. Good kick to the body from the Finn, but the UK fighter lands a good knee after. Repo picking up momentum with two kicks to the head and follows up. A good knee from his back on the cage. Nice battle here with neither man stepping back. A clinch battle of knees here to the 2nd round bell.
Both fighters going for broke. Again the UK fighter looking for a take-down, but the Finn defends against the cage. Big right hand from Tuukka off the break, but Ellis back to the clinch and gets his take-down. TENSE moments here as the Finn battles up, but he has his back taken. Repo looking to shake him off, and now he is out. Punches from top by the UK fighter that controls the rest of the round.
Repo loses a close decision (Silver for Finland)