Finland's Joni Salovaara is all set for his shot at the featherweight Cage Warriors title tomorrow, which was left vacant by UFC bound Conor McGregor. Also making weight was Sweden's Mats Nilsson, who will be taking on the UK's Chris Scott. The bouts can be watched on-line for free tomorrow. See the Cage Warriors press release below.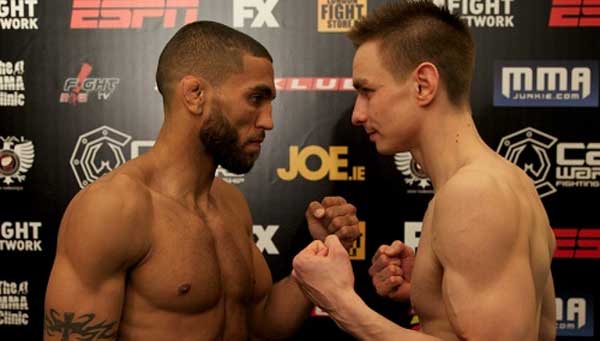 Press Release
TOMORROW'S Cage Warriors 53 headliners Jim Alers and Joni Salovaara are both on weight for their CWFC featherweight title bout at the Kelvin Hall in Glasgow, Scotland.
The pair came in under the 145lbs limit at this afternoon's weigh-ins, as they prepare to clash in a bid to succeed Conor McGregor as the next champion of the Cage Warriors featherweight division.
All other main-card fighters also hit the mark after stepping on to the scales, with only Jean N'Doye failing to make the contracted weight for his Facebook prelim against Richie Edgeworth.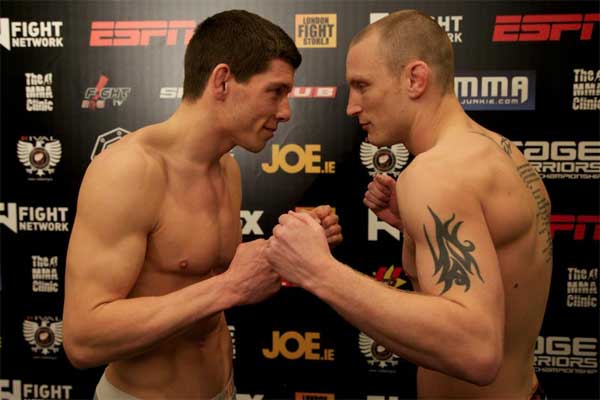 N'Doye, aiming to make the cut to bantamweight for the first time, could only go as far as 137.2lbs and therefore surrenders 25 percent of his purse to Edgeworth.
Video
MAIN CARD
Joni Salovaara (144.6lbs) v Jim Alers (144.4lbs) – vacant CWFC featherweight title bout
Sally Krumdiack (114.8lbs) v Joanne Calderwood (115.9lbs) – strawweight
Chris Scott (185lbs) v Mats Nilsson (184.8lbs) – middleweight
Jason Cooledge (155.7lbs) v Jason Ball (156lbs) – lightweight
Paul Marin (125.5lbs) v Neil Seery (125.1lbs) – flyweight
James Pennington (135.4lbs) v James Doolan (135.5lbs) – bantamweight
FACEBOOK PRELIMS
Richie Edgeworth (136lbs) v Jean N'Doye (137.2lbs)* – bantamweight
Joe Laurence (125.4lbs) v Mark Connor (125.9lbs) – flyweight
*Fighter missed contracted weight, surrendering 25 percent of his purse to his opponent
Cage Warriors 53 will be available to watch live and free of charge all over the world. Following the Facebook prelims at 8pm local time (3pm ET/12pm PT), watch the main card at 9pm local time (4pm ET/1pm PT) on MMAjunkie.com (USA and Canada), JOE.ie (Ireland), Sportube.tv (Italy) and CageWarriors.com (rest of the world).