Finland's premier mixed martial arts organisation returns to Turku on the 8th of November. The fight card was solidified yesterday as one of the more interesting bouts of the card was put together between top lightweight Finns Mikael Nyyssönen (6-0) and Tommi Marttinen (8-1). Both fighters are known for their superb ability to sink in a choke. The fighters have a combined win record of fourteen victories and eleven of the victories have come by way of a submission choke. Both fighters are looking to take a huge leap towards the international stage.  Content partner Fightsport.fi made the fight announcements on behalf of the promotion.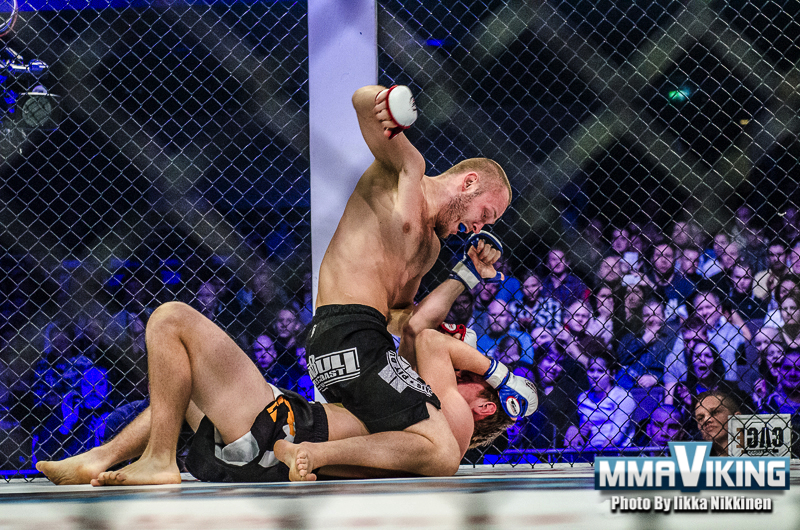 The card is headlined by the new Cage featherweight champion Timo-Juhani "Tipi" Hirvikangas (9-2) who will look to defend his belt against Frenchman Antoine Gallinaro (7-2). The importance of this fight for Tipi is very high as the Fin's name has been floating around talks of an opportunity with the UFC. With a win over Gallinaro doors to the international stage is destined to open for Tipi who could notch his 5th straight win.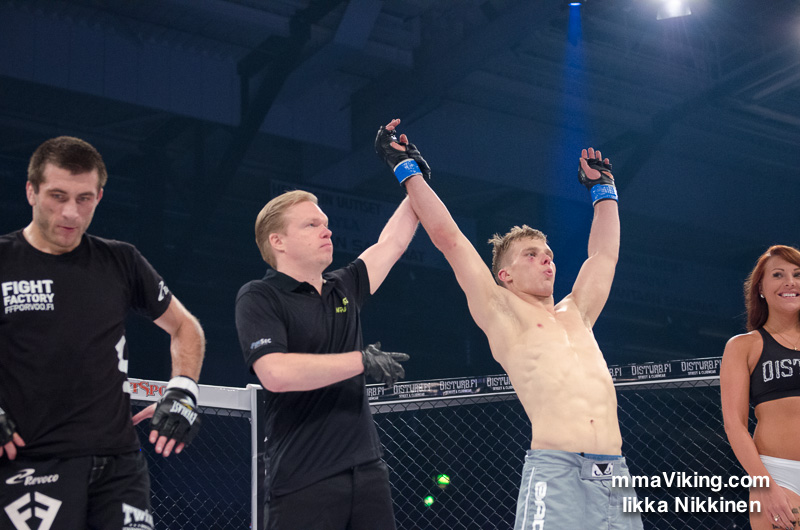 Other notable match ups are undefeated Teemu Packalén (5-0) taking on a tough Polish fighter in Jacek Kreft (5-1). Packalén who's a brown belt in Brazilian Jiu-Jitsu has never been to the decision and has finished majority of his fights on the first round. Kreft also holds the ability to finish a fight before the judges decision, all of his stoppage victories have come by a submission.  Juho Valamaa will also be a fan favorite in Turku as the FinnFighters gym fighter looks to bounce back from a hard fought loss at Helsinki Fight Night in June.
Also fighting on the card is the current amateur welterweight champion of the world, Aleksi Nurminen. He will look to continue his winning ways against Dara Nhang and make a statement to the rest of the Nordic welterweight fighters.
Full fight card
Main event for the Cage featherweight championship
Timo-Juhani Hirvikangas, Finland vs. Antoine Gallinaro, France
Juho Valamaa, Finland vs. Daniel De Madallena, Brazil – welterweight bout
Teemu Packalén, Finland vs. Jacek Kreft, Poland – lightweight bout
Mikael Nyyssönen, Finland vs. Tommi Marttinen, Finland – lightweight bout
Aleksi Nurminen, Finland vs. Abdourahmane Seye, France – lightweight bout
Aleksi Kainulainen, Finland vs. Dara Nhang, France – 64kg bout
Niko Myllynen, Finland vs. Kevin Ruart, Switzerland – lightweight bout
Mikko Ahmala, Finland vs. Pierre Chretien, France – welterweight bout