The name Omni4 recently started appearing on MMA fighter shorts and blogs over the last year.  The mysterious name may not mean anything to most, but if you ask any of the athletes that they have taken under their wing, it means a new level of endurance, nutrition, strength, flexibility, and confidence.
Getting to Know Omni4
Papy Abedi was the first person who told me about Omni4 last summer.  The athlete had just been signed to the UFC and he was beginning to prepare his fight camp for a bout still 3-4 months away –an opponent had not yet been announced. "Makambo" had both the challenge of coming off of knee surgery and also dropping to welterweight for the first time.
The Stockholm based fighter outlined the goals and training regiment that had already been in place by this "Omni 4" to get him where he needed to be physically for his Octagon debut.  Under their guidance, he had already embarked on various 5k and 10k runs in the morning to build his cardio in addition to his regular MMA training.  The popular fighter had comfort and confidence in the Omni4 roadmap and vision of what he needed to do to get ready to put his skills on display for the world. When the time came to perform, Abedi was able to look like he belonged competing at the highest level as he went blow-for-blow with former title contender Thiago Alves.
I started to learn more about OMNI4's full ability from Diego Gonzalez's wife, Shabnam, during a session at HILTI while her husband was finalizing he preparations to make his debut below his established welterweight class.  She discussed the change in her husband's eating habits that were learned through OMNI4's team.  The information was eye-opening, with the ability to eat more food during the drop to lightweight as opposed to preparations to make welterweight.  I quickly realized that Omni4's expertise went beyond just physical training, but tackled everything that needed to be done to create a world-class athlete.
"I've had so much improvement in such short time, and its just the beginning. I know OMNI4 are going to take me to the next level." – Diego Gonzalez
Both her and the "Silencer" were impressed with all the knowledge OMNI4 had imparted to transform the athlete, and reinvent his body and career at a different weight class, where he actually felt stronger than he had been at heavier weights through the training and nutrician.  Gonzalez has now signed a multi-fight agreement with Cage Warriors and has found success with two wins and one loss since his preparations with Omni4.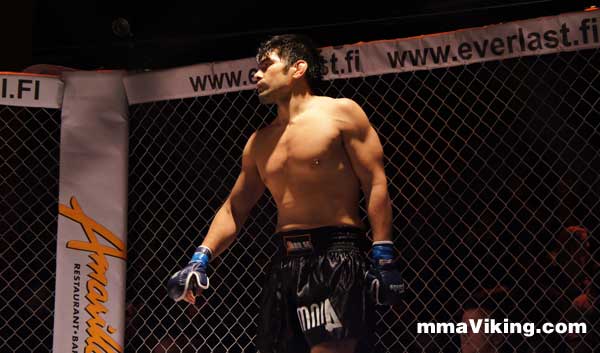 Meeting the Founders
MMAViking.com met with two of its founders and drivers behind Omni4, Kalle Engström and Jesper Skaneby, to learn more about the Stockholm-based company that is creating a buzz in the mixed martial arts community and beyond.
I learned that Omni4 was established in 2010, and was created as what the founders identified as the "missing link" for athletes.  While the Stockholm facility is used by only a small percentage of MMA fighters –elite gymnasts and tennis players, plus others rehabilitating injuries looking to improve their golf or other activities populate the premises– it's an option that is addressed to those who place higher demands on skills and a more conscious performance.
"It doesn't matter if you are 60 year old hobby golf player or Papy Abedi going to the UFC… methods are different but the principles are the same." – OMNI4 Founders
The company promotes their philosophy as one that conducts performance coaching and training guidance from a sports science perspective, specializing in long-term performance development.  They also use a network that includes an extensive resource team that makes it possible for us to find the help that their clients need.
OMNI4 Uses Only Scientifically Proven Equipment and Methods
Martial Artists Background, Benefitting All Athletes
Skaneby and Engström have mixed martial arts backgrounds, with Skaneby the Swedish Taekwondo national team trainer for 10 years while Engström a prominent Judo coach and competitor.  The two have a deep understanding of the mixed martial arts world and its disciplines, but they apply their science and knowledge go way beyond the world of combat sports.
"We can help any athlete, because of our competence and biomechanics studies." – Omni4 Founders
"I understand how the body should work, and how it should move in different directions.  Sometimes when you specialize in one sport, you get caught up in the bubble of the culture, and it's a positive if you aren't focused too much and can have an outside perspective" says Engström.  "For example, I train elite tennis players, but I don't know tennis too much.  I do know how they need to move and how to train them." expands the agility trainer.
The MMA Solution
The two were the closest to the "missing link" in martial arts, as the athletes themselves are many times left to create a training program for themselves.  "We would always hear athletes asking questions like… When I do MMA in the morning, when should I do weight training?" says of the athletes trying to find answers to achieve optimal performance.  "We help map out everything for the athlete." says Skaneby. "We know the problems and challenges, and show them how to prioritize their training."
Another athlete that has been blossoming under Omni4 is the recently UFC signed Magnus "Jycken" Cedenblad.  Below the athlete talks with MMA Viking about his work with Omni4.
Re-shaping Papy Abedi
One subject that the team likes to discuss the most is Papy Abedi.  They have known Abedi for well over 10 years, and Engström was even a cornerman when the Congo-raised athlete stepped into the Octagon.  "He is one of the most adaptive athletes we have ever seen", say the team proudly.
"We have been working with Papy for two years, and always with the goal to build him as a welterweight.  We have moved a lot of mass from the upper limbs and moved it down to the core strength," says Engström.  "If you have too many muscles, or the wrong type of muscles you get tired." they say when discussing body types like Abedi's, who years ago looked more like a body builder than a mixed martial artist.
"I have an explosive physique. The opposite is endurance. The focus is therefore on developing so-called power & speed endurance, ie the ability to repeat the explosive moment for a long timewhile maintaining endurance, which also requires a streamlined active recovery process during the round." – Papy Abedi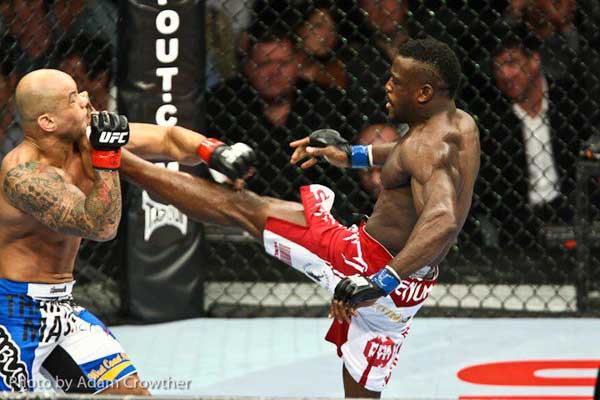 Proof of the hard work by Abedi under the guidance of Omni4 were so impressive in his debut loss, that the athlete was re-booked immediately for his sophomore appearance, which will take place at the UFC in Stockholm on April 14.
Science, Not Trends
"We are not so trendy, we have to analyse it first"  says Skaneby when I asked about using popular training techniques like training masks, breathing out of snorkels, seen used recently in other gyms.  "If we have questions, we asks scientists that are part of their competence team."
"My strength, my weight, footwork, health just everything is 10 times better. They are true professionals and you really feel that they know exactly what they are doing."" – Diego Gonzalez
"Lots of people think if you have the right equipment, you can get better" say the owners that point to the less experienced and successful athletes in the gym always having the newest equipment. The Omni4 team always come back to their proven systems and methods to drive the results.  Hammarbybacken, a hill in Stockholm, is many times the choice of effective exercise over the latest trendy stair-master or machinery.
"The difference is that we worked form scientifically proven principles, and it's only the methods that are changing." says the owners.  The organization has degrees and years of research and training, differentiating them from other "trainers" that can get a basic certificate in just months to become personal trainers.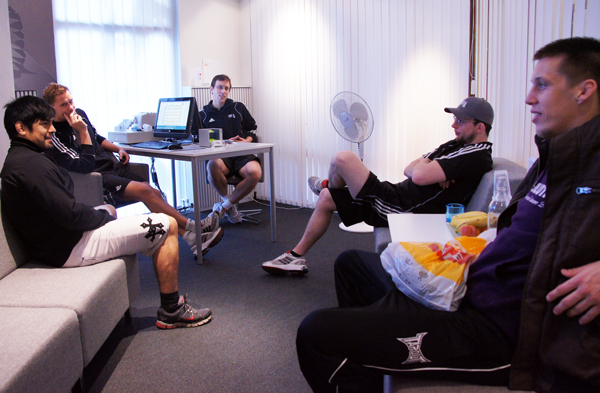 MMA Cooperation
"Culture is changing in MMA" says the progressive team, that advocates sending their athletes to different clubs to stay well-rounded and develop the optimal schedules.  "Sweden is to small not to cooperate" says Engström when asked about seeing many of the athletes jumping between HILTI and Pancrase gym for example.  OMNI4 seems set on doing what's best for the athletes, and are trying to set activities that may cross traditional MMA boundaries.
OMNI4 FTW
I'm still not sure what Omni4 means or where the unique name came from, but I guess that's not important. You will see the results of their training methods and hard-working dedicated athletes on display at an upcoming Cage Warriors and UFC in Sweden card.  Look for the logo, and ask any of their athletes what Omni4 means to them…. I'm sure you will be impressed, as I am.
More Information on OMNI4 
The Omni4 venue is in the heart of Östermalm, located at Sibyllegatan 17, and they can be reached at [email protected] or+46 (0) 8-660 82 50.  Learn more at www.omni4.se.