Estonia's RAJU was one of the most consistently running MMA promotions around the Nordics, putting on their unique brand of MMA since 2009. Raju means "storm" in English, and the trail left behind with its 14 events will not be forgotten.  'Hell yeah, we did it!' says RAJU president Ott Tõnissaar, who went out with a bang with their 14th and final show this past October.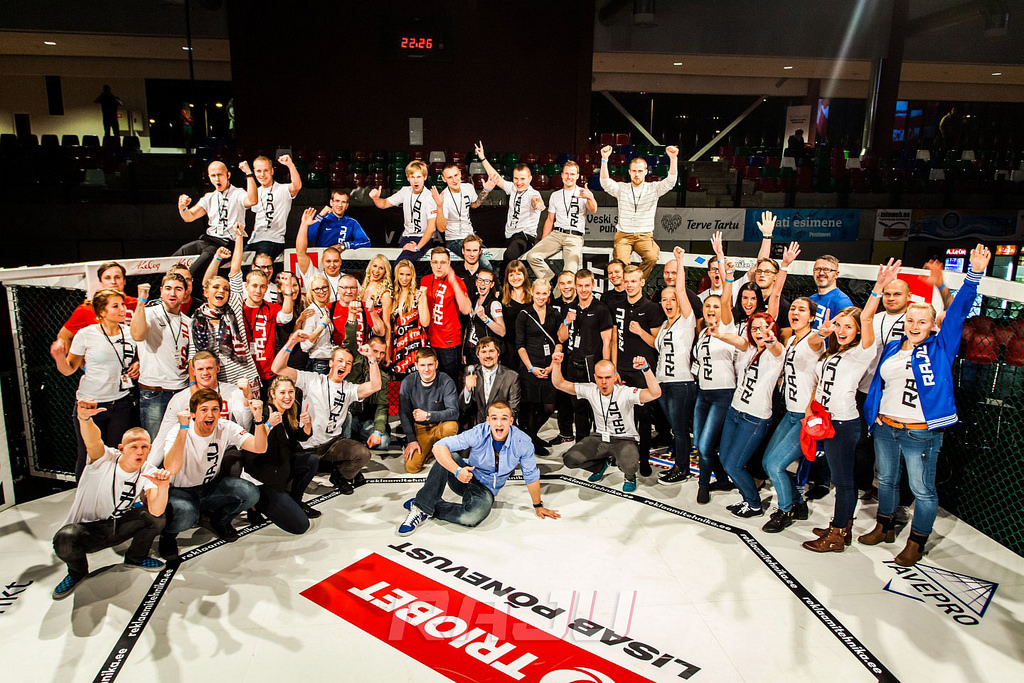 As one of the few foreign media to attend the Baltic production, it was such a treat to find such a well run organization just a short trip from Stockholm and Helsinki. The white canvas, tuxedo clad announcer, beautiful ring girls, perfect event production, enthusiastic team of organizers, plush VIP seating, extended fighter entrances, and Estonians throwing down against evenly matched international talent will be missed.  MMAViking.com talks to the fighter, coach, and head of RAJU as he looks back at RAJU and forward to his career and Estonian MMA.
RAJU Events
February 21, 2009 : MMA Raju 1 at University of Tartu Sports Center, Tartu
June 06, 2009 : MMA Raju 2 at A. Le Coq Sports Hall, Tartu
October 31, 2009 : MMA Raju 3 at Tartu Sport Foundation Sports Hall, Tartu
February 13, 2010 : MMA Raju 4 at Tallinn University of Technology Sports Hall, Tallinn
May 29, 2010 : MMA Raju 5 at Kalevi Sports Hall, Tallinn
October 23, 2010 : MMA Raju 6 at A. Le Coq Sports Hall, Tartu
February 19, 2011 : MMA Raju 7 at Tallinn University of Technology Sports Hall, Tallinn
October 22, 2011 : MMA Raju 8 at A. Le Coq Sports Hall, Tartu
April 14, 2012 : MMA Raju 9 at Kalevi Sports Hall, Tallinn
October 13, 2012 : MMA Raju 10 at A. Le Coq Sports Hall, Tartu
April 20, 2013 : MMA Raju 11 at Saku Arena, Tallinn
October 19, 2013 : MMA Raju 12 at A. Le Coq Sports Hall, Tartu
April 19, 2014 : MMA Raju 13 at Saku Arena, Tallin
October 18, 2014 : MMA Raju 14 at A. Le Coq Sports Hall, Tartu
Interview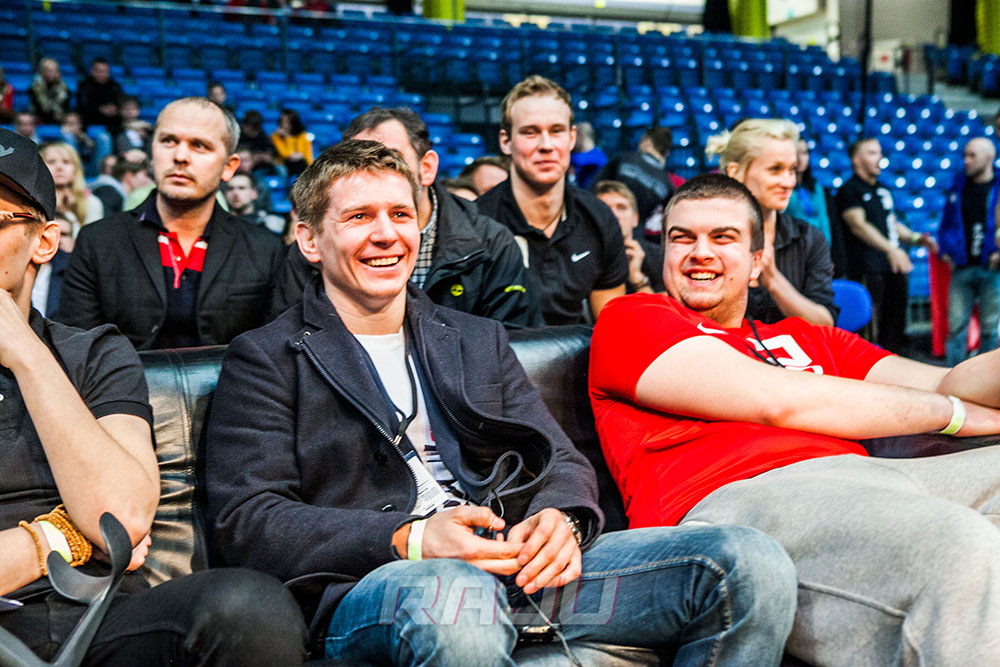 Why is RAJU stopping operations?
My life between the ages of 24 and 29 has been very intense, daily sticking my nose into great variety of familiar and unfamiliar doings and fields of life. It has brought me immense experience of success and also a great share of screw-ups, where some of these times we were the ones screwing stuff up and other times, the screwing was done by somebody else 🙂 I have come across with very extreme situations, circumstances and people (of course, also in a good way) and I have learnt to still keep getting things done, in an efficient manner. To sum it up – I am smarter, more skillful, tougher and better. I have learned that the biggest value around us is people – the right people.
"At the same time I feel I have reached my saturation point and I need a change in my life."
Do you have a favorite RAJU fight?
This is a tough one – it's not going to be a short answer, I'm going to need some subcategories here 🙂
I've been very attached with some of the fighters, which makes the success of the fighter also a huge personal win for me. In this category, the definite winner is Lauri Mägi, who's fight preparations were a great success. His tough matches against Nicola Joannes (full fight: http://youtu.be/Qa9YZnMYgZQ) and Janusz Staszewki (full fight: http://youtu.be/_3Dm_BAbTCM), both ending in a decision, are something to remember as he perfected his skills in training and then he went to the cage and performed at the same level – the execution was almost perfect. Thank you Lauri for that – it meant a great deal for me!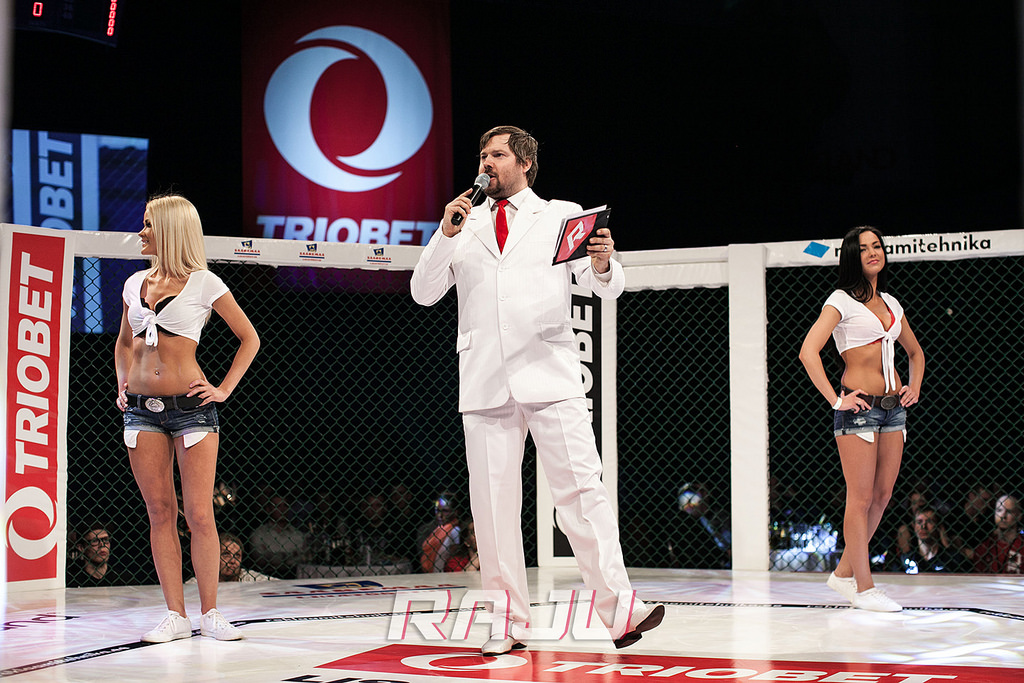 There has been guys who are so easy to coach, that it's almost like playing a Playstation game – as soon as you give a command, your fighter makes it happens; he listens to all of your observations and suggestions; this is a great display of trust between a fighter and a coach. In this category the winner is Jüri Jõgiste – no question here. For example (if you understand Estonian), watch him KO Latvian fighter Aleksei Povulans in a second round.

Jõgiste Lands Perfect Combination As Instructed 
Then there are these sport-defining moments:
– Main event of RAJU 1: Jussi Repo vs Henri Hiiemäe (amateur match) – the very first Raju-event, and the last match on the card was a breathtaking war, 2 rounds of it. Most importantly, it wasn't a slugfest – it was a technical match on the top level of Estonian MMA we had in here that time.
– Classical striker vs MMA fighter match at RAJU 5 between Mirkko Moisar and Henri Hiiemäe – you could feel the tension in the air. It wasn't the first so called style vs style matchup we had, but by that time, it was the one that got the most attention. Henri won that match in the 1st by an armbar.
– Also at RAJU 5: Deniss Smoldarev vs Alik Tseiko – Alik was so much smaller than Deniss, but with his solid background in wrestling, he just tossed Deniss around. Alik lost this match via injury though, but this made people ask – w*f just happened? How was that possible? What is wrestling?
– RAJU 6: Jorgen Matsi takes on the last minute replacement from Latvia – Latvian MMA titleholder Nikolai Haustov, who was nothing like his original opponent who he prepared for. But Jorgen just went in and beat him up. I think Haustov was also the first MMA titleholder that fought at Raju. Also, I still think it was the best performance of Jorgen.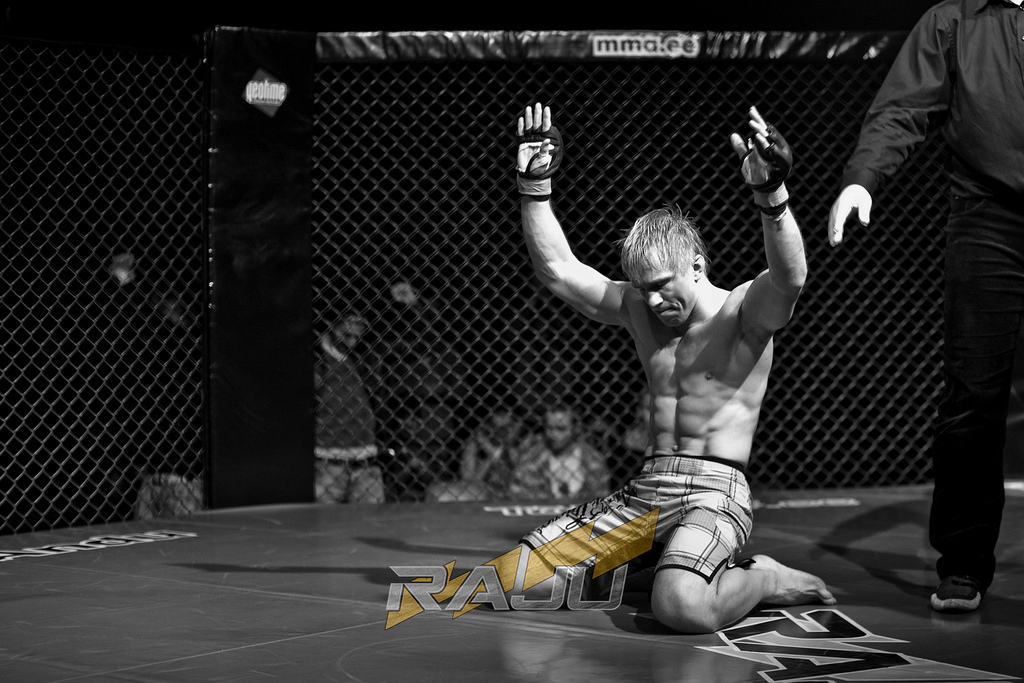 – RAJU 14: Sebastian Romanowski vs Henri Hiiemäe – level up for Estonia.
And the final subcategory – most entertaining fights 🙂 First, when the match gets turned around – when somebody is taking a beating … till he is not – the best one in here is Ilja Drovnjashin vs Jass Murutalu (full fight: http://youtu.be/aHDyq2m_ib4), which Jass won by RNC just a minute before the end of the match. And I've also been in one myself, against Latvian national team wrestler / judoka Nikita Petrov (recap).
Then there is Souksvanh Khampasath vs Lauri Ülenurm (full fight: http://youtu.be/PSSX1w–TCY); and Pascal Louissaint vs Henri Hiiemäe and Fouad Mesdari vs Henri Hiiemäe and Sebastian Romanowski vs Henri Hiiemäe – so most of the times when the fight comes with the name Hiiemäe in it 😀 (his HL for RAJU 14: http://youtu.be/aqLci__2tTw).
Do you think we will see RAJU come back some day?
The definition is – "we are on a break for an unknown period of time", and I would like to keep it this way. I don't know is RAJU coming back or not, but I would like not to think about it for some time. This, right now and here, is a milestone and I think we can and need to stop for the moment to say "Hell yeah, we did it!".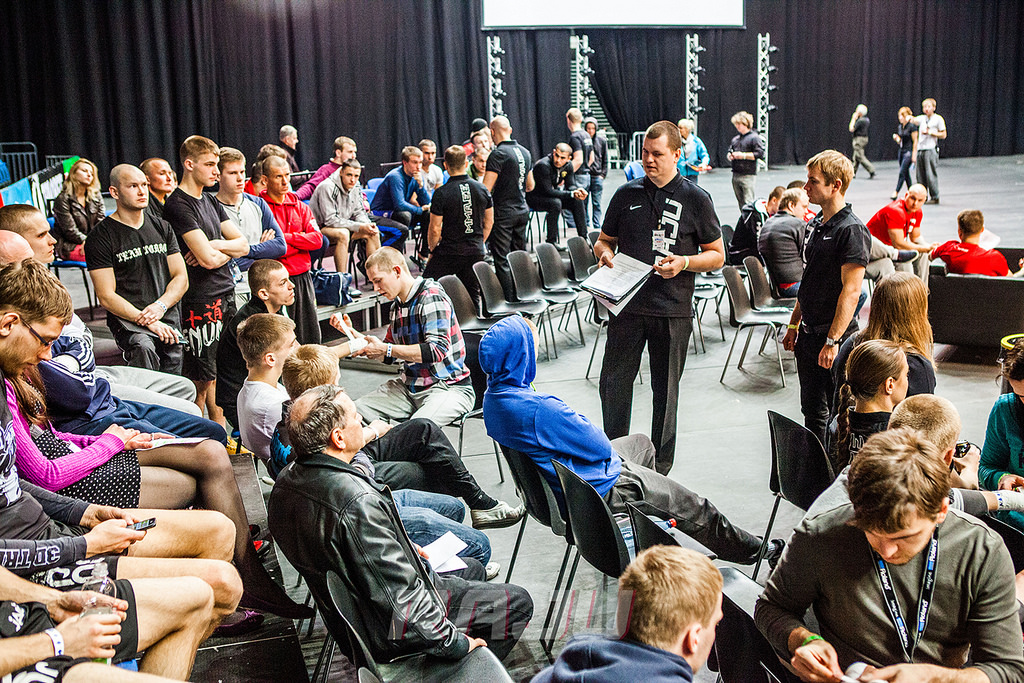 If Raju should come back one day, it's not going to be the same as were the first 14 events. Definitely, it will be better in its quality and also more successful as an event or a league, but this will already happen in a different light and in a different frame of reference.
Your fighting career has suffered due to your commitment to growing RAJU and MMA in Estonia. Was this a factor in RAJU's staging it's "final event"?
This was part of it, yes. But not the whole case.
What's next for you in your fighting career?
I signed with the Team MMA Finland & Olli Hartikainen – we'll see how it goes. I also bought my first pair of my own wrestling singlets – I think I have some unresolved issues there too 🙂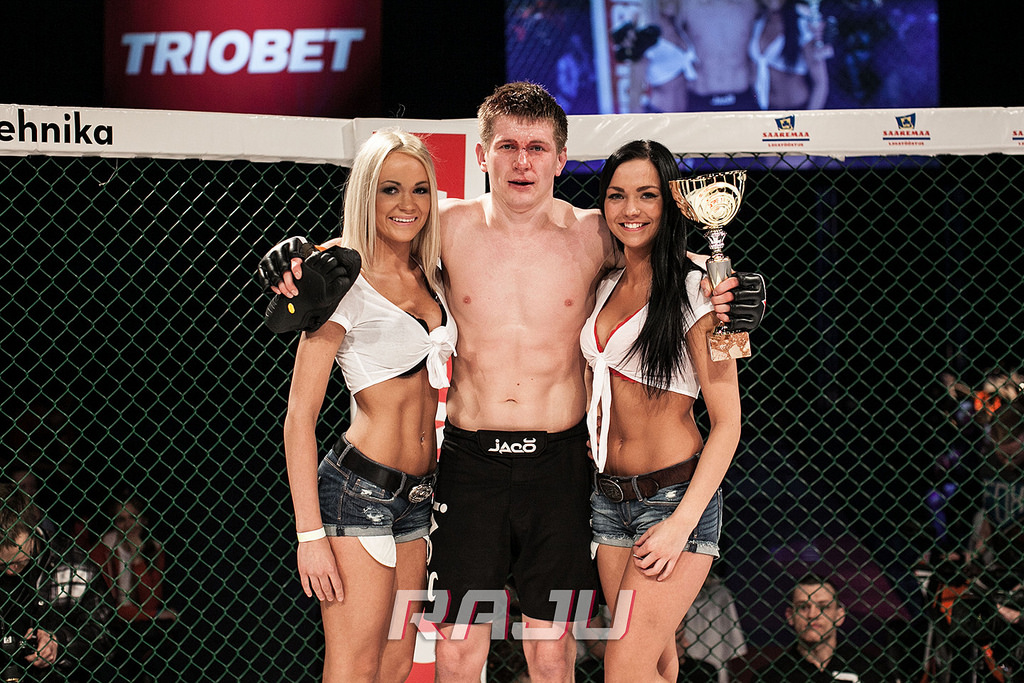 I would also like to use this opportunity to thank everybody who has given their contribution into this adventure – I hope that you have also gained some great experience of success and / or got some new know-how working with us. If it is appropriate to bring out a name from all the people who have made RAJU happen, it would be Andrei Baikov – a guy who put the idea in my head and who made the first push! Thank you, Andrei!