Norway's Mohsen Bahari (8-2) takes a short notice bout at today's KSW 30 in Poland. The Frontline MMA fighter will replace Michail Tsarev, who is unable to fight, and will take on Borys Mankowski (16-5) the welterweight KSW champion.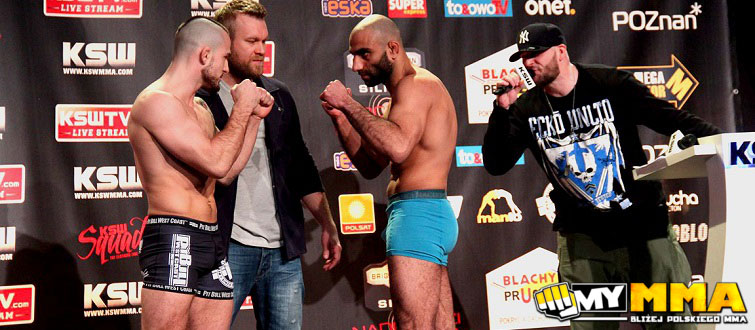 Weigh-in Video
The bout is a catch weight of 176, and will be three rounds in a non-title bout.

Results
Mohsen is in the back getting ready for the bout. He has shaven the beard he had yesterday. The Frontline fighter is the first to talk into the cage, and Jack Hermansson is in his corner.
Round 1
The size each up early, and Mohsen is circling with his back to the cage. Mankowski looks for a takedown, but the Norwegian defends it. Mankowski looking for a big fight, but the Norwegian is defending well. A double leg takedown for Mankowski and he is now looking for ground and pound.
Mohsen with full guard, and looking for a sweep. Mankowski gets half guard, and he gets enough space to stand-up. The two clinch up, and some knees to the thigh as the round comes to an end.
MMAViking.com Score – Mankowski 10-9
Round 2
Mohsen mixing up kicks well to start the round. Mankowski has power in his strikes, but the Frontline fighter isn't afraid to throw back. The Polish fighter clinches, but Bahari tries a standing reverse guillotine but is picked up and slammed to the mat. Halfway through the round. Closed guard by Bahari. Now Mankowski has back temporarlily, but Bahari gets it back to the feet.
MMAViking.com Score – Mankowski 10-9
Round 3
Good right kick to the head for Bahari. Front kick for Bahari, but Mankowski wants it on the ground and gets another take-down, but it doesn't last for long. Both are standing again half way through the third. The pace is slowing. Mankowski uses his overhand right as his go to punch, but it is slowing. Again with a double-leg takedown, which doesn't last. Mankowski is tired and with one minute left it is Bahari on top for the first time, and now half mount. Bahrain slips off to the side and Mankowski grabs a leg, but Bahari gets him back down to the mat to control the last portion of the third round.
MMAViking.com Score – Bahari 10-9
MMAViking.com Fight Score – Mankowski 29-28
Official Fight Score – Mankowski Wins by Unanimous Decision 29-28, 30-27, 29-28
Video Highlights
https://vimeo.com/120287910