The movie about Reza Madadi "MAD DOG – from Chaos to Comeback" is now available worldwide. Originally aired on the 27th of December 2015 in Sweden, for eight straight days at sportbladet.se and had over 60000 views. It's the all time most viewed sports documentary at Aftonbladet.se. It's now off of the site, and now available in an international version with subtitles and additional interviews with Alexander "The Mauler" Gustafsson and Norman Parke.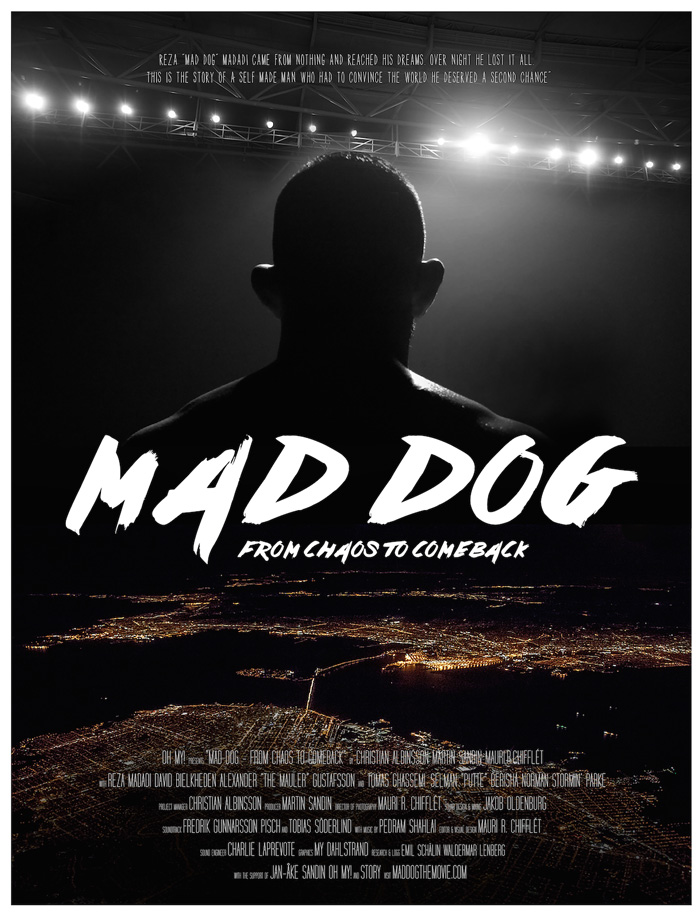 "All the people see is one side of you, the weigh in, the fight, what the newspapers write about you, but they don't know your actual personality or what kind of guy you are." says Madadi to MMAViking.com about the movie.
In the summer of 2013 Madadi were arrested for involvement in an infamous smash-and-grab coup. The district court sentenced him to imprisonment for one year and nine months. The UFC and all sponsors dropped Reza, his friends abandoned him and he was verbally bashed in the media and on Internet forums. But perhaps worst of all.
"We have followed him for over two years. This is the story of a Self-Made man who had to convince the world he deserved a second chance. It's a fascinating story that portrays an exciting and complex person." says Martin Sandin the movie producer.
https://vimeo.com/152978392
The documentary is not eligible in the US. We want to try to attend festivals before we release it to the public. Release date will be late spring. It's eligible in the rest of the world.
The international version can be seen here:
https://vimeo.com/maddogthemovie