Halmstad kampsport's Robert Nyström had a losing at the beginning of last month of 2 wins and 3 losses, but in a span of two weeks he amazingly turned it into 4 wins and 3 losses with consecutive rear-naked chokes.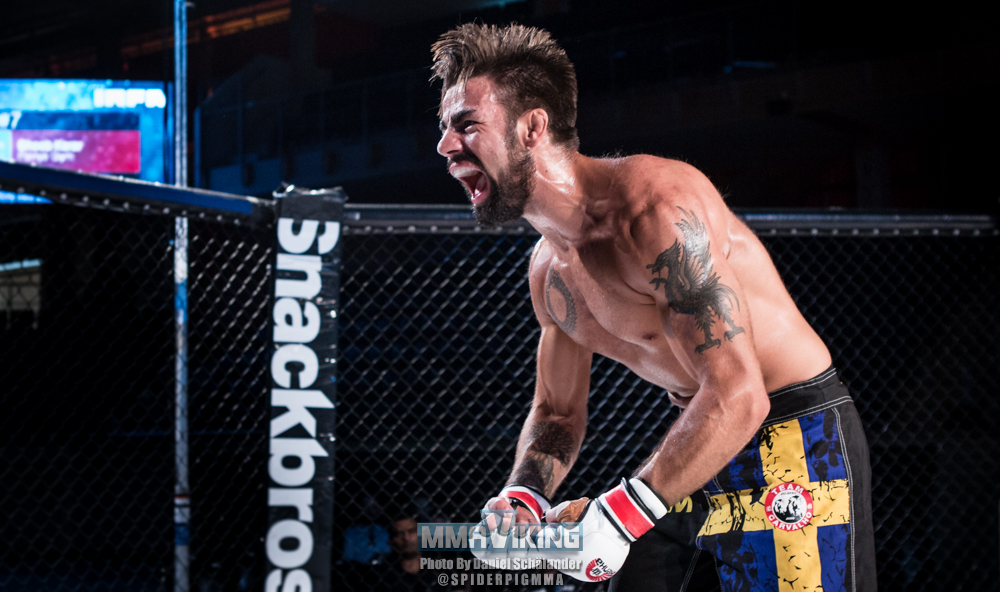 "Two fights in two weeks is hard! First one was at -70.3 and second one catchweight 68.6 and I walk around at 80 kg so it was not easy and actually I have been sick for 3 weeks almost which made it even harder. Happy that I did it though and turned my career from 2-3 to 4-3 in just two weeks." says the English teacher that got the first win was in his hometown at Wolf Fight Promotion 1 versus Mohamad Habal and his second versus Blazej Majdan at Sparta Fight Series 3.
"It felt really good , I went into that first fight with a negative record 2-3 and faced a good boxer with a great team and coach. So I knew it would not be a walk in the park, 2-4 would not have been nice.. got the win after a sloppy but intense performance. But it was amazing fighting in front of my friends, family and co-workers. I sold around 100 tickets for the event." says the fighter that headlined the Halmstad card.
"The second fight I fought a talented polish wrestler. An amateur champ in Poland with a 2-2 record as a pro. I felt relaxed and much calmer than the first fight and got the win by submission again."
The Halmstad event was sold out, and likely to be another platform for "Hobert's" return. "For a first event it was a success! We have received massive amounts of positive feedback and most people seemed to love the show. We had lots of epic fights, especially the last 3 fights with our Halmstad fighters were amazing." says fighter and organizer David Jacobsson that unfortunately had to pull out of his fight on the card. "We are currently in the planning stage of our next event. Our hopes are to host it late summer on the beach."