MMA Attack has recently announced that Simeon Thoresen will face Peter Sobotta on their October 26 card at the Ergo Arena in Poland. This announcement comes just days after Sweden's Superior Challenge announced that the Norwegian would be facing Domingos Mestre shortly after on November 23. Read the announcement from the promotion below.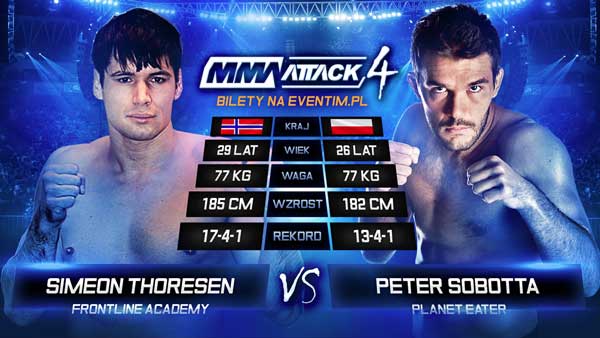 Press Release
(the press release from MMA Attack was translated from Polish to English below)
MMA Attack has revealed the first pairing of the MMA Attack 4 Rival card as Peter Sobotta is facing Norway's Simeon Thoresen, who holds a record of 17-4-1. "The Grin" was a UFC fighter, the best organizations in the world, and fought three times in the Octagon.  After beating Besam Yousef he lost to Baczynskim and David Mitchell, after which he was released. Thoresen is an expert in ground fighting and has 15 of his fights ending by submission. The 29-year-old from Oslo will try to stop the impressive run of Sobotta, who won the last five fights by rear naked choke.
For both fighters, this is an opportunity to strengthen their position on the European MMA scene.
Thoresen says "I can't wait for the fight against Peter Sobotta. He's a good fighter and an interesting challenge for me. MMA Attack is a large European promotion and I am honored that I can participate in it. Last year was a little difficult for me, but I will put everything together now, and I am optimistic about the future."
"Simeon is a good competitor with a similar skill set. This is not the type of grappler who just wants to maintain position, but he is looking for submissions, which should make for a great fight. But I am convinced that at the end of this my hand will be raised, because I'm a better grappler, and the battle will be decided on the ground. After the last MMA attack fight, I can not wait to come back and fight again before the Polish fans" Sobotta said.