Following up the recent announcement that Jens Pulver would be facing Sami Aziz at Superior Challenge 9 in the main event, today the promotion announced that former UFC fighter from Norway Simeon Thoresen will face Swede Domingos Mestre. Read the press release below for the November 23 event.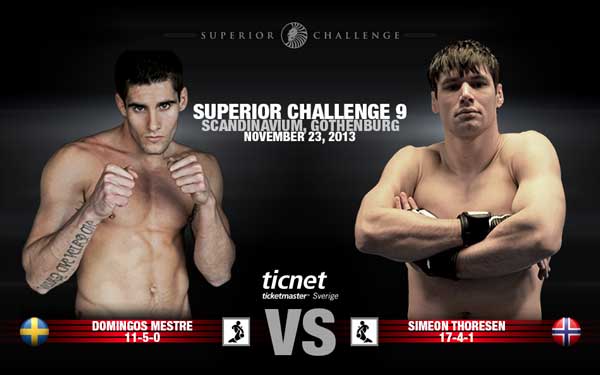 Gothenburg's Domingos Mestre pitted against his toughest opponent Norwegian Simeon Thoresen
Home fight to Domingos Mestre is set against the Norwegian Simeon Thoresen at Superior Challenge 9 on Nov. 23 at the Scandinavium in Gothenburg.
Gothenburger Domingos who soon turns 28 has perhaps his toughest match in front of them at Superior Challenge 9. The Portuguese fighter who had time for a total of 16 pro MMA fights including 11 wins takes on former UFC fighter Simeon Thoresen from Norway. Simeon has 21 pro MMA fights in the trunk of which 17 wins. 29 year old's last win was over no less than Gothenburg own Besam Yousef.
Babak Aghavali, CEO Superior Group International:
I have followed Domingos career for a while now and he constantly evolving. Simeon I met the first time in 2006 when I visited Joachim Hansen in Norway and after a hard sparring workouts consisting of 2 hours of Ground and Pound turns Joachim to me as he points to Simeon and said "if you want a real talent, keep your eyes on that guy.

Both Domingos and Simeon are experienced and talented athletes and stylistically very similar. Therefore it is a very smooth and interesting match of the highest quality. The winner of the match will have the opportunity to qualify for a title shot at Welterweight. I hope for an MMA grappling match at a high-level with a lot of scramble and submission attempts, but regardless, I know that it will be a very entertaining match.