Former UFC champion Jens Pulver and will face Swede Sami Aziz at Superior Challenge 9. The promotion will step foot in Gothenburg for the first time, and has a main event for the upcoming card on November 23. Read the press release sent today below.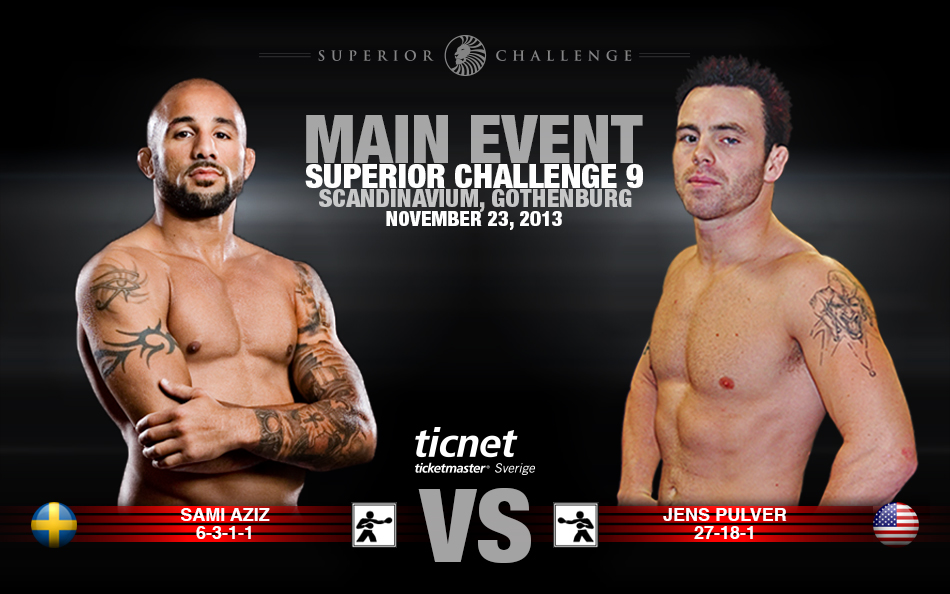 Press Release
A legendary bout between Jens Pulver and Sami Aziz
The Olympic wrestler Sami Aziz will have his hands full in the last bout of his career in his hometown Gothenburg, at Superior Challenge 9 on November 23, when he will take on the legend Jens "Little Evil" Pulver
Sami Aziz is clearly one of Sweden's most dedicated athletes with 30 years of experience in competitions as Olympic Wrestler, Swedish National Team Boxer, and MMA fighter. There are very few fighters in the world with the same athletic background. This, together with an iron will, incredible physique, and surgical precision makes him a unique and very entertaining fighter. Aziz has always strived to fight the MMA elite and has taken on names such as Rafael Dias, Emmanuel Fernandez, Fabio Mello, Jameel Massouh, and Joachim Hansen. Given that his last fight at Superior Challenge 6 was against "Hellboy", it is rather ironic that he soon will stand against "Little Evil".
Jens has also a very impressive athletic background as Wrestler, BJJ grappler, Kick boxer and Professional Boxer, before he moved on to MMA. He is formally known as a hard hitting stand up fighter and a great wrestler, which has made him one of the true legends of MMA. Little Evil fought his first professional MMA bout in 1999 and became soon after UFC's first lightweight champion by defeating no other than Caol Uno. Besides Caol Pulver has during his 15 years as a professional fighter, and 46 pro MMA bouts, faced fighters such as BJ Penn (twice), Dennis Hallman, Duane Ludwig, Takanori Gomi, Hayato Sakurai, Leonard Garcia and Urijah Faber (twice) etc. He has participated in the world's biggest MMA organizations and competed in weight classes from bantam to light. Pulver describes himself as a Sprawl and Brawl fighter and has won the majority of his fights by KO/TKO. He appeared on "The Ultimate Fighter 5" as coach against BJ Penn, and has been featured in a documentary about his training camp, personal life and difficult childhood called "Jens Pulver: Driven."
On November 23, the legend Jens Pulver will come to Sweden to face Sami Aziz in his hometown Gothenburg at Superior Challenge 9, in one of Sweden's largest arenas called Scandinavium.
Babak Aghavali, CEO Superior Group International:
– Both of these guys have hands like sledge hammers so it will probably be an explosion when they meet. Style-wise, it's an incredibly interesting matchup. Both Sami and Jens have wrestling backgrounds and great boxing skills. Jens has his iron fists and tremendous experience and it's an honour to have him fighting at Superior Challenge. This will be Sami's last fight and he will end his career where it ones started, in his hometown Gothenburg. That's why he is determined to give 100% when the cage doors closes. I promise, no one in Scandinavium will be left unaffected on November 23rd.
Superior Challenge:
Superior Challenge is one of the world's largest MMA promotions, which produces high quality, and adrenalin-full sports entertainment for the MMA audience around the world. The organization has many years of experience in MMA and broad knowledge of the industry, and is internationally recognized as one of the world's premier MMA shows. Superior Challenge is among five MMA promotions in the world with top 20 internationally ranked fighters competing at the events. The first event in 2008, broke the record attendance for all MMA events in Scandinavia and since then a total of eight events have been produced, and the record have been broken three times, and the last time was at Superior Challenge 8 on October 6th in a packed Malmö Arena in Sweden. That event is estimated to have had a PR value equivalent to 17 million SEK gross, in Sweden alone. The Live TV broadcast of the show also broke the all time record rating for all Nordic martial arts TV programs. In addition to nationwide TV
broadcasts in Sweden, Superior Challenge shows are broadcasted in most parts of the world. Superior Challenge is part of Superior Group International along with Superior Wear, Superior Gear, Superior Productions, and Superior Management. Thus, the organization is one of the world's biggest MMA groups, with operations starting in 2005. Since then the company has invested incredible resources in the Swedish MMA market, which has resulted in the current Swedish MMA market. The organization is also the largest Nordic exporter of MMA athletes, and consequently puts great importance on creating Swedish heroes and MMA athletes.
Some athletes who have competed at the events:
Alexander "The Mauler" Gustafsson, Joachim "Hellboy" Hansen, Thales Leites, Jeremy Horn, Marcus Davis, Rich Clementi, Junie Browning, Daniel Acacio, Reza "Mad Dog" Madadi, Tor Troéng, Papy Abedi, Hamid "Akira" Corassani, Magnus "Jycken" Cedenblad, Sami Aziz, David Bielkheden, Carlo Prater, James McSweeney etc.