Sami Aziz will make his return to the cage on the November 23rd Superior Challenge card. Following a successful event in Malmo last year, the promotion now looks to Scandinavium in Gothenburg for another big card and production. Read about the return of the Olympic wrestler and the event below in today's announcement from Superior Challenge.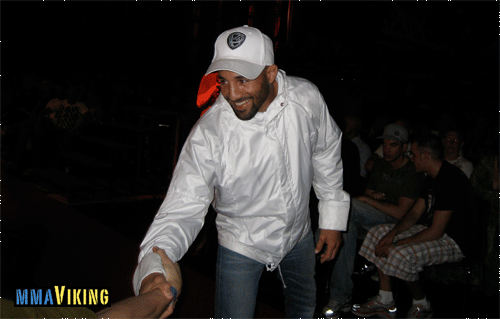 Press Release
The Olympic Wrestler steps into the cage for the last time on home ground
Sweden's perhaps greatest pound for pound fighter is going to do his comeback. Sami Aziz has decided to fight his last bout on home ground at Superior Challenge – Gothenburg.
Aziz is one of the most active martial artists. He began with wrestling at the age of seven and in the early years of his sporting career, he managed to win lots of medals and titles and the success led to two Olympic Games, Barcelona in 1992 and Atlanta in 1996. After the Olympics in Atlanta he decided to try boxing with the aim to participate at Sydney Olympics in 2000. He did not qualify to the Olympic squad but after lots of titles, national team bouts, and after been ranked 1st in Sweden, he became the first Swede who had been both national team wrestler and national team boxer. In 2001 he made comeback in wrestling and made it through the Swedish championships, and then the European championships, and finally qualified for the World Cup. But after controversial World Cup qualifications he decided to quit wrestling for good.
Sami did not want to stop competing. He had since the early 90's eyes on MMA and promised himself to one day compete in the sport. Consequently, this was the golden opportunity to begin with the world's fastest growing sport. Thus he started to develop his skills in Muay Thai and BJJ in his pursuit to become a complete MMA fighter. His athletic background in wrestling and boxing made him one of the most experienced MMA athletes in the world.
Video Promo
Today he has fought 11 MMA bouts in the world's largest organizations and competed against the sport's top elite. He fought at Superior Challenge 1 in 2008 against the Frenchman Frederic Fernandez, and was then challenged by his brother Emmanuel, who was ranked 1st in Europe while Sami was ranked 2nd. The bout became one of Superior Challenge's most exciting fights ever. Then he competed at Superior Challenge 3 against the Japanese Tomohiko Hori, and at Superior Challenge 5 he fought against Jameel Massouh from USA for the featherweight title. Alexander Gustafsson also fought at the same show, which was his last fight before he signed with his current organization. Sami's last bout was at Superior Challenge 6 against the top-ranked Norwegian Joachim "Hellboy" Hansen.
Now, Sami has decided that he wants to fight one last bout on home ground at Superior Challenge in Gothenburg on November 23rd. If it is going to be his last bout remains to be seen. It is the first time a MMA show is produced in Scandinavium and Sami wants to do his last bout where everything once started for him.
Sami Aziz, fighter Superior Challenge Gothenburg:
– After my last bout against Joachim Hansen I feel I have more to give, and when I heard that Superior Challenge are going to produce the next show in Gothenburg, it felt just right. I always wanted to compete in Gothenburg and this feels like a great opportunity to compete in front of my home crowd and family. I also want to finish my career where I started it, in my hometown Gothenburg. Therefore, I do not care about who my opponent will be. I just feel like I want to go in and give everything I have and deliver a spectacular fight to the audience.
Babak Aghavali, CEO Superior Group International:
– As a Sami Aziz fan, no one is happier than I am about the news. According to my opinion Sami is Sweden's pound for pound best fighter of all times. There are very few MMA fighters in the world with his athletic background and experience. I always compare him with a Rolls Royce. Moreover, he is the fighting world's own health guru. I probably don't know any other athlete who is so dedicated to his sport and as focused as Sami. He always wants to compete against the sport's absolute elite and he always delivers 100 % when he competes. It is a true joy to see Sami in the cage again, which is a combination of brutal rawness, beautiful symphony and surgical precision. We are currently under discussions with several people around the world about his next opponent, so I cannot reveal more than that Superior Challenge – Gothenburg on November 23rd 2013 at Scandinavium will be a night to remember.
Superior Challenge:
Superior Challenge is one of the world's largest MMA promotions, which produces high quality, and adrenalin-full sports entertainment for the MMA audience around the world. The organization has many years of experience in MMA and broad knowledge of the industry, and is internationally recognized as one of the world's premier MMA shows. Superior Challenge is among five MMA promotions in the world with top 20 internationally ranked fighters competing at the events. The first event in 2008, broke the record attendance for all MMA events in Scandinavia and since then a total of eight events have been produced, and the record have been broken three times, and the last time was at Superior Challenge 8 on October 6th in a packed Malmö Arena in Sweden. That event is estimated to have had a PR value equivalent to 17 million SEK gross, in Sweden alone. The Live TV broadcast of the show also broke the all time record rating for all Nordic martial arts TV programs. In addition to nationwide TV broadcasts in Sweden, it is estimated that the last event reached out to about 100 million TV viewers around the world. Superior Challenge is part of Superior Group International along with Superior Wear, Superior Gear, Superior Productions, and Superior Management. Thus, the organization is one of the world's biggest MMA groups, with operations starting in 2005. Since then the company has invested incredible resources in the Swedish MMA market, which has resulted in the current Swedish MMA market. The organization is also the largest Nordic exporter of MMA athletes, and consequently puts great importance on creating Swedish heroes and MMA athletes.
Some athletes who have competed at the events:
Joachim "Hellboy" Hansen, Thales Leites, Jeremy Horn, Marcus Davis, Rich Clementi, Junie Browning, Daniel Acacio, Alexander Gustafsson, Reza "Mad Dog" Madadi, Tor Troéng, Papy Abedi, Hamid "Akira" Corassani, Magnus "Jycken" Cedenblad, Sami Aziz, David Bielkheden, Carlo Prater, James McSweeney etc.