Today, Superior Challenge announced that they would take their promotion to Gothenburg on November 23rd. The prominent promotion was launched and established in Stockholm, before moving to host an event in Malmo last year. Read about their move to the west coast of Sweden in today's announcement.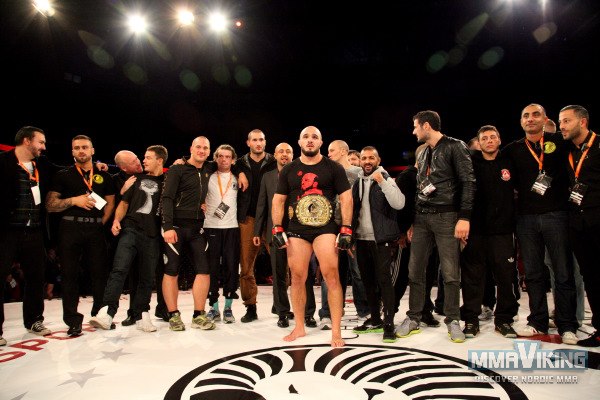 Press Release
A Unique Collaboration when Superior Challenge goes to Gothenburg
For the first time ever, a major international MMA show is going to be held at Scandinavium. Superior Challenge will take place on November 23rd 2013 in Gothenburg. The event will be arranged in a unique partnership with Got Event and Göteborg & Co.
Superior Challenge has been held 8 times earlier and the last show filled Malmo Arena and broke the record attendance of all Nordic MMA shows. The Live TV broadcast of the same show also broke the all time Nordic viewer record. Now Superior Challenge is going to produce its first show in Gothenburg on November 23:rd 2013. Visitors will be able to watch international stars and local heroes compete in maybe the world's largest "full-size" cage that is over 12 feet in diameter and approximately 85 sqm in fight area. Superior Challenge is recognized as Europe's most qualitative MMA promotion, and one of five international MMA promotions with top 20 ranked fighters competing in the organization. The event is for anyone who appreciates good entertainment, but especially sports fans and business visitors who enjoys high-adrenaline sports entertainment. Date for ticket release will be announced
shortly.
The event will be held in collaboration with Got Event and in cooperation with Göteborg & Co. This is the first time that Superior Group International engages in a multi-year cooperation in this range with an external partner regarding Superior Challenge. Gothenburg is the city that has most martial arts academies in Sweden, and is now strengthening its position as the Nordic capital of martial arts further by arranging Superior Challenge in its largest indoor arena. Got Event runs Ullevi Stadium, Scandinavium, Gamla Ullevi, Valhalla, Valhalla IP and Frölundaborg and hosts more than 200 events each year. Göteborg & Co's primary task is to through a broad cooperation promote and develop Gothenburg as a tourist, meeting and event city.
Babak Aghavali, CEO Superior Group International:
– We are really happy to produce Superior Challenge in Scandinavia´s martial arts capital together with partners such as Got Event and Göteborg & Co. The beautiful thing about the collaboration is that we will be able to deliver an even better product and a more entertaining show to the MMA fans thanks to increased resources. Which in turn will increase the interest in the sport, which will not only be a major step in Superior Challenge's expansion but also for the Swedish MMA in general.
Johan Pagerup, Arena Manager Scandinavium:
– Here at Got Event, it is important to deliver diversity and to meet the demand of the city. The sport of MMA is something that grows incredibly rapidly in Sweden and we have now entered a long-term partnership with one of the world's largest MMA shows, which gives us the opportunity to showcase our city internationally and to provide our audience with a new and demanded experience.
Max Markusson, Events Manager Göteborg & Co:
– We are really looking forward to have a major international MMA show such as Superior Challenge to Gothenburg. We are very excited that the incredibly rich sporting year of 2013 now also offers citizens and visitors a martial arts show of the highest international standard.
Superior Challenge:
Superior Challenge is one of the world's largest MMA promotions, which produces high quality, and adrenalin-full sports entertainment for the MMA audience around the world. The organization has many years of experience in MMA and broad knowledge of the industry, and is internationally recognized as one of the world's premier MMA shows. Superior Challenge is among five MMA promotions in the world with top 20 internationally ranked fighters competing at the events. The first event in 2008, broke the record attendance for all MMA events in Scandinavia and since then a total of eight events have been produced, and the record have been broken three times, and the last time was at Superior Challenge 8 on October 6th in a packed Malmö Arena in Sweden. That event is estimated to have had a PR value equivalent to 17 million SEK gross, in Sweden alone. The Live TV broadcast of the show also broke the all time record rating for all Nordic martial arts TV programs. In addition to nationwide TV broadcasts in Sweden, it is estimated that the last event reached out to about 100 million TV viewers around the world. Superior Challenge is part of Superior Group International along with Superior Wear, Superior Gear, Superior Productions, and Superior Management. Thus, the organization is one of the world's biggest MMA groups, with operations starting in 2005. Since then the company has invested incredible resources in the Swedish MMA market, which has resulted in the current Swedish MMA market. The organization is also the largest Nordic exporter of MMA athletes, and consequently puts great importance on creating Swedish heroes and MMA athletes.
Some athletes who have competed at the events:
Joachim "Hellboy" Hansen, Thales Leites, Jeremy Horn, Marcus Davis, Rich Clementi, Junie Browning, Daniel Acacio, Alexander Gustafsson, Reza "Mad Dog" Madadi, Tor Troéng, Papy Abedi, Hamid "Akira" Corassani, Magnus "Jycken" Cedenblad, Sami Aziz, David Bielkheden, Carlo Prater, James McSweeney etc.