Stockholm will be part of an upcoming series of press and fan events. Dana White announced the "UFC World Tour" at last night's UFC 162 post-fight press conference and followed-up with the press release below. Gustafsson who is part of one of the big four championship fights lined-up for 2013, when he takes on Jon Jones in Toronto on September 21.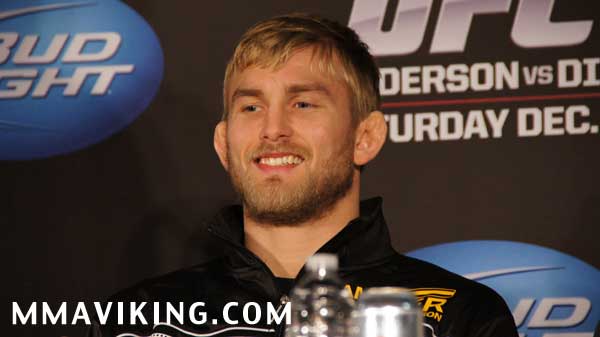 Press Release from UFC
FOUR MAJOR UFC CHAMPIONSHIP
PAY-PER-VIEW EVENTS TO CLOSE OUT THE YEAR
UFC 165: JONES vs. GUSTAFSSON – SEPT. 21 IN TORONTO
UFC 166: VELASQUEZ vs. DOS SANTOS III – OCT. 19 IN HOUSTON
UFC 167: ST-PIERRE vs. HENDRICKS – NOV. 16 IN LAS VEGAS
UFC 168: ROUSEY vs. TATE 2 – DEC. 28 IN LAS VEGAS
*MULTI-CITY, INTERNATIONAL PRESS TOUR ANNOUNCED*
Las Vegas, Nevada – The Ultimate Fighting Championship® announced this morning that it will close out 2013 with four major Pay-Per-View events featuring eight of the sport's biggest stars. The following events will mark one of the biggest and best stretches in company history:
· UFC 165, Saturday, Sept. 21 from Air Canada Centre in Toronto, Ontario, Canada. The event is headlined by UFC light heavyweight champion Jon "Bones" Jones taking on Swedish star Alexander Gustafsson
· UFC 166, Saturday, Oct. 19 from Toyota Center in Houston, Texas. The event is headlined by the rubber match between UFC heavyweight champion Cain Velasquez and challenger Junior dos Santos
· UFC 167, Saturday, Nov. 16 from the MGM Grand Garden Arena in Las Vegas, Nev. The main event pits welterweight champion Georges St-Pierre against the hard-hitting Johny Hendricks
· UFC 168, Saturday, Dec. 28 from MGM Grand Garden Arena in Las Vegas, Nev. UFC women's bantamweight champion Ronda Rousey defends her title against archrival Miesha Tate
Watch Dana White Announcement
The UFC also announced the UFC World Tour, a series of press and fan events beginning July 29 featuring the stars of these cards. Select UFC stars from the upcoming cards will visit the following cities:
· Bay Area
· Las Vegas
· Los Angeles
· New York
· Houston
· Dallas
· Chicago
· Montreal, Quebec, Canada
· Stockholm, Sweden
· London, England
· Rio de Janeiro, Brazil
Stay tuned for more information about the exact dates and locations.