Invicta FC returns to the Scottish Rite Temple for Invicta FC 19 and to kick off the card is Iceland's Sunna Rannveig Davidsdottir. The Mjolnir fighter faces American Ashley Greenway at 115 lbs to start the card with two title fights.  Live play-by-play and results be updated here.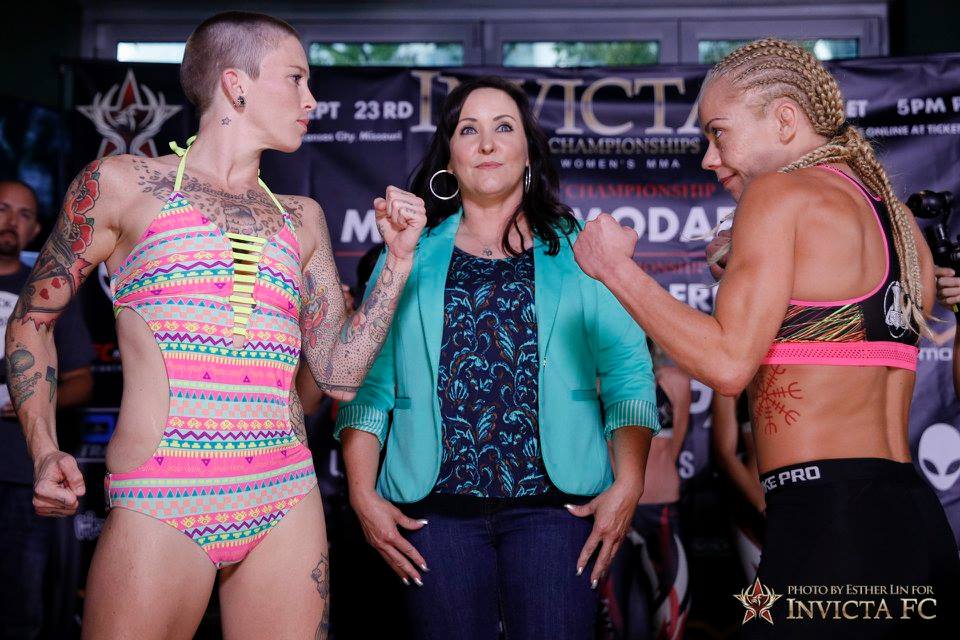 Play-by-Play
It is the first fight of the night, and Davidsdottir is the first to step into the cage.  She looks confident and relaxed as she stands in front of the Mjolnir banner and coaches behind her.  Greenway wearing a long sleeve rash guard shirt, and both fighters are wearing all black in Kansas.  Both fighters are 31 years old, and the American is the only one with a pro fight with Sunna making her debut.
Round 1 – A few kicks from Greenway early. Davidsdottir ties up her opponent on the cage, and shows her strength and lands as the two leave the clinch.  A spinning backfist from Dollface, but back to the tie-up.  Greenway wants to try to get the fight to the ground, but Sunna lands a few good punches after the failed attempt.
Half way through the round.  Good counter exchange from the Iceland fighter.  Greenway with some awkward kicks, and spinning stuff.  It is Sunna moving forward, and she gets behind the American as the round comes to an end.  A close first round.
Round 2 – Sunna is standing between rounds, and looks composed.  Solid inside kicks from the Mjolnir fighter that sends Greenway to the mat.  Back to the feet, and Sunna gets around behind her opponent and lifts her and back to the ground.  Sunna puts both hooks and looks comfortable taking back and fishing for a rear-naked choke.  Now punches, and a good series here for Sunna and solid punches to the face.  We have two minutes left, and it's all Sunna.  Side mount now, but Greenway reverses quickly before the two fighters go to their feet.  Davidsdottir's round 10-9.
Round 3 – With a close first round, this is anyone's fight.  Both fighters throwing crisp punches, and Sunna lands a nice left hook.  A lunging Greenway trying to establish her jab.  Sunna jumps in to get a body lock, and just like in the second round picks up and puts Ashley to the ground.  The flexible Greenway throws her legs up, and is able to reverse her fortunes before the fight gets back to the feet.  Two minutes left here, and the American needs something big here if she wants to win this round.  Sunna is moving forward and controlling the Octagon.  50 seconds left.  Pushing forward and Sunna lands some punches, and a desperate take-down attempt from Ashley, but it is defended and Sunna wins this round.  Davidsdottir's round 10-9.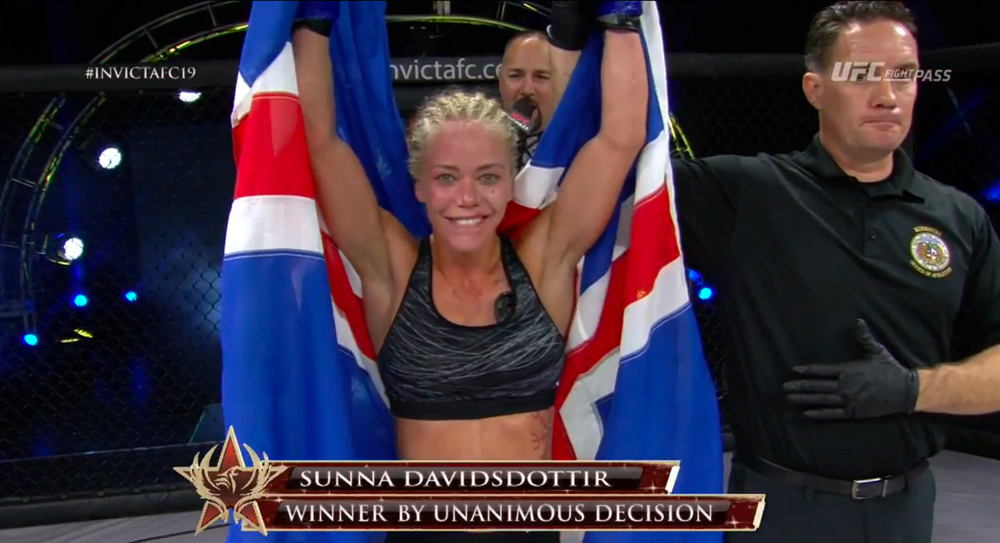 OFFICIAL DECISION: 30-27 on all cards for Sunna Davidsdottir. Tsunami wins her pro debut, becoming the first female from Iceland to have a pro fight and the first to win.