Redline Training Center's Lina Lansberg (6-1) will face the most dominant woman's fighter Cristiane Justino (16-1) tonight in Brazil. The fight headlines the card at the Nilson Nelson Gymnasium in Brasilia, Brazil.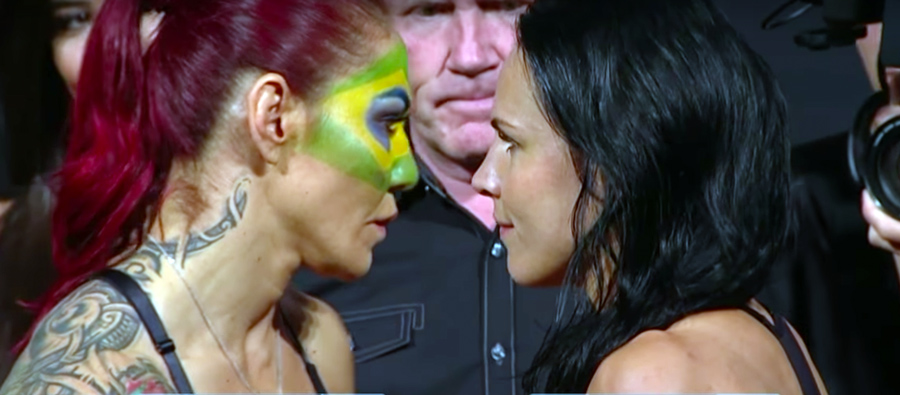 Results
Round 1 – Here we go. After walking into the cage with all smiles from Lansberg, we are ready to go.
Cyborg tries to land a right, then the two are now tied up along the fence. The Swedeäs back is to the fence, and Cyborg tries to land some knees. We are a minute in a half into the bout, and Lina seems content holding overhooks. Both fighters relaxed here.
Justino tries to unload with rights and lefts, by Lina doesn't take much damage and goes back to the clinch. Half way through the round. The referee separates the two, but they quickly clinch. Cyborg drops for a double leg and slams Lina to her back, now into full mount and punches. One minute left and Lina is in trouble, but fighting back. 45 seconds left and now Lina is back to her feet. Incredible recovery, and perhaps Cyborg pacing herself here, too. Big shots from Cyborg with 20 seconds left, and Lansberg almost drops, but stays up. First round over. Lina looks hurt.
Round 2 – Good right hand from Cyborg, then a flurry and a kick. Lina keeps hands high to defend, and now back to the clinch. A smile from Cyborg in the tie-up. Now another takedown from the Brazilian. More punches from the top, and now elbows and there is blood. Lina covering up as Cyborg rains down punches. Half way through the round, and the referee is looking closely and this should be over here soon. And it is. Cyborg celebrates the win.
#UFCBrasilia Highlight Video: Watch Cris Cyborg Destroy Lina Lansberg https://t.co/7og3o4xmBg pic.twitter.com/QVUPEcGPhm

— Sherdog.com (@sherdogdotcom) September 25, 2016

Cyborg wins by TKO in round 2.