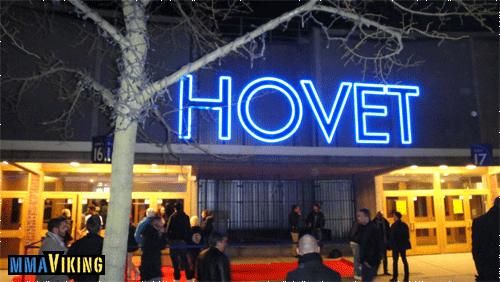 It was a great night of fights at Hovet, Stockholm, with Superior Challenge 6 Lion's Den highlighted by a solid performance (and theatrical entrance) by Reza "Mad Dog" Madadi to claim the victory against Carlo "Neo" Prater –the 70 KG Superior Challenge title was not on the line since Prater was unable to make weight. Madadi showed superior wrestling, with several double leg take-downs throughout the fight, and is making a case to make a bid as the 4th Swedish fighter to enter the Octagon.
In the other title bout at 77 KG, Daniel "The Viking Hunter" Acacio claimed the title by beating David Bielkheden in a controversial split decision. After announcing the verdict, the crowd seemed to question the results, as most fans saw Bielkheden winning both rounds 2 and 3 on the scorecards. A point deduction from Bielkheden in round 1 for an illegal up-kick made all the difference in this closely contested fight, which Bielkheden came close to finishing from mount with punches as the fight came to an end.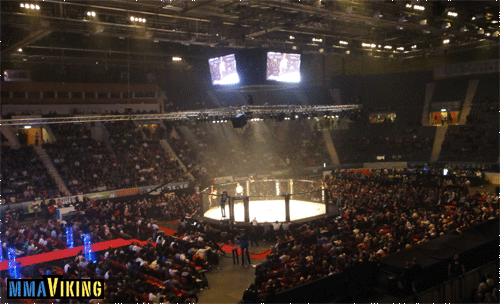 In the first superfight, Thales Leites, as expected, submitted a game Swede in Tor Troeng. Tor did however show excellent defense on the ground, but ultimately the BJJ of Leites was too much. Troeng was forced into a rear-naked choke in the second round.
In the last fight of the night, headliner Joachim Hansen showed his dominant ground game by submitting Usama Aziz with a tight armar in the second round to bring a close to the event.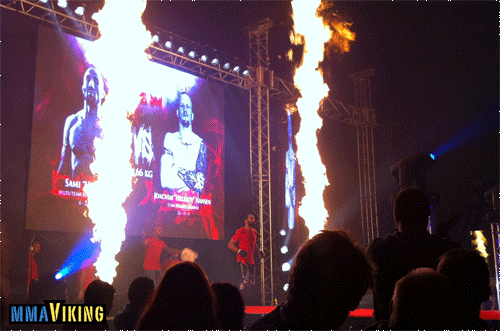 Below are results for the 14 fights on the card at the Hovet in Stockholm:
• Nicklas Backstrom defeats Simon Skold by TKO (Punches) in round 3
• Andreas Stahl defeats Niclas Danielsson by Decision
• Danny Mitchell defeats Nicholas Musoke by Submission (Armbar) in round 2
• David Aranda defeats Navid Yousefi by Submission (Armbar) in round 1
• Hanna Sillen defeats Maiju Kujala by Decision
• Matti Makela defeats Linton Vassell by TKO (Punches) in round 3
• Hamid Corassani defeats Graham Turner by Decision
• Magnus Cedenblad defeats Allan Love by Decision
• Assan Njie defeats Sean Salmon by TKO (Punches) in round 1
• Papy Abedi defeats Nathan Schouteren by Submission (Guillotine) in round 1
• Thales Leites defeats Tor Troeng by Submission (Rear-Naked) in round 2
• Reza "Mad Dog" Madadi defeats Carlo Prater by Decision
• Daniel Acacio defeats David Bielkheden by Decision (Split)
• Joachim Hansen defeats Usama "Sami" Aziz by Submission (Armbar) 2
More pictures and info on the event coming shortly.