Superior Challenge has announced that Malik Arash Mawlayi and Joseph Mohammed have been added to the October 6, Superior Challenge 8 show in Malmö.  
Press Releases
(See the press releases below, translated from Swedish)
Malik Arash Mawlayi Ready for Superior Challenge 8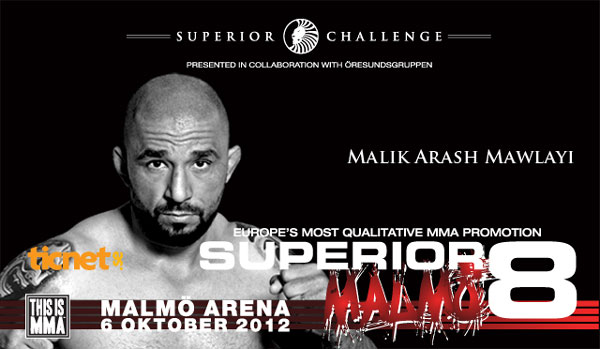 Another home fighter is ready for Superior Challenge 8 "The Natural Born Killer" has returned to Sweden after several years of training in Thailand. Originally, Malik was born in Afghanistan but moved to Sweden as a young man, and has spent the last few years in Thailand to train MMA and Muay Thai in Ole Laursen's gym. The 33 year old has a professional MMA record of 3-3-0 and also has been actively competing in the disciplines of BJJ, SW, and Muay Thai. This is the first time he will compete in MMA at home for a Malmö audience.
Babak Aghavali, CEO Superior Group International:
– Malik is a very exciting and entertaining fighter who dares the audience with show. He's good standing as well as on the ground, and is the kind of fighter who is constantly wanting exchanges. Expect a game with intense action from start to finish.

Joseph Mohammed ready for Superior Challenge 8
Superior Management's newest Joseph Mohammed is ready for his professional MMA debut.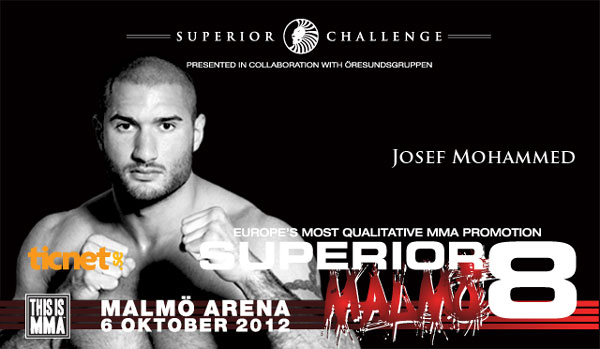 Malmö fighter Josef is another one of Sweden's new young talent, which stepped into a professional MMA career. He has credentials as a European Shotoo Champion, ADCC Champion Swedish and Scandinavian Open BJJ blue belt class gold medalist. 24 year old has an incredible physique and is 2 meters tall and weighs 120 kg. The newly-appointed Superior Management fighterns coach is none other than MMA pioneer Arben Latifi, Ilir Latifi's big brother.
Babak Aghavali, CEO Superior Group International:
– Joseph has every chance of going all the way to the top. He has all the tools, physics, talent and age. We are delighted to have received him in Superior Management, and everyone in the organization is very excited and excited about his professional MMA debut at Superior Challenge 8 October 6 in Malmo.

Arben Latifi, MMA pioneer and Joseph's coach:
– Joseph is one of the future's most promising ochspännande Swedish MMA fighters.
Swedish ADCC Champion final Josef Ali Mohammed vs Patrik Roberts