The UFC has announced that "The Ultimate Fighter: Live" cast member Andy Ogle will face TUF alumni and Swede Hamid "Akira" Corassani.  The featherweights will face off on the September 29 card at the Capital FM Arena in Nottingham, England.
Corassani (9-3, 0-0 UFC) has not fought in the UFC despite being in last year's TUF 14.  The Swedish fighter's last bout was a loss to Paul Reed at The Zone FC in February 2011, and suffered a series of injuries since his outgoing personality took over the TUF house. An injury kept him off of the TUF finale and also a booking on the UFC in Sweden card. Everything added up for "Akira" and eventually he withdrew from any updates and social media all together.  Reed stopped Corassani, who was on a nice run prior to the TKO stoppage, in his last official bout in Gothenburg.
Ogle (8-1, 0-0 UFC) is on a 7 fight win streak, and made it to the semi-finals of TUF live. He was not medically cleared to fight on the finale. THe UK fighter campaigned for a spot on the UK card, and he got it.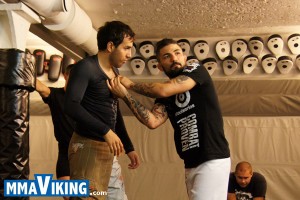 Corassani joins fellow Swede Kruth on the card. He also joins Brad Pickett, who was one of the three "hobbits" along with Nordic's top Bantamweight Sirwan Kakai in a popular video series. Look for other Nordic fighters to join the only scheduled European card so far this year.