Invicta FC Officials have announced INVICTA FC 2: "MCMANN VS. BASZLER", and the card features Nordic fighter Elina Nilsson. This is the sophomore card for Invicta FC which had its inaugural event "Coenen vs. Ruyssen" on April 28, 2012 at the Memorial Hall in Kansas City, Kansas. Invicta is an all-female MMA promotion founded by former Strikeforce executive Shannon Knapp, and Janet Martin, and will stage its upcoming event back in Kansas on Saturday, July 28.

Get more pictures like this from SHERDOG.COM
Nilsson Pictured at Sweden's MMA Academy Last Summer (Photo by Ryan O'Leary)
Elina Nilsson will take on Strikeforce veteran Julia "The Jewel" Budd.  Budd competes for the first time since a November loss in 39 seconds to current Strikeforce champion "Rowdy" Ronda Rousey. Budd (2 wins and 2 losses) faces off against Sweden's Elina Nilsson at a featherweight (145lbs.) tilt.  Budd, a 28 year old Canadian, is an experienced Muay Thai fighter with wins on the North American Muay Thai circuit after wins against Gina Carano, Keri Scarr, Chrisanne Roseliep and Natalie Fuz.
After suffering back-to-back losses in her first two professional bouts, Nilsson has since put together two straight victories – a unanimous decision over Melissa Lan on March 27, 2010 and a second round TKO (punches) on Danielle West at The Zone FC on May 7, 2011 –see picture below.
Nilsson is Sweden's first professional MMA fighter, and today she is just one of three. She is out of Gladius MMA in Gothenburg, and has a similar background to Budd. Nilsson is a top-level kickboxer / Muay Thai standout, and looks to further transition her skills to the cage. This will be a very visible platform for the Swede to shine, as Invicta will stream live and will be seen by thousands of MMA fans around the world.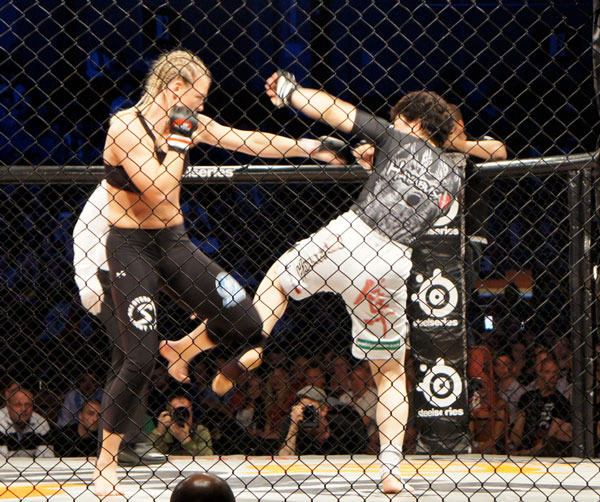 Invicta FC 2 Main Card:
Bantamweight: Sara McMann (5-0) vs. Shayna Baszler (14-6)
Bantamweight: Alexis Davis (11-5) vs. Hitomi Akano (18-9)
Bantamweight: Liz Carmouche (6-2) vs. Kaitlin Young (7-5-1)
Bantamweight: Amanda Nunes (6-2) vs. Milana Dudieva (8-1)
Bantamweight: Kelly Kobold (18-3-1) vs. Vanessa Porto (14-4)
Super Flyweight: Barb Honchak (5-2) vs. Bethany Marshall (4-0)
Featherweight: Julia Budd (2-2) vs. Elina Nilsson (2-2)
Flyweight: Carla Esparza (6-2) vs. Sarah Schneider (6-5)
Preliminary Card:
Atomweight: Angelica Chavez (4-1) vs. Kikuyo Ishikawa (7-3)
Bantamweight: Sarah Moras (2-0) vs. Raquel Pennington (1-0)
Bantamweight: Jessamyn Duke (0-0) vs. Suzie Montero (1-0)
Super Flyweight: Jocelyn Lybarger (0-0) vs. Cheryl Chan (0-0)
Atomweight: Jessica Philippus (0-0) vs. Liz McCarthy (0-0)