MMA Viking's UFC Sweden II preview series continues with Facebook prelim bout between Dutch Michael Kuiper and American Tom "Filthy" Lawlor.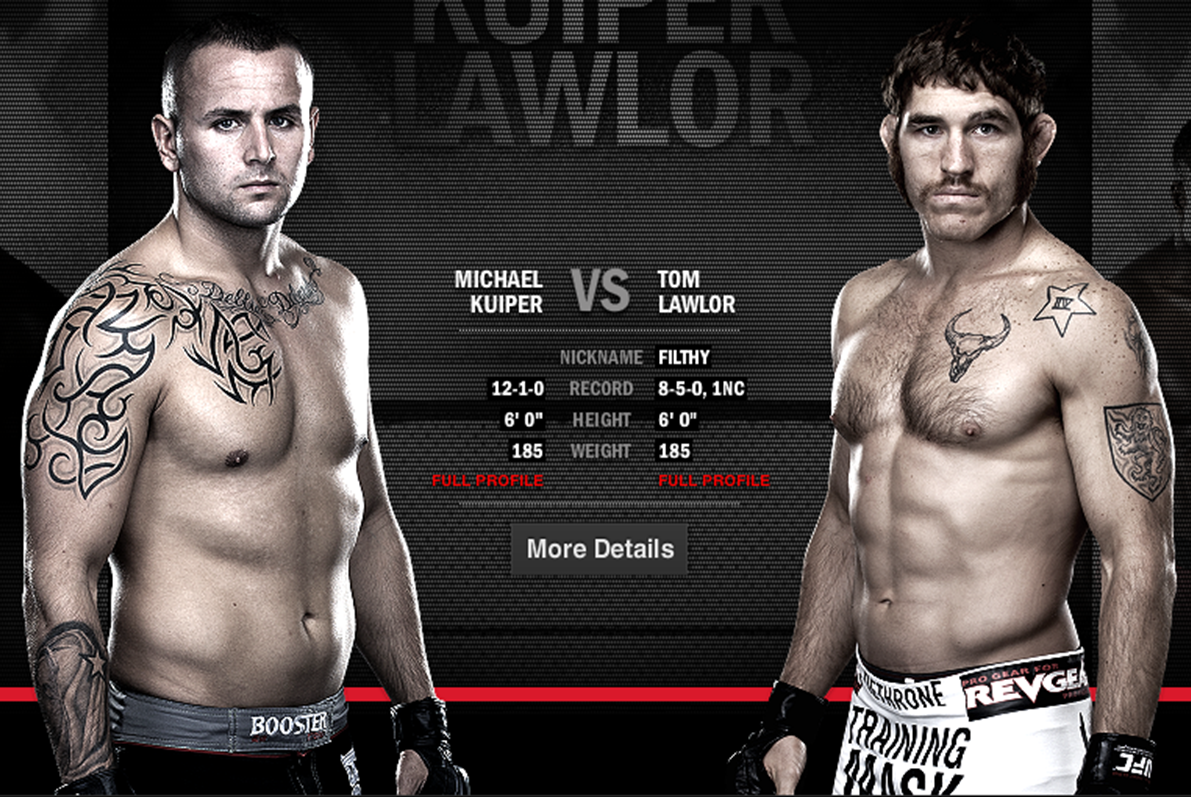 Michael Kuiper (12-1, 1-1 UFC): Netherland's Kuiper entered the UFC as a undefeated prospect with eleven wins under his belt. Kuiper had racked up those wins in three short years by beating up mid-level fighters in the Euro circuit. Kuiper hails from a grappling background unlike most of his fellow Dutchmen in MMA. Early on his career Kuiper used his judo as an offensive tool and submitted opponents but now days he has switched to "Iceman mode" where he uses his grappling only to keep the fight on the feet. Kuiper has worked a lot on his striking with Dutch strikers and coaches but also with American Amir Sadollah and Duane Ludwig.  Hard work has paid off as his striking has improved a ton during the last couple of years. Kuiper's style is close to traditional Dutch style kickboxing that seamlessly strings together boxing combos with hard low kicks and knees. Rapidly improving 23 year old hasn't fought since the Hamman fight in August of 2012 but this isn't exactly his fault. Kuiper has faced a ridiculous string of cancellations as four opponents in a row have pulled from a fight with him. Two time national Judo champ is good clinch and has strong hips as you would expect from a high level judo player. In his UFC debut Kuiper dropped a hard fought decision to Rafael Natal but got his first UFC win in his second fight with Jared Hamman at UFC 150.  Kuiper hurt Hamman sveral times with strong leg kicks and looping punches before finishing him off in the second round.
Michael Kuiper Training Footage

Tom Lawlor (8-5, 4-4 UFC): Always entertaining Tom Lawlor came to the UFC from the Ultimate Fighter when he took part in show's 8th season. In TUF Lawlor won his first fight but lost the second bout by TKO to eventual winner Ryan Bader. In the UFC Lawlor has debuted at light heavyweight by winning a decision over Kyle Kingsbury. After that fight Lawlor dropped down to middleweight and scored his most notable win so far at the UFC 100 where he put CB Dollaway to sleep with a guillotine choke and earned a 100000 dollar submission of the night bonus for the effort. In his last fight Lawlor lost by split decision, that many thought was controversial, to Frenchman Francis Carmont. Lawlor hails from a wrestling background and won three national titles in college. Former light heavyweight Lawlor is a stocky guy with powerful grappling and ever improving boxing. He doesn't use his legs a lot but his striking has been getting better all the time. Wrestling and submission grappling is Lawlor's main weapon of choise thou. Lawlor is an aggressive fighter who pushes the pace and has a gas tank to keep it up. He has won three Of the Night bonuses in his eight UFC fights.
Best of Tom Lawlor…Sort off

Match up: This is a match up between two skilled grapplers with improving striking games. Against Natal, who is a BJJ black belt, Kuiper showed good ability to scramble back to the feet but his takedown defense needs to in better form against Lawlor. Lawlor is a strong wrestler who ducks under punches, presses his opponents to the cage and works for takedowns from there. Lawlor, who has fought at 205 and wrestled at 235, should have a significant size advantage over Kuiper who is a bit undersized for middleweight division. On the feet Kuiper has more tools available thanks to his Dutch style kickboxing.
Summary: There's a pretty good chance that this fight will be a fan friendly scrap. Both guys have a aggressive and straight forward fighting style. Neither has great defensive skills on the feet. So it wouldn't too much of a surprise if this fight would end to a knock out or submission.
Bet on UFC in Sweden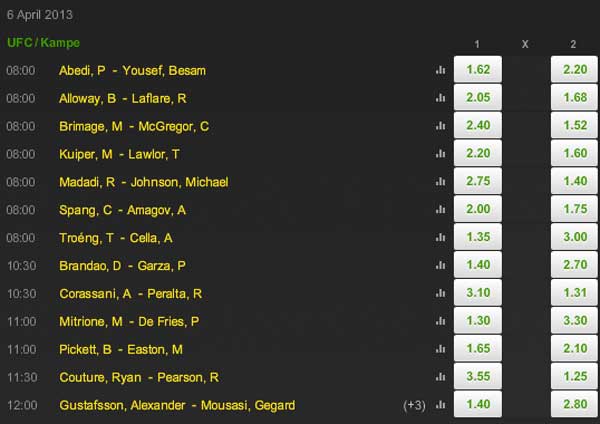 Get Big Bonus for MMA Viking Fans in Finland – Denmark – Norway – Sweden