Finnish featherweight Makwan "Mr Finland" Amirkhani (7-1), who is well known for his showmanship and flamboyant entrances featuring entourage of go-go dancers, has been added to the Cage 21 card. According to the news reported earlier today by our content partner FightSport , the talented grappler will meet undefeated Frenchman Tom "Fire Kid" Duquesnoy (4-0). The Cage 21 will take place on the 2nd of February at the Logomo event center in Turku, Finland.
Amirkhani fought four times in 2012 winning all of them and three of them by submission. In his last fight the wrestler choked out Belarussian Semen Tyrlya with a rear naked choke at three minutes of the first round. Lately Amirkhani has focused more on wrestling than MMA. In January he won the Herman Kale tournament's under 66 kilo category in freestyle wrestling.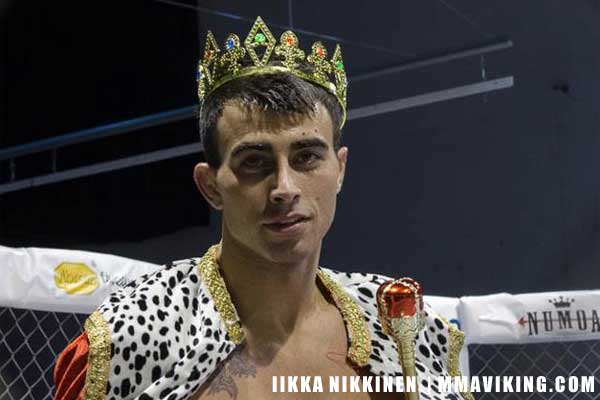 "When I heard from my manager that opponent's nickname is "Fire Kid", I said it's time to put out the fire. The opponent is younger than me. Quick on the feet but I've faced these guys before. I haven't really prepared for this fight. I'll go with the same old style. I believe I'm good at ruining these perfect records" said the confident Finn to FightSport.fi.
19 year old Duquesnoy started his pro career in 2012 and fought four times during the year. Talented young man has finished three out of his four opponents.
Cage 21 Fight Card
BW: Timo-Juhani Hirvikangas (5-2-0) vs. Evgeniy Odnorog (7-0-0), Ukraine
WW: Kai Puolakka ( 8-3-0) vs. Evgeni Fomenko ( 11-8-0 ), Ukraine
FW: Makwan Amirkhani (7-1) vs Tom Duquesnoy (4-0), France
WW: Juho Valamaa (3-1-0) vs. Åke Bergvall (4-6-0), Sweden
WW: Tuomo Peltoniemi (2-1-0) vs. Jussi Halonen (3-1-0)
LW: Jani Salmi (1-1-0) vs. Kennet Mattsson (4-2-0)
FW: Jaakko Väyrynen (4-3-0) vs. Simon Sköld (2-3-0), Sweden
LW: Teemu Packalen (1-0-0) vs. Otso Kataja (0-1-0)
LW: Mikael Nyyssönen (1-0-0) vs. Niko Myllynen (0-0-1)
FW: Mika Hämäläinen (1-0-0) vs. Jere Varila (0-0-1)
FlyW: Harri Määttä (1-0-0) vs. Gino Singh (0-0), Sweden