Seven Nordic fighters fought today at Day 4 of the IMMAF World Championships at UFC International Fight Week. Four Swedes and three Finns fought in the semi-finals as they march toward Saturday medals on Saturday.
Finnish winners Minna Grusander and Tuukka Repo were victorious putting them in for gold contention, while Laitinen lost and in the bronze bout on Saturday.
Anja Saxmark, Joel Moya, and Serdar Atlas were victorious putting Sweden in for three world championship bouts, while Lisa Engelke fell and will aim for bronze.
Results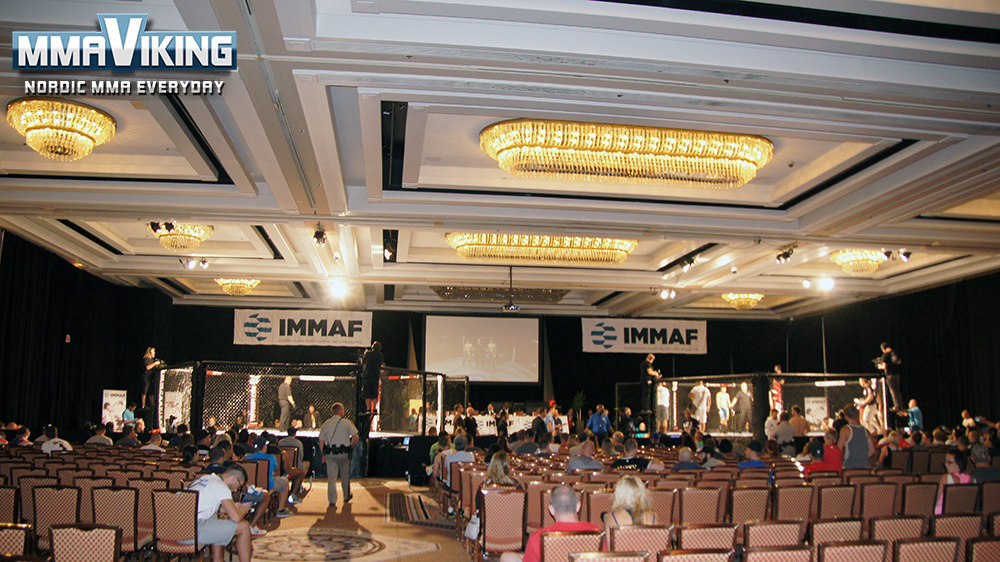 115 – CODIE WAREHAM TEAM USA Vs MINNA GRUSANDER TEAM FINLAND
Grusander (Finland) wins by armbar in first round.
155 – JOESHWA MORTADA TEAM LEBANON Vs TUUKKA REPO TEAM FINLAND
Rep (Finland) wins by unanimous decision.
46 136-145 JOEL SCHONDORFF MOYA TEAM SWEDEN Vs YURII BOSYI TEAM UKRAINE
Moya (Sweden) wins by submission in round 1.
185 – JAMES DUCKETT TEAM UNITED KINGDOM Vs JUHO LAITINEN TEAM FINLAND
Laitinen (Finland) loses by submission in round 1.
125 – NATALIE JEAN AUSMEIER TEAM SOUTH AFRICA Vs ANJA SAXMARK TEAM SWEDEN
Maxmark (Sweden) wins by unanimous decision.
125 – SERDAR ALTAS TEAM SWEDEN Vs SAMBATH KHUN TEAM CANADA
Atlas (Sweden) wins by unanimous decision.
135 – LUCIE BERTAUD TEAM FRANCE Vs LISA ENGELKE TEAM SWEDEN
Engelke (Sweden) loses by unanimous decision.