Finn Toni Tauru (10-2) had a chance of a lifetime to knock off one of the world's best fighters with his immediate title shot against Bibiano Fernandes (18-3) at ONE Championship (ONE). It however wasn't meant to be as the Team East Front fighter was KO'd in the 3rd round by the Brazilian. "I was so down for a couple of weeks. I was so well prepared and ready to win." reflects Dynamite to MMAVikging.com on the showdown in July.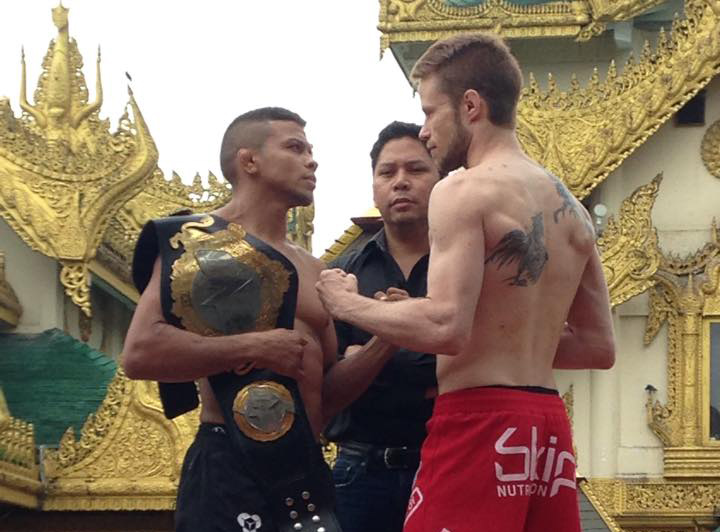 The Cage Warriors bantamweight championship had been on the shelf for 6 months before the bout, but doesn't place blame on anything physical hindering his performance. "There was no surprises what Bibiano threw or did, except the last punch =) But those hits that u don't see are the dangerous ones."
"Only things that i could have done better in preparation would have been training more ground game when u can use knees to head, instead of just eating them in fight." says Tauru that competed in the Pride rules at the event in Myanmar. "I blame only my self cause i still got all the weapons to be the better man that night."
With his recent 10 fight win streak from 2011 – 2014, the bantamweight is ready to get back on track. "I was hoping to fight again in december but it might be so next fight is early next year. I'm in shape so I go when told to =)"
The Finn is happy with the new relationship with ONE. "ONE is getting bigger all the time, they are doing more and more events. i love to fight for them, there are lots of very good fighters in my roster, I get good money and they treat me well. There was actually new fight offer on the table but it didn't work out because KO loss and ordered time off."
"I will get there eventually. Just got to keep on working."
Expect a better MMA Utti fighter the next time out. Even though Tauru was disappointed in the loss, he still realized he had a "good fight with a top 5 fighter in the world".