The long awaited UFC debut of Gunnar Nelson (9-0) finally happens this Saturday when the Icelandic grappling prodigy battles American DaMarques Johnson (16-11) at the UFC on Fuel 5 show in Nottingham, England. Nelson's debut was in danger of being cancelled when opponents one after another dropped out: first original opponent Pascal Krauss got injured and then replacement Rich Attonito pulled out due weight issues. Johnson stepped up to the plate and took this fight on eleven days notice. Because of the short notice the weigh limit of this fight is set to 175 pounds instead of welterweight's standard 170 pounds.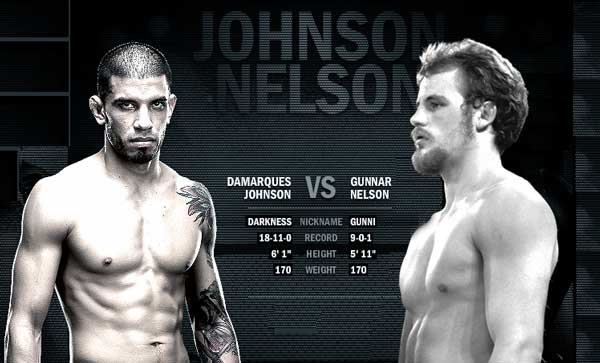 Gunnar Nelson started training martial arts as soon as his father let him starting with karate at the tender age of 13. Growing up in  Reykjavik, Iceland, he showed extraordinary talent in the sport right away, winning basically every competition that he ever took part in.  At 16, he was award  "Iceland's most up-and-coming karate talent".  In 2006 a friend introduced him to BJJ and the 17 year old immediately fell in love with the grappling aspect of martial arts. From the beginning Nelson's development in grappling was exceptionally fast. After a year of grappling training and Nelson was already fighting in MMA. He quickly amassed a 5-0-1 recording with the first bout ending up in a draw with the Dane John Olesen. After knocking out Brazilian Iran Mascarenhas at the Adrenaline 3 show in Copenhagen in September of 2008, Nelson decided to take a break from MMA and focus on improving his grappling. For the couple years the young Icelander travelled the world and trained several months at the time in Hawaii with BJ Penn and his crew, in New York City with Renzo Gracie and extended team which includes such greats as Georges St Pierre and Frankie Edgar. With hard work came great success in grappling: pan am gold in gi and no-gi, 4th place in open weight at ADCC and a black belt from Renzo Gracie. It is fair also to bring up that the real base for Nelson's skills lies at his home gym Mjölnir (Thor's hammer) and the Straight Blast Gyms in Ireland and UK where he is coached by SBG black belts John Kavanagh and Karl Tanswell.
The quality of Nelson's opponents has also risen in MMA as he has progressed on his career. In his last three fights he has faced formidable opponents in Danny Mitchell (11-3), Eugene Fadiora (11-1) and lastly Alexander Butenko (18-6). Nelson submitted all three solid fighters with ease in the first round. When you evaluate him as an MMA fighter you could say he is a clear cut specialist that has adequate skills in all areas of the game. His background in karate shows in his striking style: wide upright stance, quick back and forth movement and light, elusive footwork.  His main goal in stand up fighting is to stay out of harms way and clinch when the possible. In most cases it is the beginning of the end when Nelson gets a hold of his opponent. On the ground he uses his flawless technique and seamless transitions to control his opponents while progressing to more dominant position. Once he gets his opponent to a bad spot, Nelson softens them up with strikes before hunting for submissions. The 23 year old Icelander is an average sized welterweight at 180 cm and weight hovering around 80 kilos. Video of Nelson's training for this bout can be found here.
Gunnar Nelson – A Calm Mind (by Stuart Cooper Films)

DaMarques Johnson came into the UFC through the Ultimate Fighter reality show. Johnson fought his way to the final of season nine but lost it James Wilks by rear naked choke at the end of the first round. Before his MMA career Johnson served eight years in the US army when he also begun training combat sports. After leaving active duty Johnson started training MMA with the legendary Jeremy Horn and quickly jump into professional fighting. Johnson experienced mixed results early on his career but got his groove on eventually and entered the TUF house with a 12-6 record. Johnson is now 4-4 in the UFC with all fights ending to with finish, which tells you something about the way he fights. He comes to this fight with two straight losses. At the UFC Stockholm show in April Johnson got submitted by Englishman John Maguire after he over committed to a kimura lock which Maguire then countered with a armbar. His last fight was against Mike Swick at the UFC on Fox show on 4th of August. Swick managed to hurt Johnson early in the fight but Johnson came back with vengeance, took the fight to the ground and mauled Swick with strikes from top. In the second round Swick caught Johnson's body kick and knocked him out cold with a perfect shot.
Johnson lives by his aggression. He is a game fighter who is willing scrap on the feet and to trade submission attempts on the ground. Before Johnson was more of a ground fighter but his striking has improved lately and he has respectable punching power these days. His aggressive fighting style is also a weakness as it leads to him getting sloppy on the feet and ending up in bad positions on the ground. Johnson's takedown defense could also be better as was seen in his fight with Maguire.
DaMarques Johnson Highlight
Summary: This is a perfect first fight in the UFC for Gunnar Nelson. Johnson is already a seasoned veteran in the promotion and serves a measuring stick for the young prospect. With Nelson's grappling pedigree and track record in MMA, it is obvious that he will hold a significant advantage on the ground in this fight. But on the feet the Icelander has to be careful. Like said earlier Johnson's striking has improved over the years and he can take your head off with a single punch like seen against Clay Harvison. The American takes the fight on very short notice which could lead to him gassing out if the fight goes past the first round. MMA Viking predicts that after a feeling out period Nelson will perform his routine with clockwork precision: clinch, takedown, dominant position and submission.