MMA Viking's UFC Sweden II previews have covered prelim fights so far but now it's time for a main card bout. First up is Sweden's own Akira Corassani who takes on Robbie Peralta in a featherweight bout that will probably end in a devastating fashion.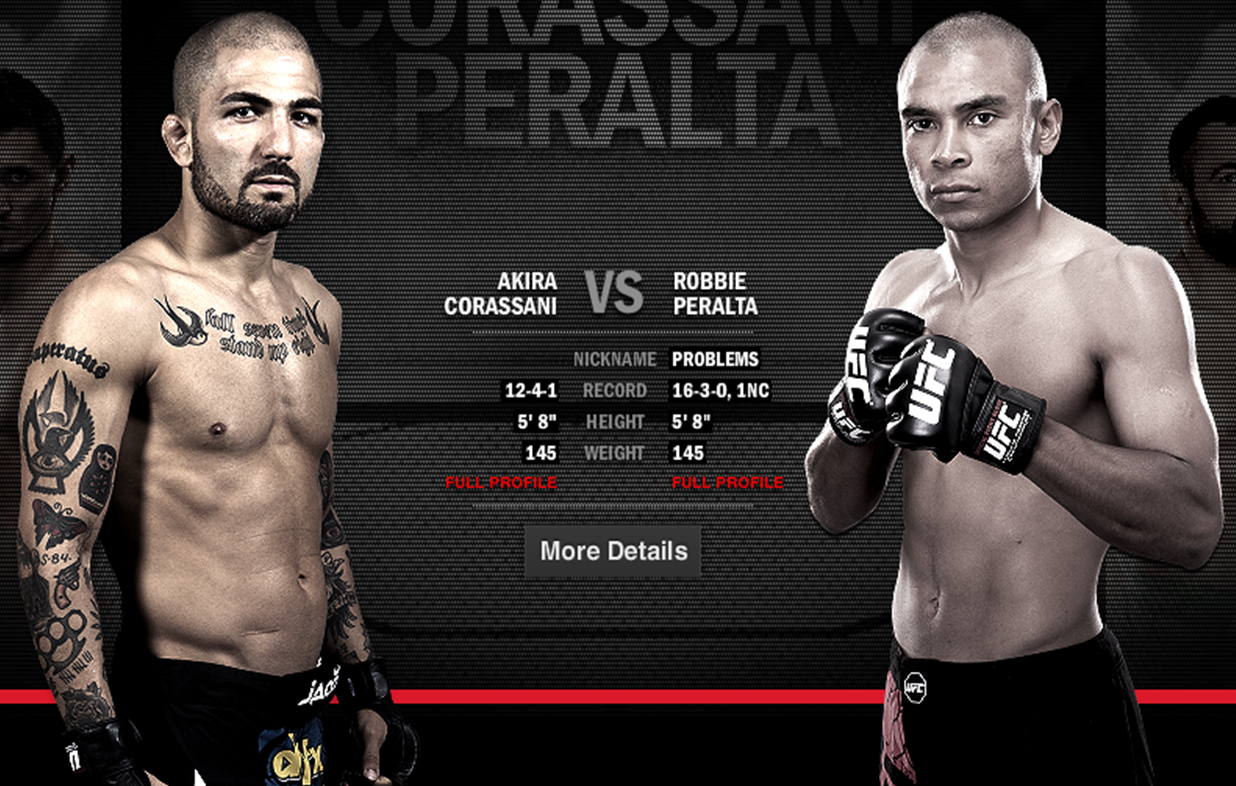 Akira Corassani (12-4, 1-0 UFC): Like many other fighters on this card, also Corassani made his way to the UFC through the Ultimate fighter reality show. Corassani got his place in the house with an impressive knock out of Brian Pearman. In his second TUF fight Corassani got a majority decision over Dustin Neace in a controversial bout. Many viewers thought Akira tapped to Neace's heelhook but the ref didn't see and both fighters kept on fighting. In the semifinals Dennis Bermudez choked the Swede out cold with a tight guillotine choke in the first round. After several cancellations due to injuries Corassani made his UFC debut at the UFC on Fuel TV event in Nottingham, England where he fought three hard rounds with fellow TUFer Andy Ogle. In the first two rounds Corassani got the better of the striking exchanges on the feet but got stuck in a bad position and beat up in the third round. The two of the judges gave the decision to Corassani. Corassani has been living the past two years in New Jersey where he mostly trains with Ricardo Almeida's crew that includes such talented fighters as Frankie Edgar and Marlon Moraes among many others. As a fighter Corassani is mainly a striker with naturally heavy hands and constantly improving grappling skills.
Miss SkOOm's interview of Akira Corassani in NYC
Robbie "Problems" Peralta (16-3, 3-0 UFC):  27 year old Peralta is a heavy handed slugger with a high knock out ratio: 12 of his 16 wins have come via knock out. Peralta was signed to the UFC after he scored the biggest upset of his career so far when he won a decision over Hiroyuki Takaya, the DREAM featherweight champion, in his StrikeForce debut in April of 2011. In his UFC debut Peralta outstruck and outwrestled Mike Lullo and took home a decision win. His second UFC win was eventually overturned by the CSAC when it was revealed that it was Peralta's accidental headbutt that dropped Mackens Semenzier. Peralta fought Jason Young on the same Nottingham card that saw Corassani battle with Ogle. Peralta's brief war with Young lasted only 23 seconds. The American attacked with a combination of powerful hooks and one of those missiles landed on Young's chin dropping the Brit instantly. Natural gameness and powerful striking are Peralta's biggest assets in the Octagon but he is definitely skilled in all areas. Peralta has been steadily improving his game over the last few years and is currently riding a huge nine fight win streak.
Match up: UFC matchmaker Joe Silva has done a good job with this match up. Both guys are heavy handed, close distance brawlers who are willing to take one to land one. Peralta obviously packs huge power in his small frame as his record suggests but Corassani has also shown that he can put guys away with his hands. Corassani's grappling was his weakest point while in TUF but daily training with the likes of Frankie Edgar has forced him to make improvements on that area. While Corassani mainly relies on his hands on the feet, Peralta brings a more diverse arsenal of striking skills to the octagon. The American has heavy leg kicks and sharp knees in the clinch to along with his trademark looping punches.
Summary: It's pretty easy to predict that this fight will end with someone going to sleep from punches. Both guys carry dynamite in their hands but it is Peralta who has the advantage in the striking department. Corassani has been putting in the hard work with the elite fighters of New York area so we should see a new and improved Swede in the Globen. Corassani better bring his A-game to the Octagon as Peralta is a significant step up in competition for him.
Bet on UFC in Sweden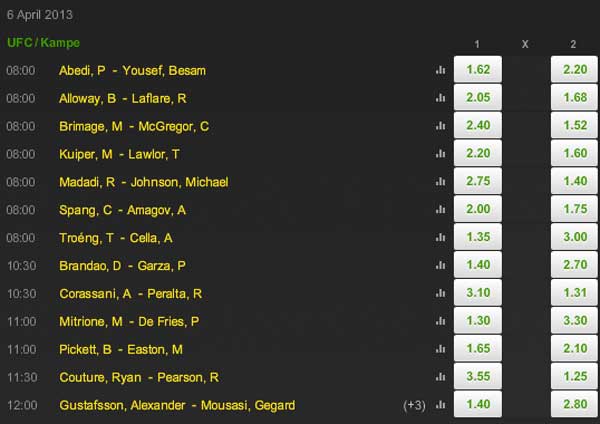 Get Big Bonus for MMA Viking Fans in Finland – Denmark – Norway – Sweden