RAJU will put on seven fights Saturday night as the leading Estonian promotion returns to Tartu for its 14th event. While, President of RAJU Ott Tõnissaar had planned on being on the card, a last minute hand injury will prevent the ranked lightweight to be featured on the show.  Estonia however will put on three of their best in Lauri Ülenurm, Henri Hiiemäe, and Alik Tseiko on display at they take on foreign fighters at the A. Le Coq Sports Hall.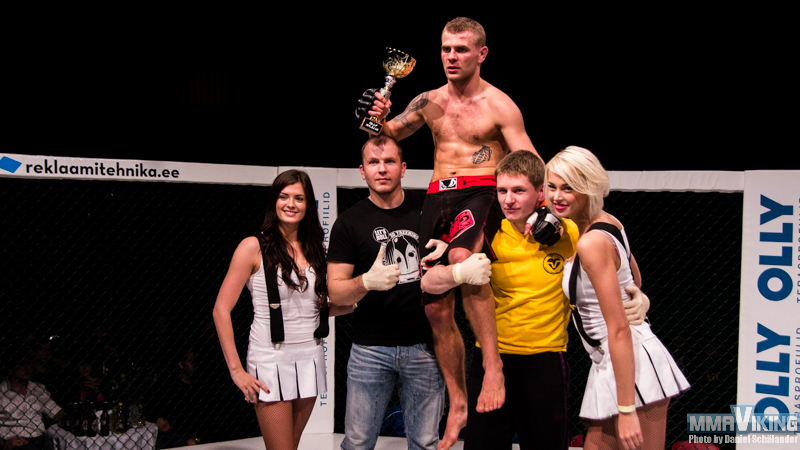 The welterweight Tseiko is 32 years old and has put together an impressive 7 win and 2 loss record. The wrestler, both Estonian champion in Greco Roman and freestyle, trains daily out of American Top Team in the USA when not at 3D Gym, sports club in Tallinn. He was on a 5 fight winning streak, all with stoppages, before losing by KO (flying knee) against Valdir Araujo at CFA 11 back in May of 2013. Tseiko will face Poland's Bartosz Fabinski (10-2), who has won three straight bouts, including a solid win over Gregor Herb in May.
Hiiemäe (6-1) is a featherweight that trains out of Parnu MMA Gym and is a true veteran of RAJU, where he has won 6 out of 6 fights. The 25 year old is on a three fight winning streak, with all stoppages. The Estonian will be facing a tough veteran in Sebastian Romanowski (8-3-1), a Cage Warriors veteran, in another featured bout.
The 39 year old Ülenurm (5-5) out of Tartu Fighsport Gym Voimla will face Latvian Roberts Senfelds (3-2) in the third professional bout of the night. The Estonian is on a two fight winning streak and is also a veteran of RAJU, fighting on 7 previous cards.
There will be four amateur bouts under IMMAF rules (2 x 5 minutes + extra round & striking to the head on the ground is allowed), including Finns Ari-Pekka Savolainen and Tommi Leinonen from RNC Sports Club.
The card can be seen live at http://skyplus.fm/raju, and live reporting will be here live on MMAViking.com.
RAJU 14 Fight Card
Alik TSEIKO (Estonia) vs Bartosz FABIŃSKI (Poland) – Pro MMA -77.1 KG
Henri HIIEMÄE (Estonia) vs Sebastian ROMANOWSKI (Poland) – Pro MMA -65.0
Lauri ÜLENURM (Estonia) vs Roberts SENFELDS (Latvia) – Pro MMA -61.2
Alar HUTROV (Estonia) vs Vitali MELNIKOV (Latvia) – IMMAF B -65.8
Sten ANSLAN (Estonia) vs Tommi LEINONEN (Finland) – IMMAF B -83.9
Ranno LAUR (Estonia) vs Ari-Pekka SAVOLAINEN (Finland) – IMMAF B -82.0
Martin SAAR (Estonia) vs Marko LAIKASK (Estonia) – IMMAF B -74.0