On Saturday, I was in the air 30,000 feet in the air without any internet connection.  I was so thankful that I knew as soon as I touched Swedish soil again, I could go directly to MMAViking.com to see live results from The Zone FC reported on by contributor Christoffer Jonasson.  While, I try and keep my personal opinions out of the pages of the site and stories, it was nice to see that Sirwan Kakai could pull out a win, Frantz Slioa could make a successful return to the cage, and August Wallen could triumph in his backyard.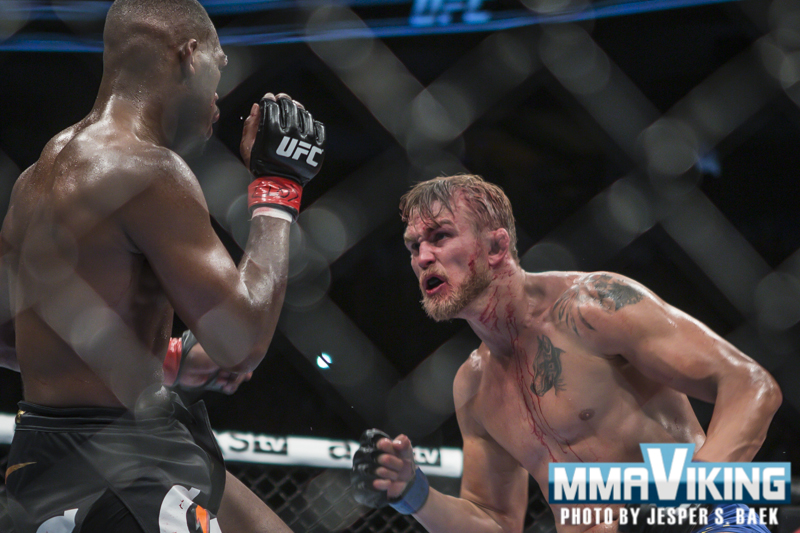 But back to the topic at hand…. this is the first edition "Viking View"… another idea I had in the air waiting for my fight results from the site =)
The more and more I get involved in following Nordic MMA, the harder and hard I think it is to really understand the scene.  How many people in the world could name more than ten pro fighters in Sweden, Norway, Finland, and Denmark, and two in Iceland?  What is a big story, and what is a story that should go unreported. Who are the hot prospects? What fighters should everyone know about?  Since MMAViking.com is dedicated to the local scene, this ongoing publication of the Viking View is intended help navigate to the bigger events from the prior week and what you should pay attention to in the upcoming week.
So, here we go :
5 Must Reads From Last Week:
1) Gustafsson Vs. Jones in a Stadium in Sweden?
Alexander Gustafsson will get his title shot against Jon Jones in one of the most anticipated re-matches in UFC history.  "It's a big massive fight" says White, and it could take place at Friends Arena in Stockholm in front of 50,000 people.
2) Put Gunnar Nelson on the Ireland Card
The UFC is headed to Ireland in July, and Nelson is a must have on the card, but the UFC hasn't pulled the trigger.  Nelson's camp wants it to happen.  Hear what SBG Head Coach Kavanagh has to say about it.
3) Reza Madadi is out, and Juha-Pekka Vainikainen is in
Headlining Superior Challenge X will not be Reza Madadi and TUF champion Efrain Escudero for the title, it will be Finn Juha-Pekka Vainikainen who will step in for Mad Dog who is injured.
4) The Zone FC Results
MMAViking.com was live in Gothenburg to see Slioa, Kakai, and Wallen win in the last three bouts of the evening.  Read full results and play-by-play here.
5) Nordic MMA Rankings
We recently updated the Nordic MMA rankings. No serious shake-ups yet, but we did see a changing of the guard at welterweight, where Gunnar Nelson was ranked #1 over Martin Kampmann. Also, Danes Ayub Tashkilot and Damir Hadzovic are moving up at lightweight, taking the #2 and #4 slots.
5 Stories to Follow This Week:
1) Can late replacement Finn Juha-Pekka Vainikainen beat TUF winner Efrain Escudero?  
JP is well known in Finland, and this win could really put the lightweight on the map by winning the Superior Challenge Lightweight Belt over an established UFC veteran.
2) Is Yosef Ali Mohammad the next big thing to come out of Sweden?
Yosef Ali Mohammad is one of the most athletic and talented big bodies you have ever seen. A win in Saturday's Swede versus Swede showdown of #2 and #3 ranked Nordic fighters will be a good one. Christian Golcic can put himself on the radar with a win in this high profile title fight.
3) Will David Bielkheden and Besam Yousef prevail?
Former UFC Swede veterans David Bielkheden and Besam Yousef will finally square off. In what should have happened at Superior Challenge 9, will go down this week.  I love this matchup, and have no idea who should prevail.
4) Will Pannie Kianzad live up to the hype? 
Kianzad is one of the top prospects from the Nordics. Good boxing and wrestling, great personality. She could be a star. The 2013 Female Fighter of the Year for MMAViking.com will look to continue her unbeaten record in her backyard this Saturday at Superior Challenge X.
5) Is Matti Mäkelä for real?
Mäkelä will look for his fourth straight with a win over Dane Joachim Christensen in a light heavyweight title bout. The Swede had lost 6 of 7 fights, before shocking former UFC fighter James McSweeney at Superior Challenge 8, and starting his run. Could it lead to a Superior Challenge title?
As always, you can check out a full calendar of events here.  Also, MMAViking.com will be reporting live from the Helsingborg Arena this Saturday night.  Stay tuned for live play-by-play, photos, and videos.