It has been just couple of days from Gunnar Nelson impressive UFC debut at the UFC on Fuel 5 in Nottingham, but the internet is already buzzing about the next possible opponent for Nelson. Not to mention Dana White, quickly become a big Nelson fan after Saturday's performance.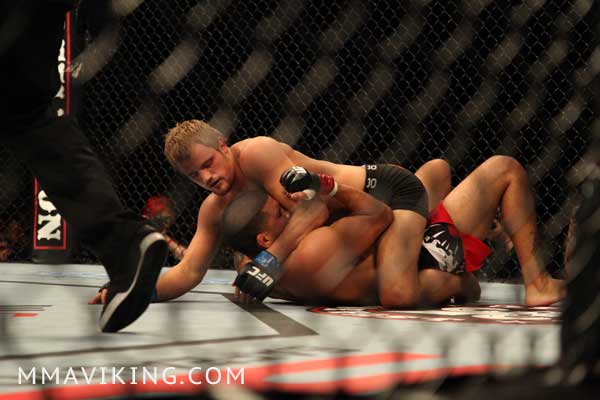 Understandably some of the fans want to see the Icelandic wonder-kid to take on top-ranked welterweight talent right away. We feel that a more patient approach would be in order. After all  the bout with DaMarques Johnson was only the second fight in three years for Nelson, and it lasted just three minutes.
Before Nelson should face the top dogs of the stacked welterweight division, it seems reasonable to let him settle in to the big show with couple of mid-level match-ups. Here are MMA Viking's candidates for next possible opponents for Gunnar Nelson. Here are a couple grapplers and vets that may fit the bill.
Grapplers
Simeon Thoresen: Fight between Nelson and Thoresen was rumored for years in the UK circuit before they both joined the UFC. Thoresen is 1-1 in the UFC after a win over Besam Yousef and a knockout loss to Seth Baczynski. Although the UFC usually pairs recent winners with winners, and losers with losers, this fight might make sense. Like Nelson also Thoresen has excellent skills on the ground so why not set up this potential grappling fest for the fans.
TJ Waldburger: 24 year old Texan is a big strong welterweight with slick submission skills and improving striking. Waldburger is 3-2 in the UFC with two submission wins. His losses came in tough match-ups with top contender Johny Hendricks and seemingly unsubmittable Brian Ebersole who outwrestled Waldburger in his last fight.
Veterans
Dan Miller: Fighting in the UFC since 2008, Dan Miller a true veteran of the promotion with eleven UFC bouts under his belt. Jim Miller's big brother is known for his tenacity in the Octagon: Miller has never been finished in the UFC.  Former middleweight made his welterweight debut in June when he choked out Ricardo Funch with a guillotine in the third round. Miller is a hard nosed workhorse who pushes the pace and never gives up. This match up would be a good test to Nelson's striking and stamina.
Kyle Noke:  Like Miller also this Aussie is a former middleweight who recently dropped down a weight class. In his welterweight debut at UFC 152 Noke destroyed Charlie Brenneman with sharp strikes in 45 seconds. Noke has been fighting pro for a decade and has fought 27 fights in total, going 4-2 in the UFC. The Aussie has great overall skills and fights with an aggressive style. Only one of his six UFC fights has gone to decision.
What do you think?