Undefeated lightweight prospect Musa Amagov (4-0) suffered a broken foot in his latest fight in April. Chechen born but now Helsinki based Amagov hurt his foot while throwing a low kick against Belarusian Arnold Vanyan in his recent fight at the Karkkila Fight Night.  Amagov fought through the pain, took the fight to the floor and submitted Vanyan with a leg lock in the first round.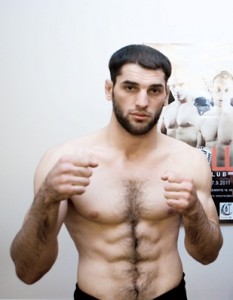 Amagov's manager Olli Hartikainen commented the injury to MMA Viking:
"Musa suffered a hairline fracture to his foot in the Karkkila bout. That's why he took the fight to the ground right after the first kick. The injury is healing well. We'll take our time and let it heal properly before looking for the next fight."
According to Amagov's management Cage Warriors has been one of the promotions willing to sign Amagov and that they even had a deal on the table for a fight in May. However Amagov's injury postponed his international debut.
"Musa has been extremely convincing throughout his career so it's natural that international promoters are paying attention to him. He has huge amounts of potential and a very exciting fighting style. A knock out is always hanging in the air when Musa is fighting and fans love that. Recently he has been training with the UFC fighter Anton Kuivanen. They are a great match as both can push each other further with their MMA careers.  " Said the proud manager and coach Hartikainen.